See previous years Club Photos HERE
NCA Christmas Party 1/12/15
120 members enjoyed a great evening with friends at Hillcrest Country Club, the food was tasty and it was fun catching up at the end of another exciting year.
Shrimp Boil 10/28/15
Dick, Vicki, Linda, and a host of volunteers cooked up a great shrimp dinner that around 90 members enjoyed at Stephenson Truck Repair.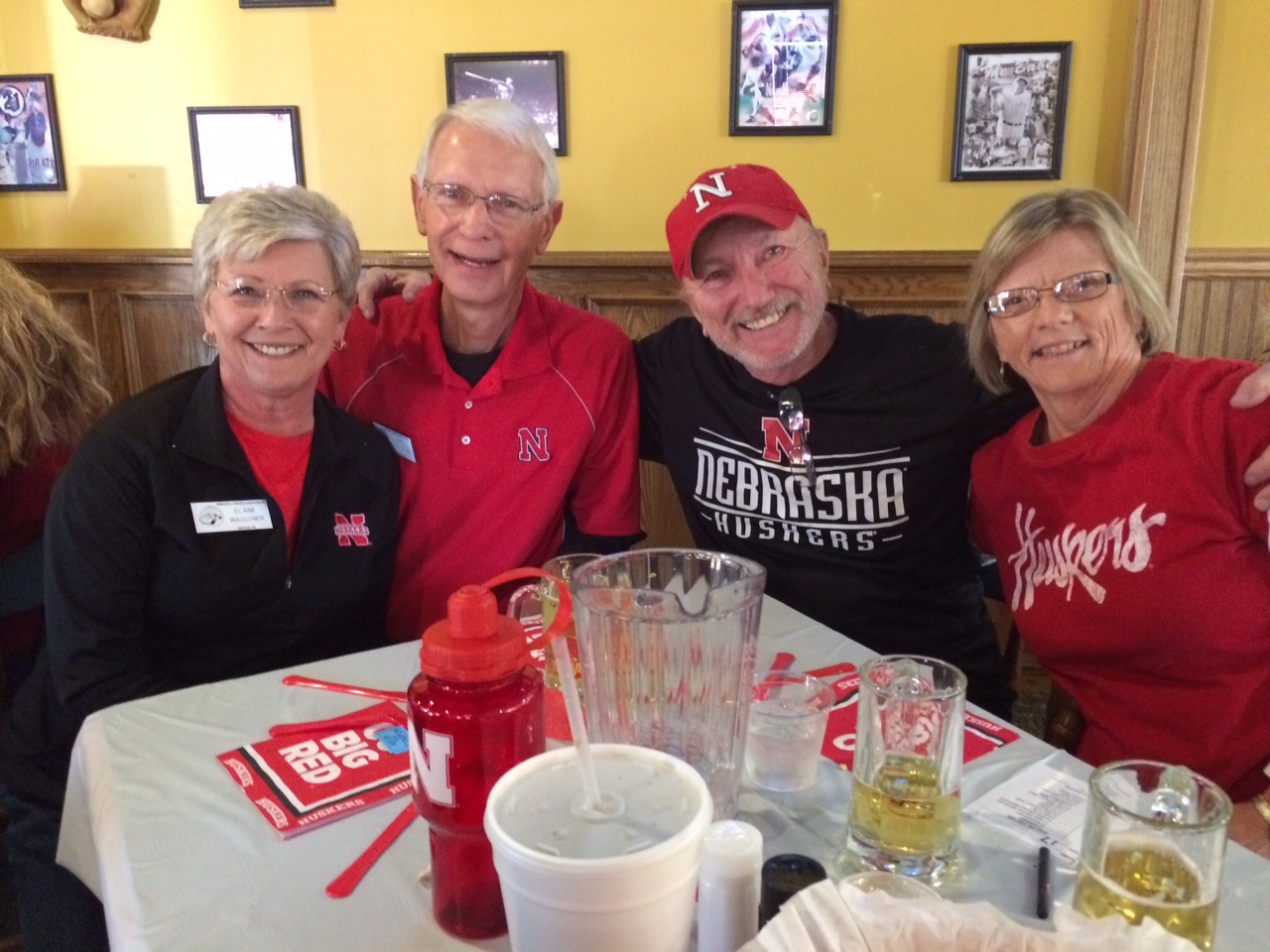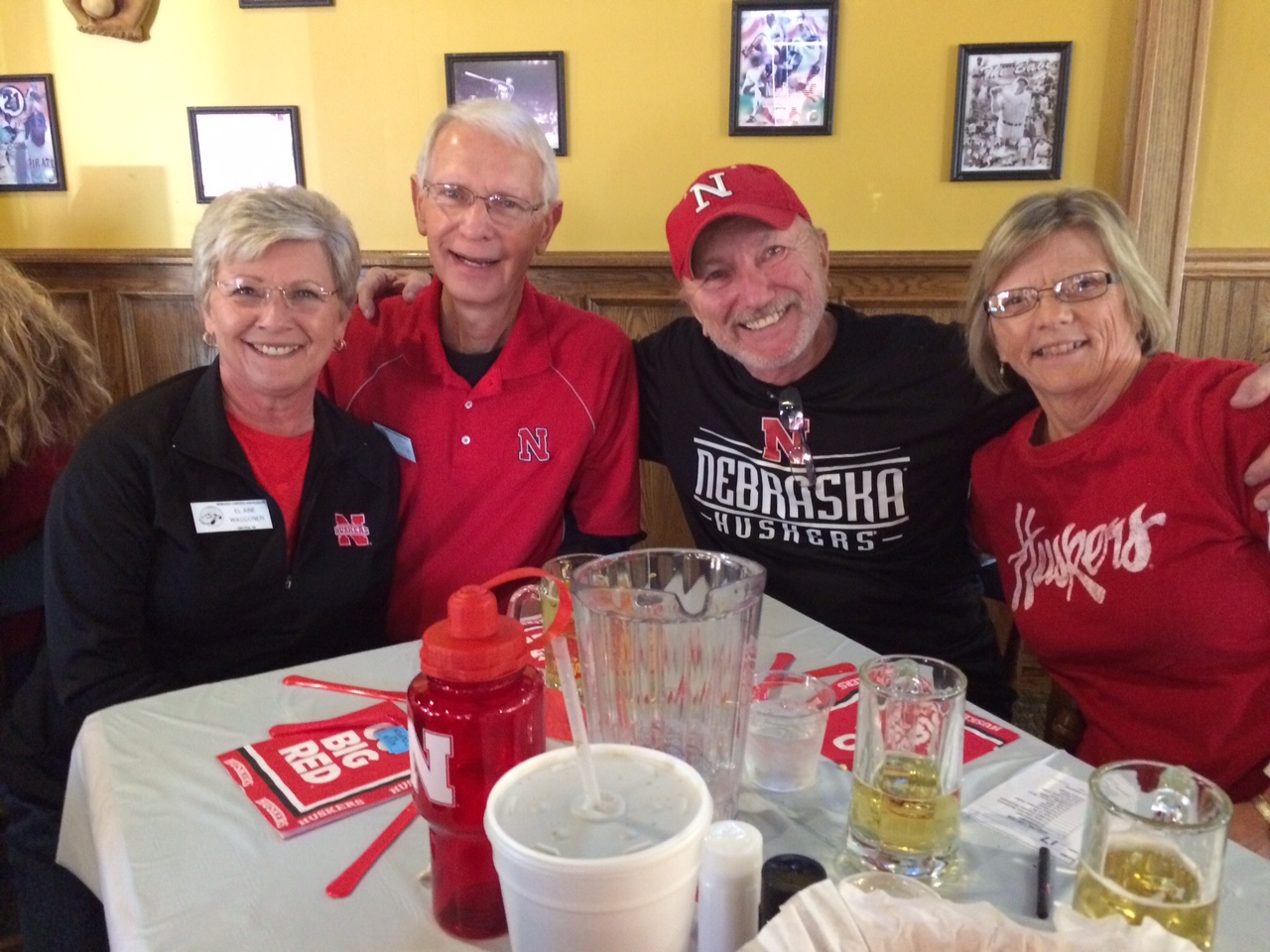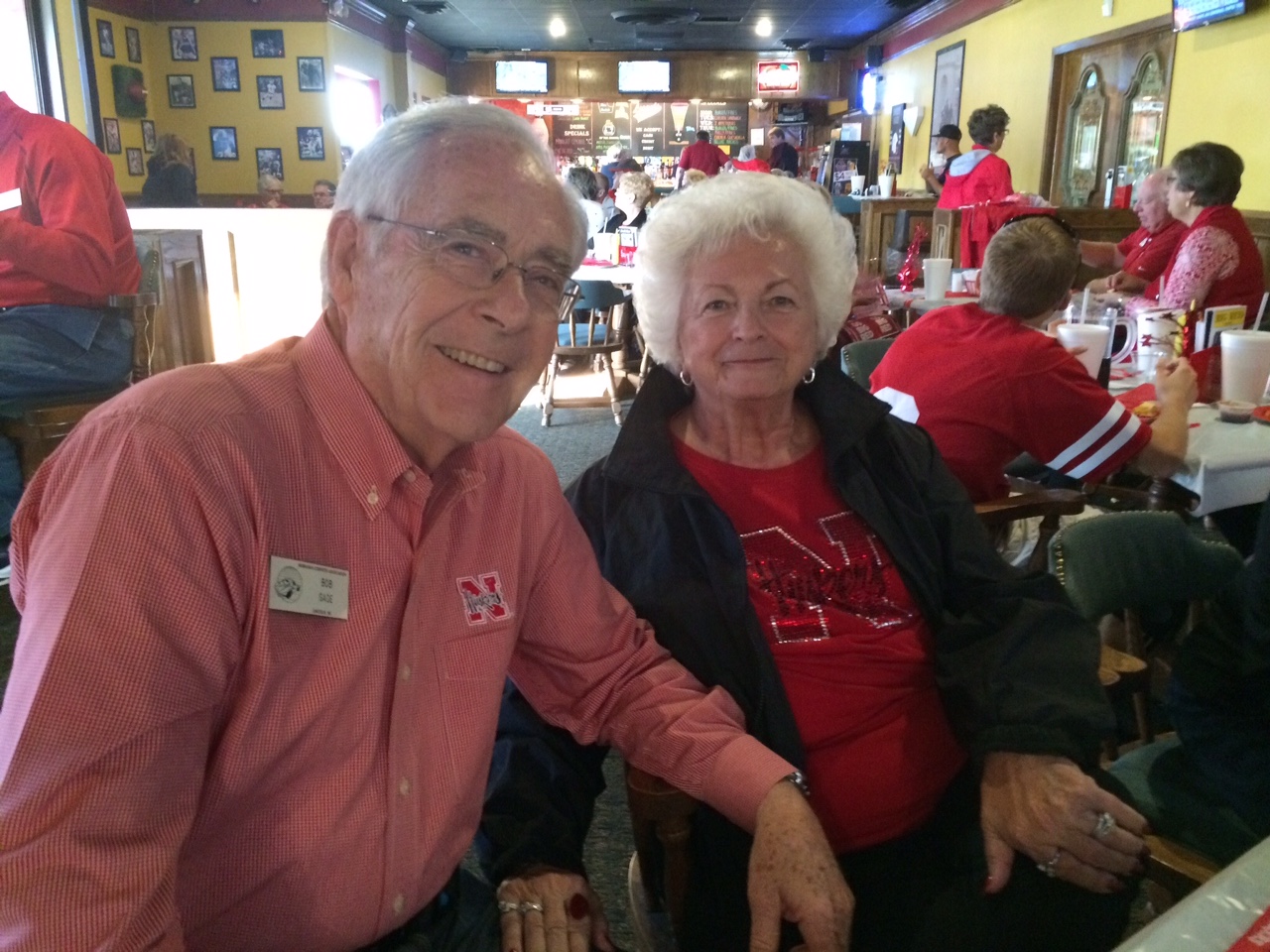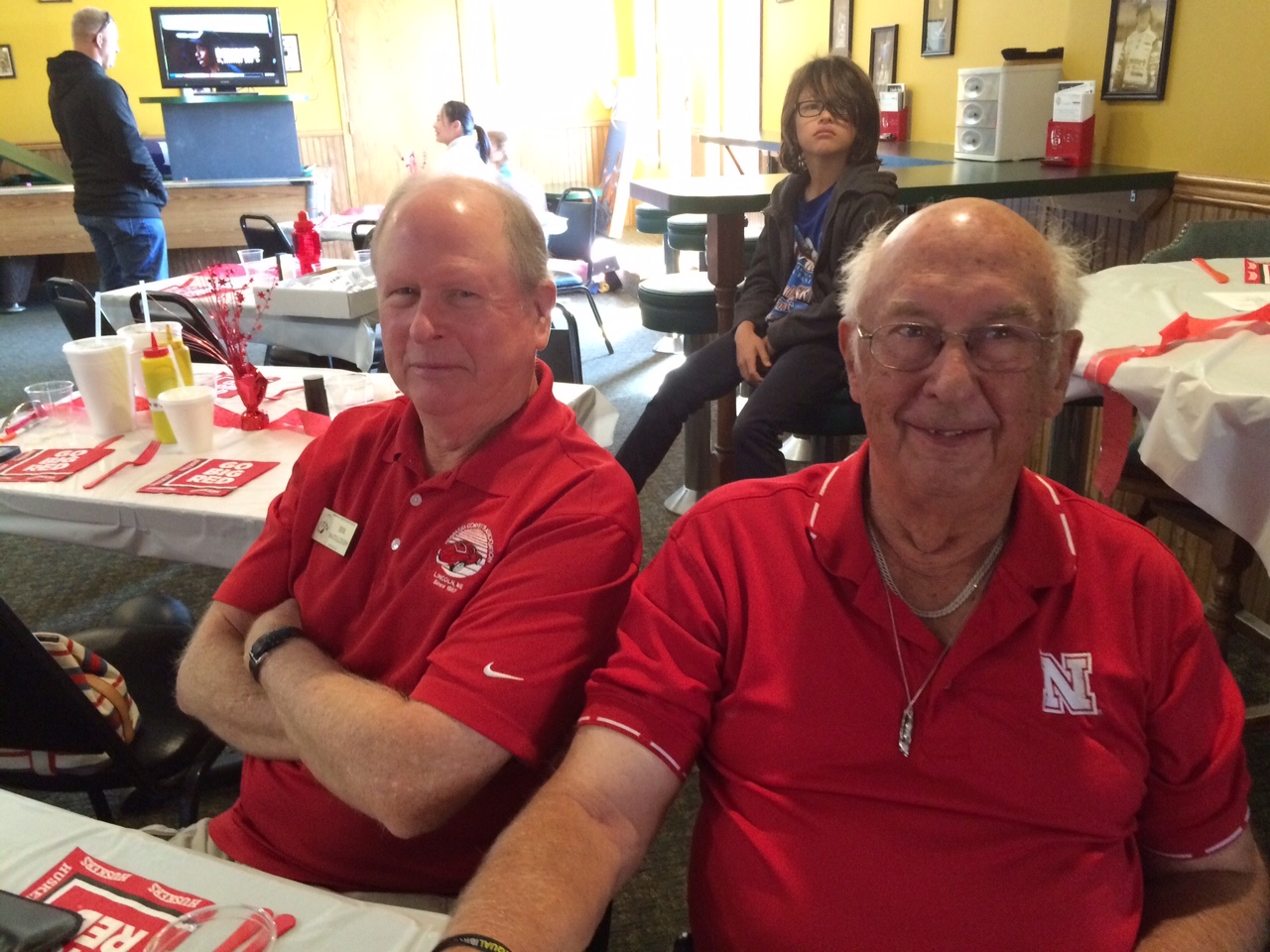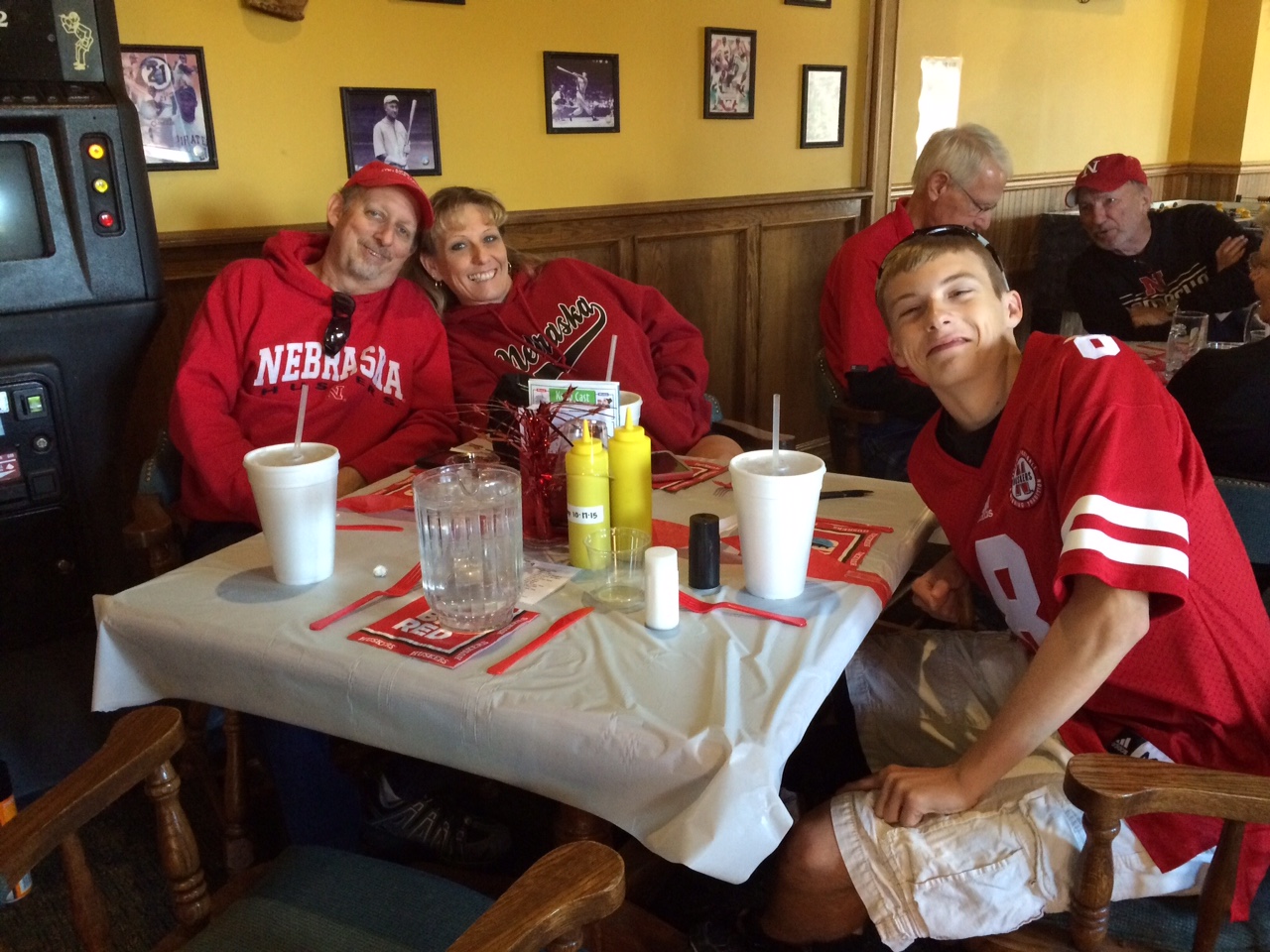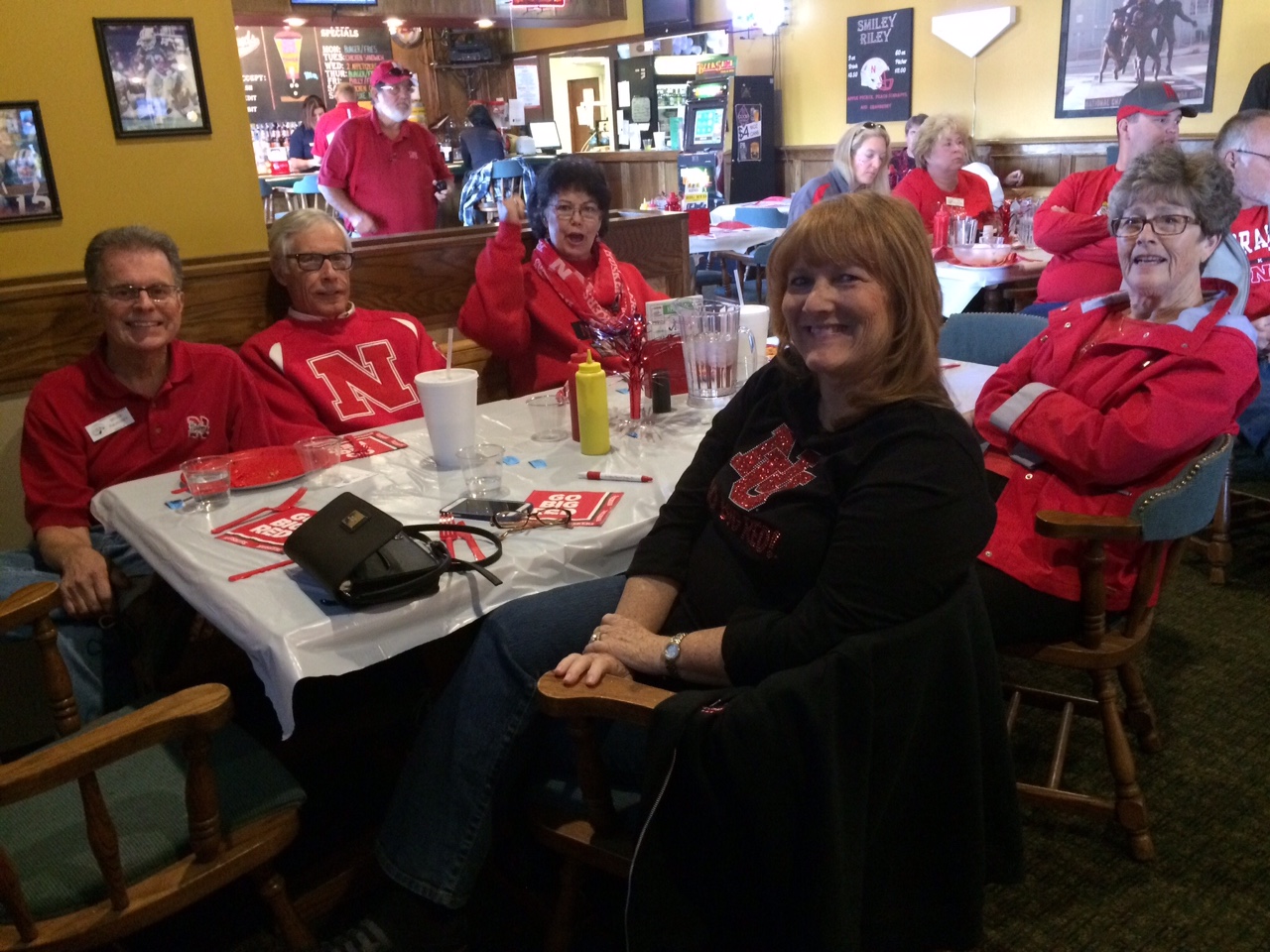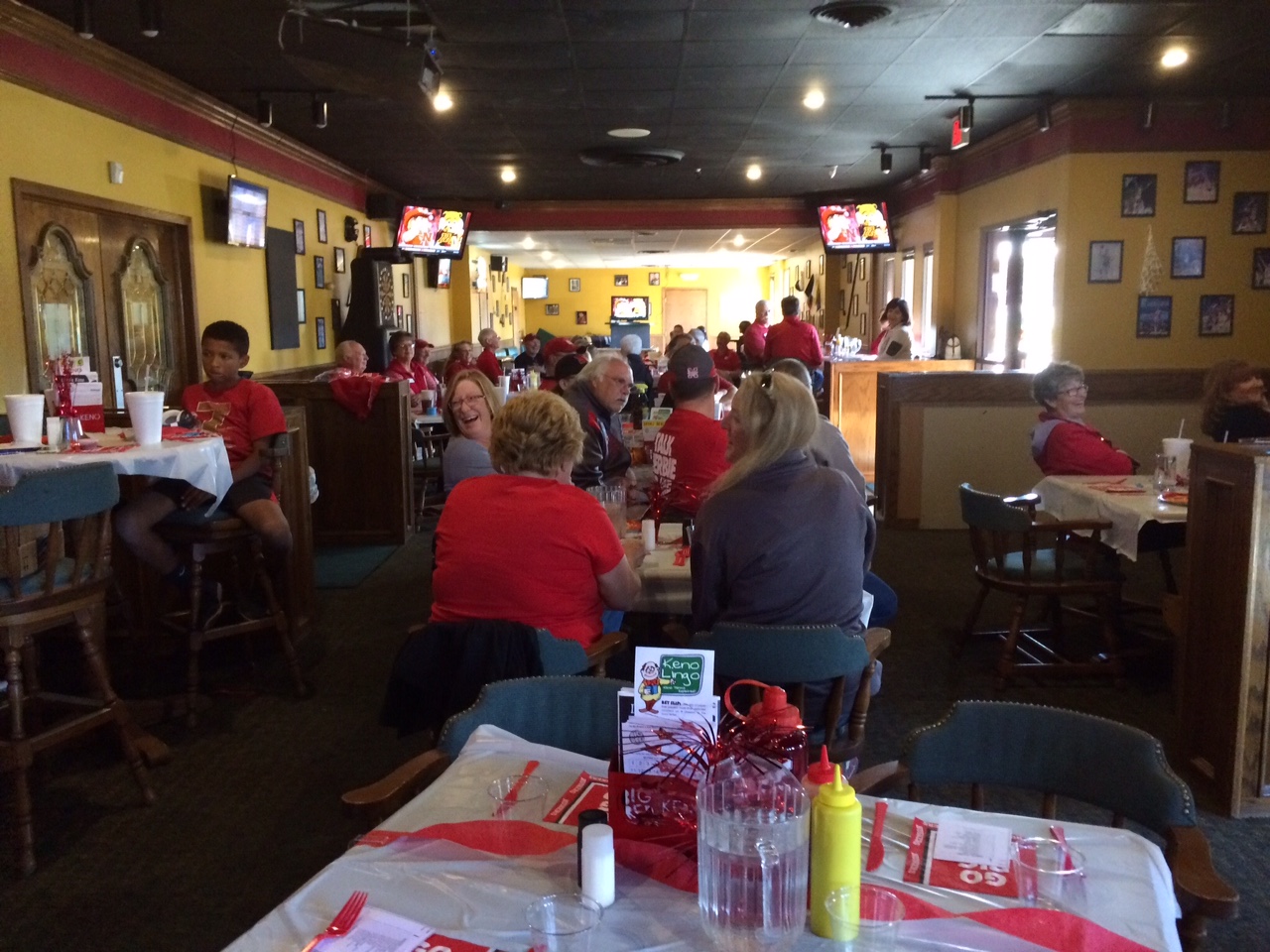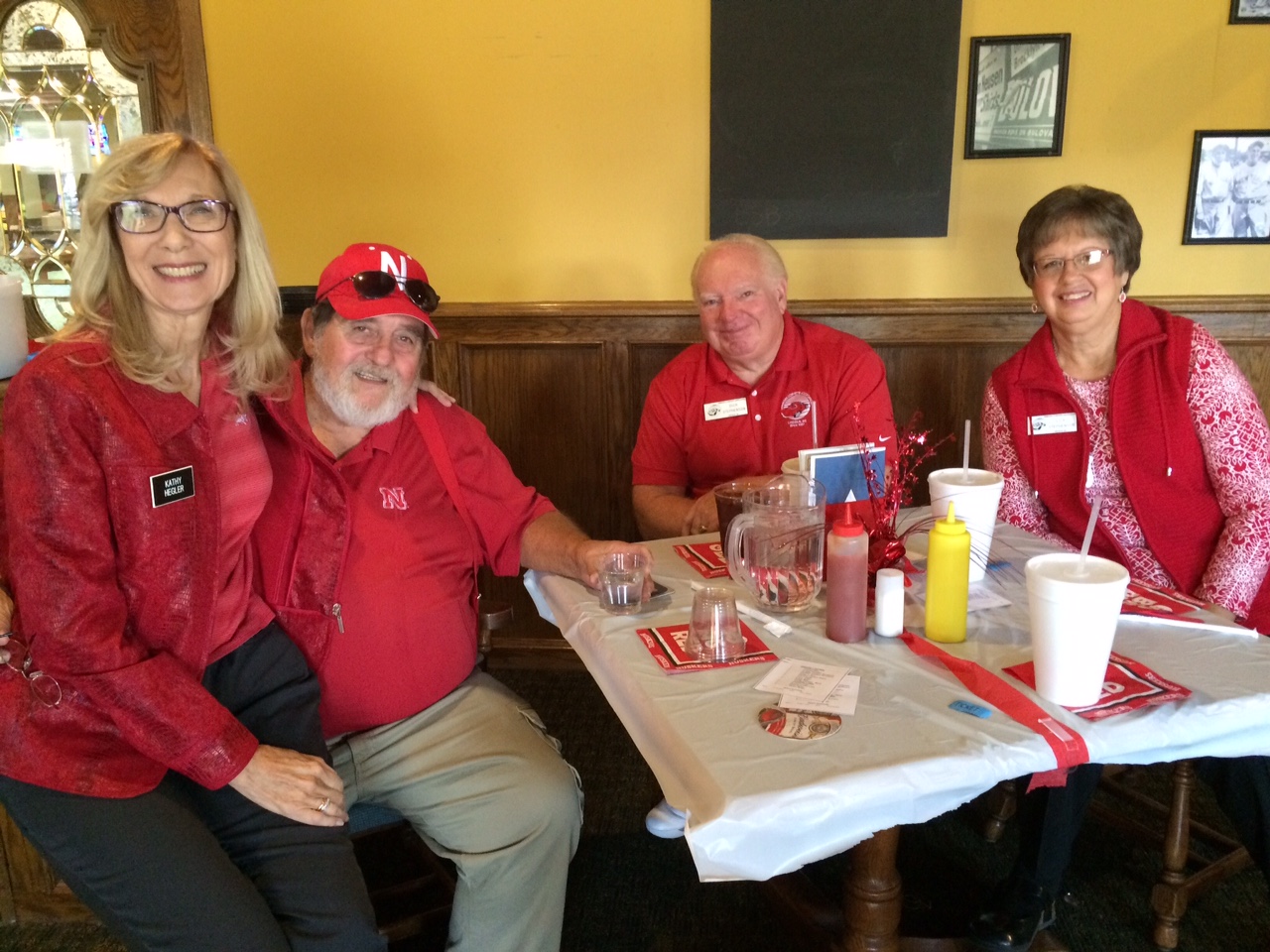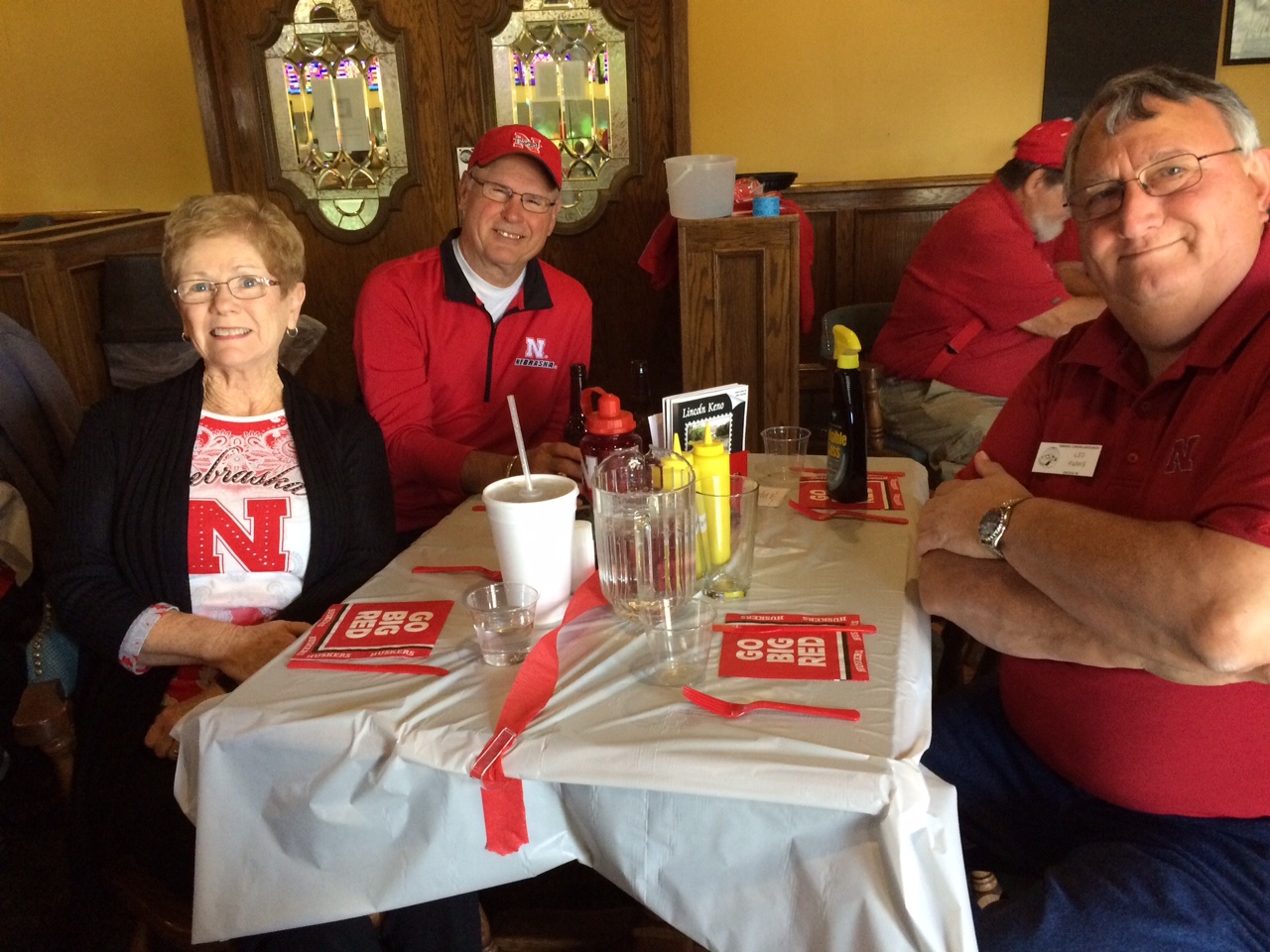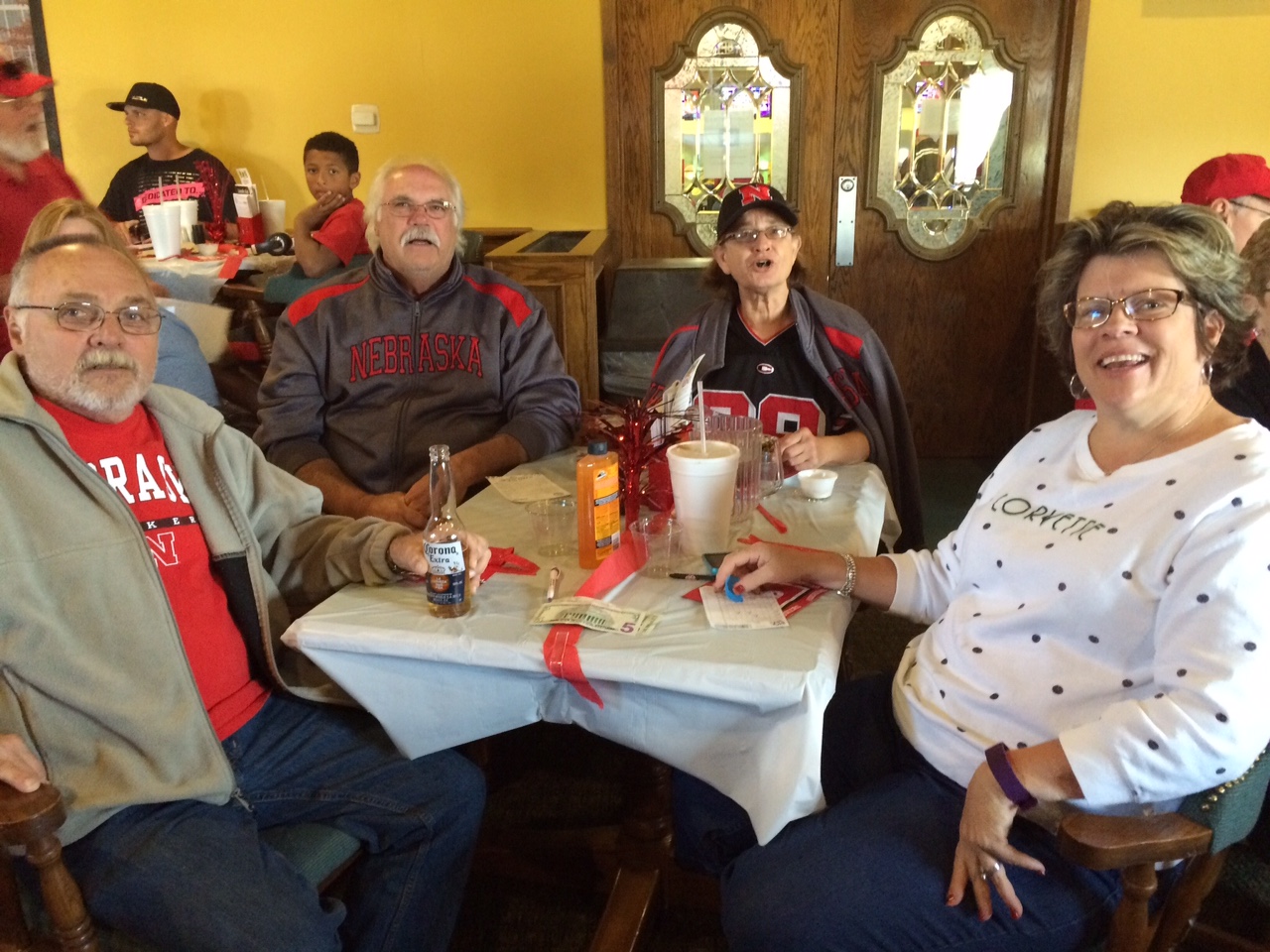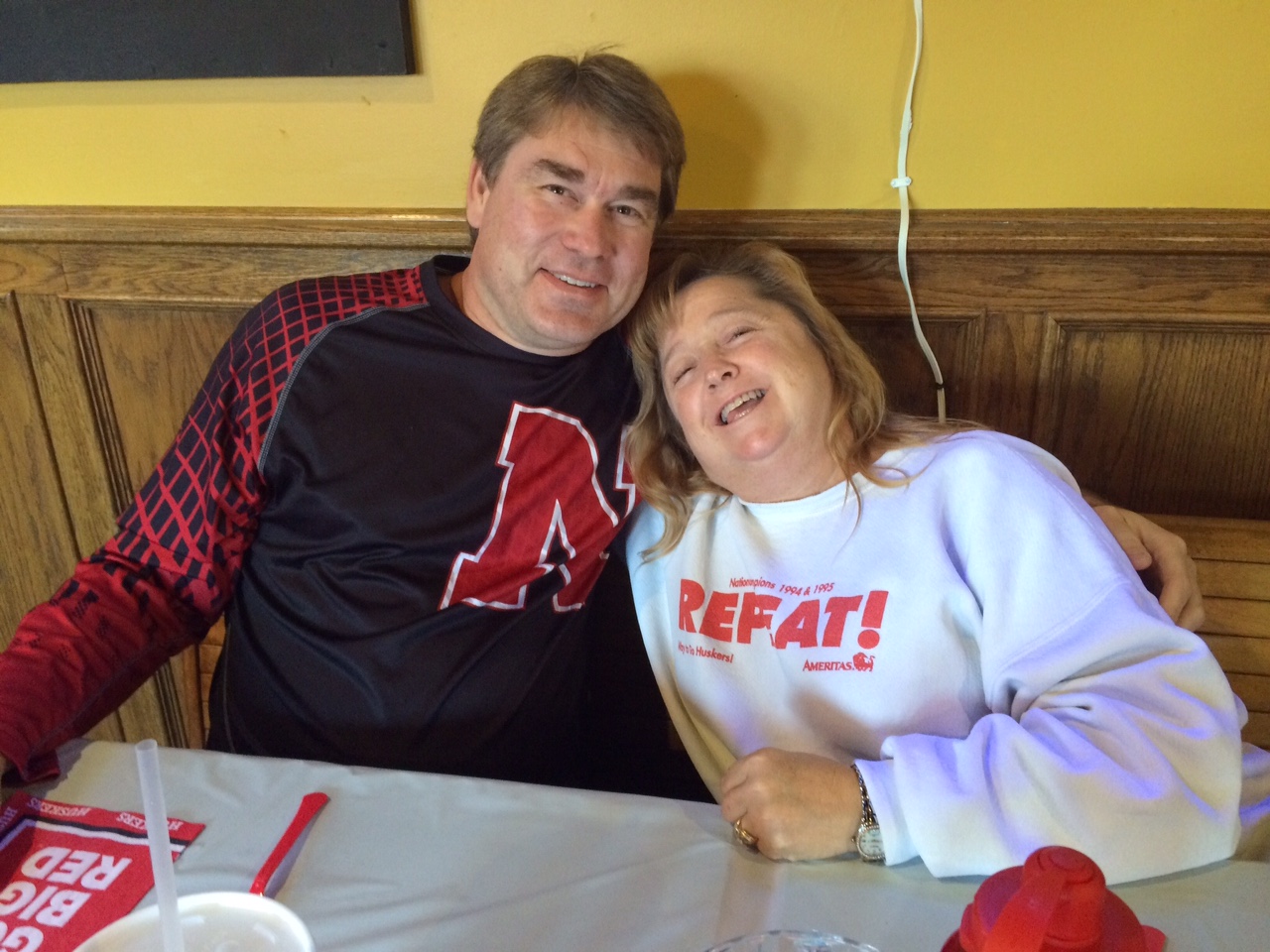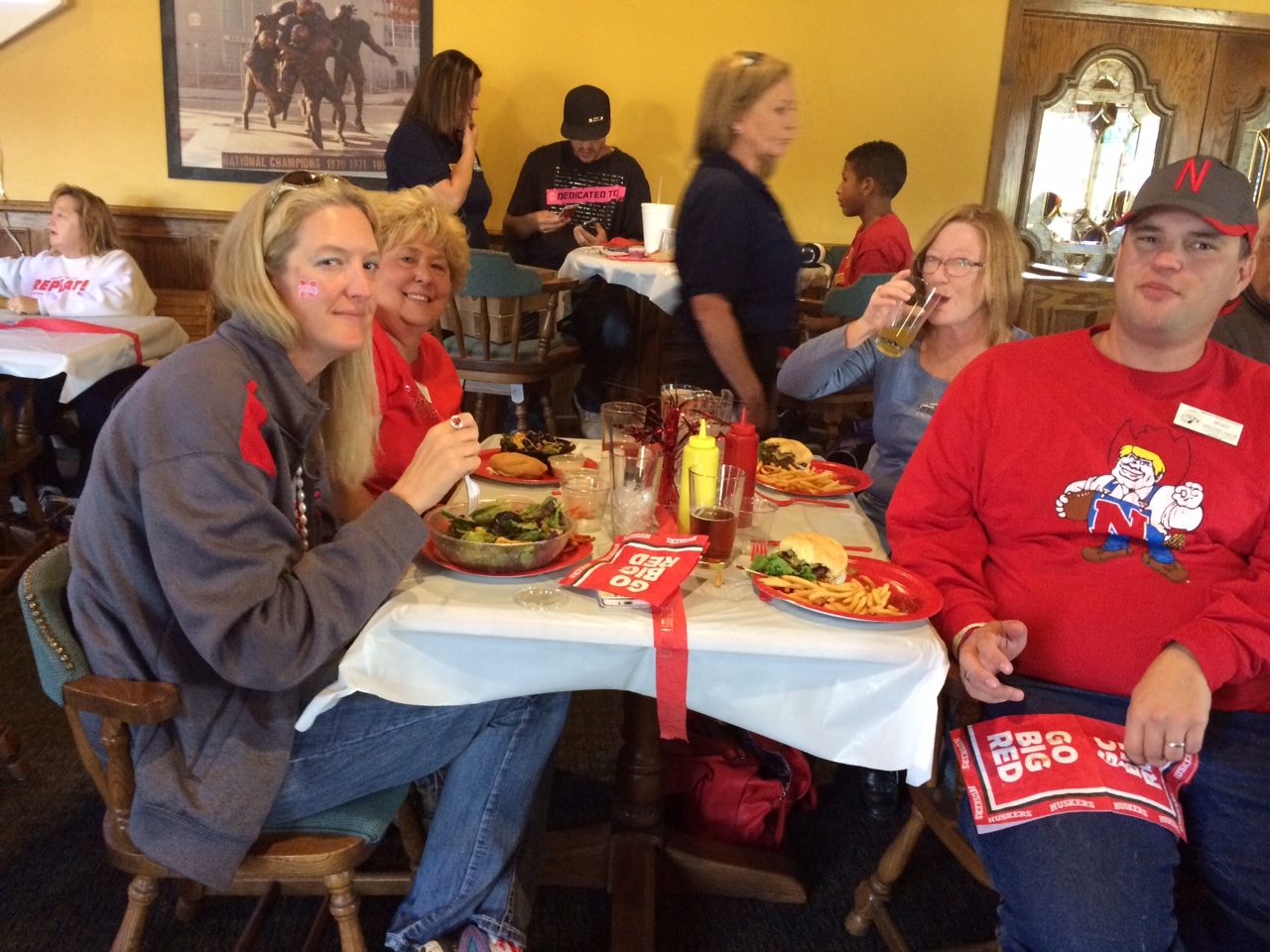 Nebraska@Minnesota Tailgate Party 10/17/15
We had a wonderful crowd at Hollywood Bowl Saturday. Bob H. did a great job getting the event organized things went pretty smooth and he had a lot of door prizes to give away. I think we probably have to have one of these every game now since the team won!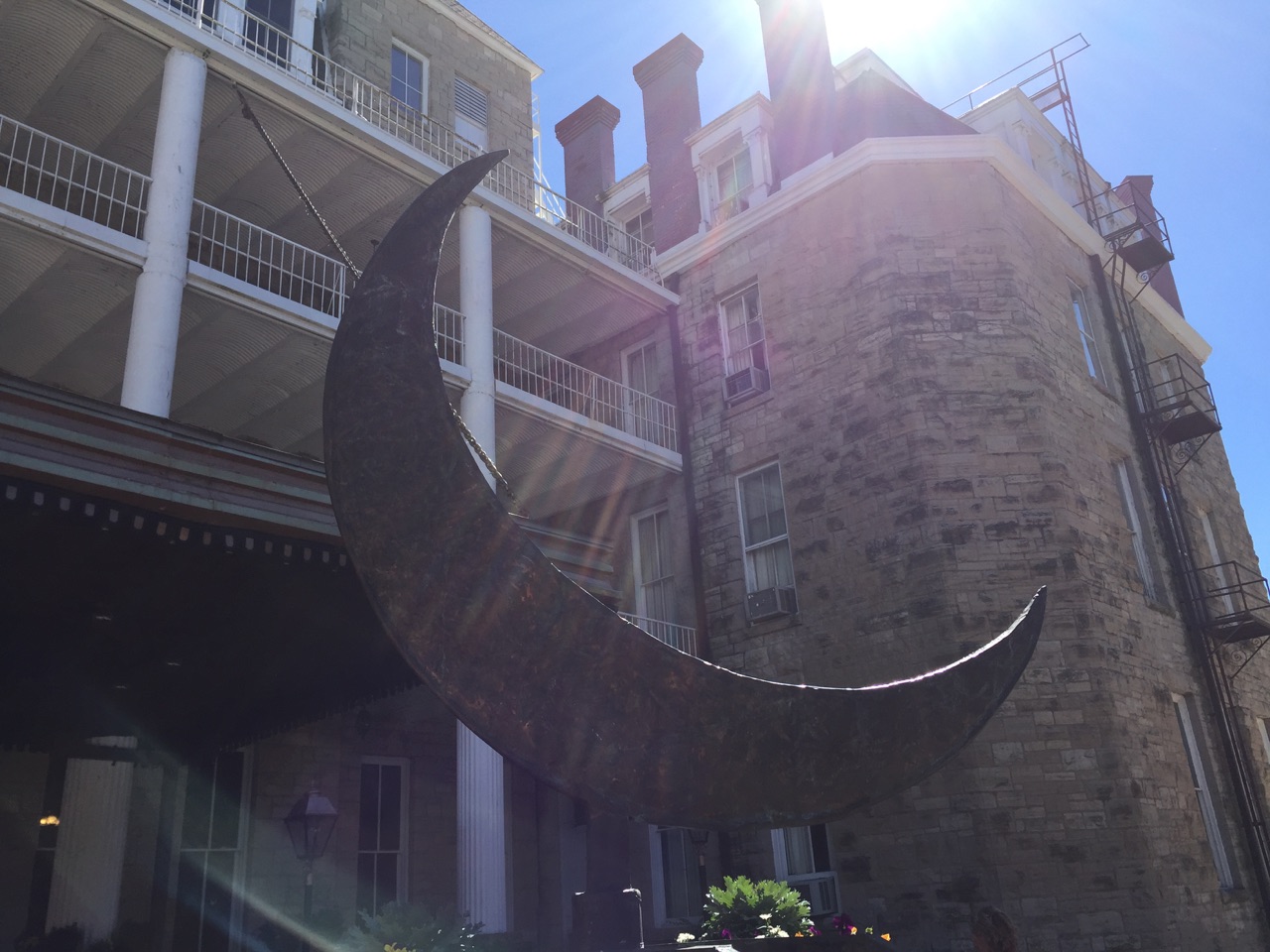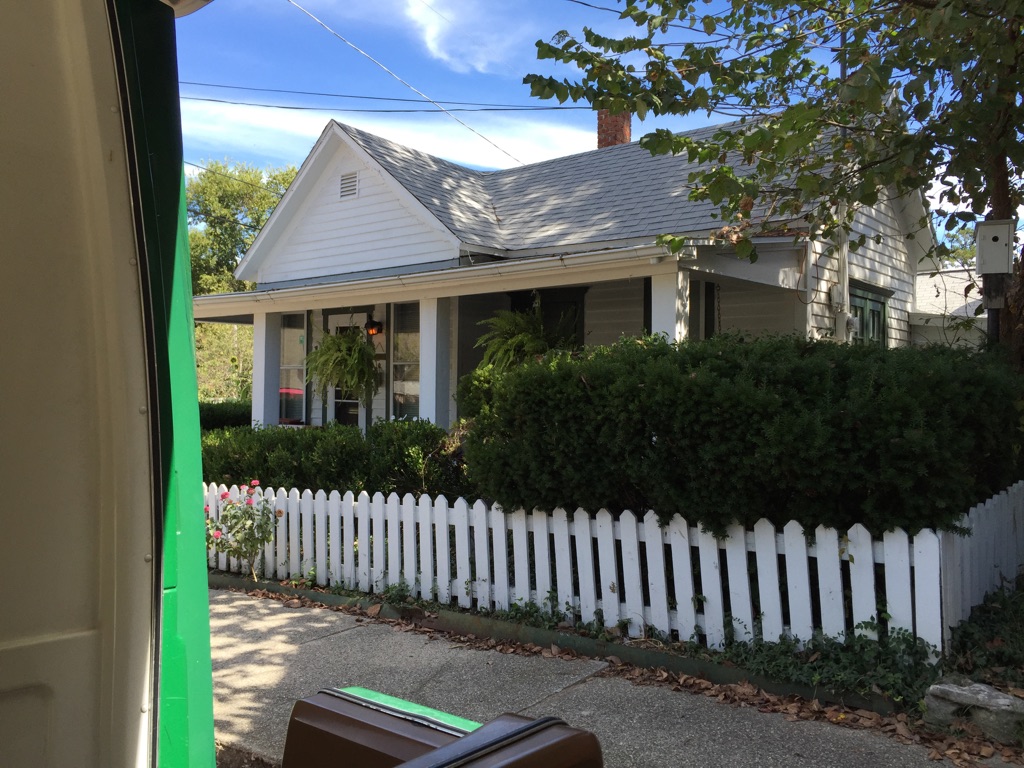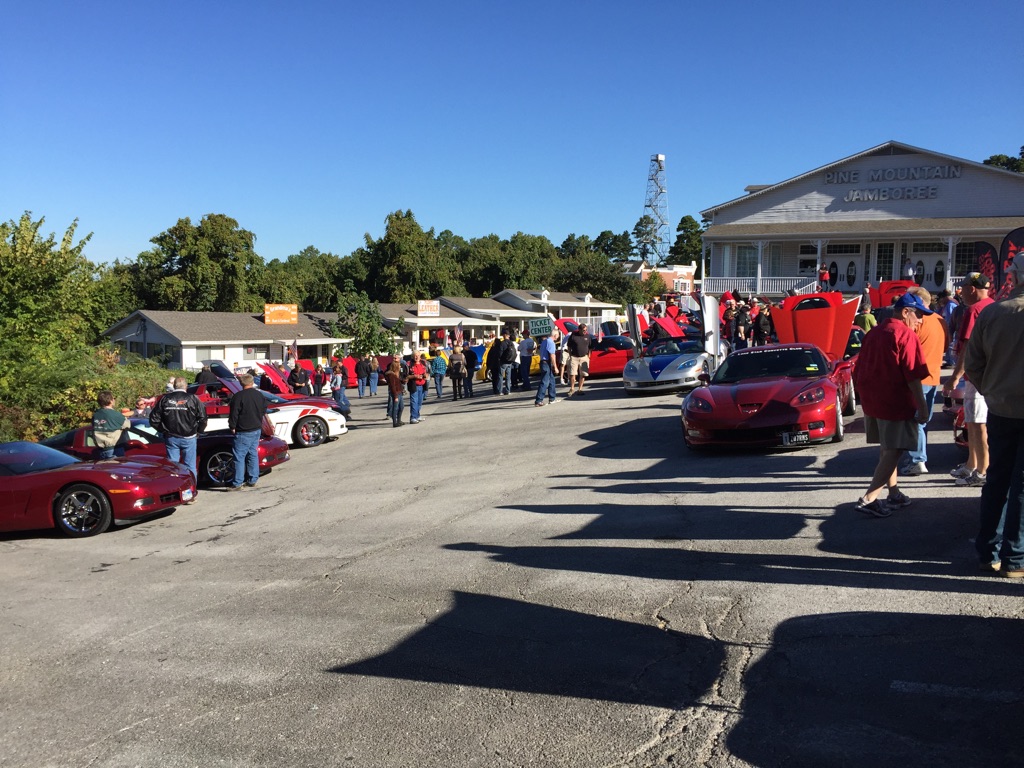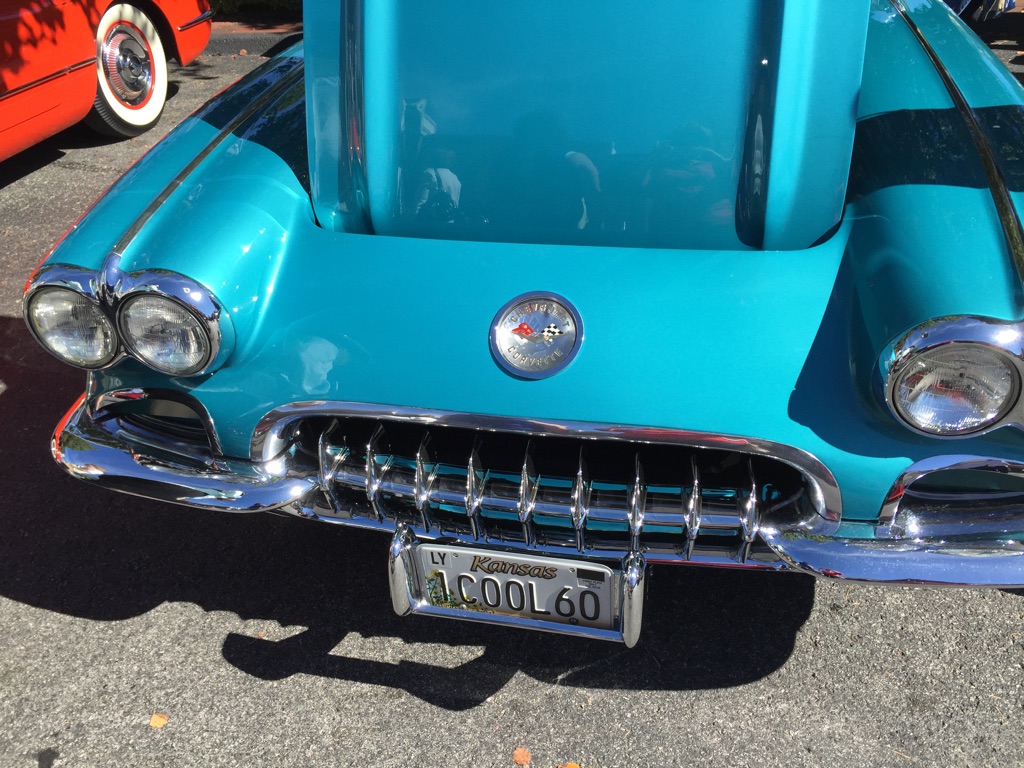 Eureka Springs 10/1-10/4 2015
20 people in 11 vettes made their way down the winding roads to Eureka Springs, Arkansas for the Eureka Springs Corvette Weekend. There was spirited driving, shopping, historic tours, good food, boat tours, and we all got ours steps in walking around town.
NCA Golf Tournament 9/27/15
24 golfers took part in the 2015 9 hole, 2 person scramble tournament at Pioneers Golf Course. After the tournament the golfers and other members went to The Garage to have a cold drink, some good food, and prizes were given out to the winning golfers.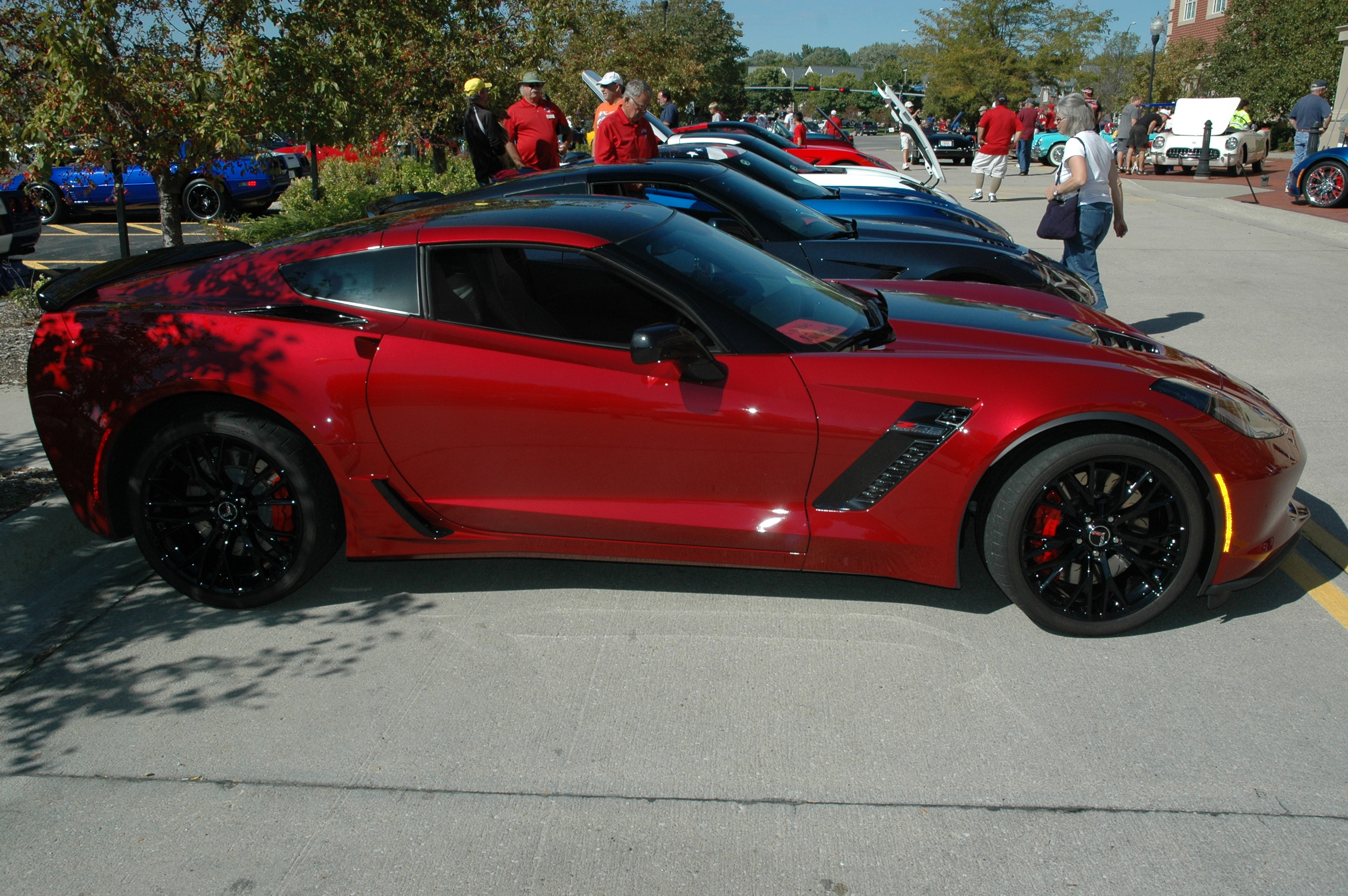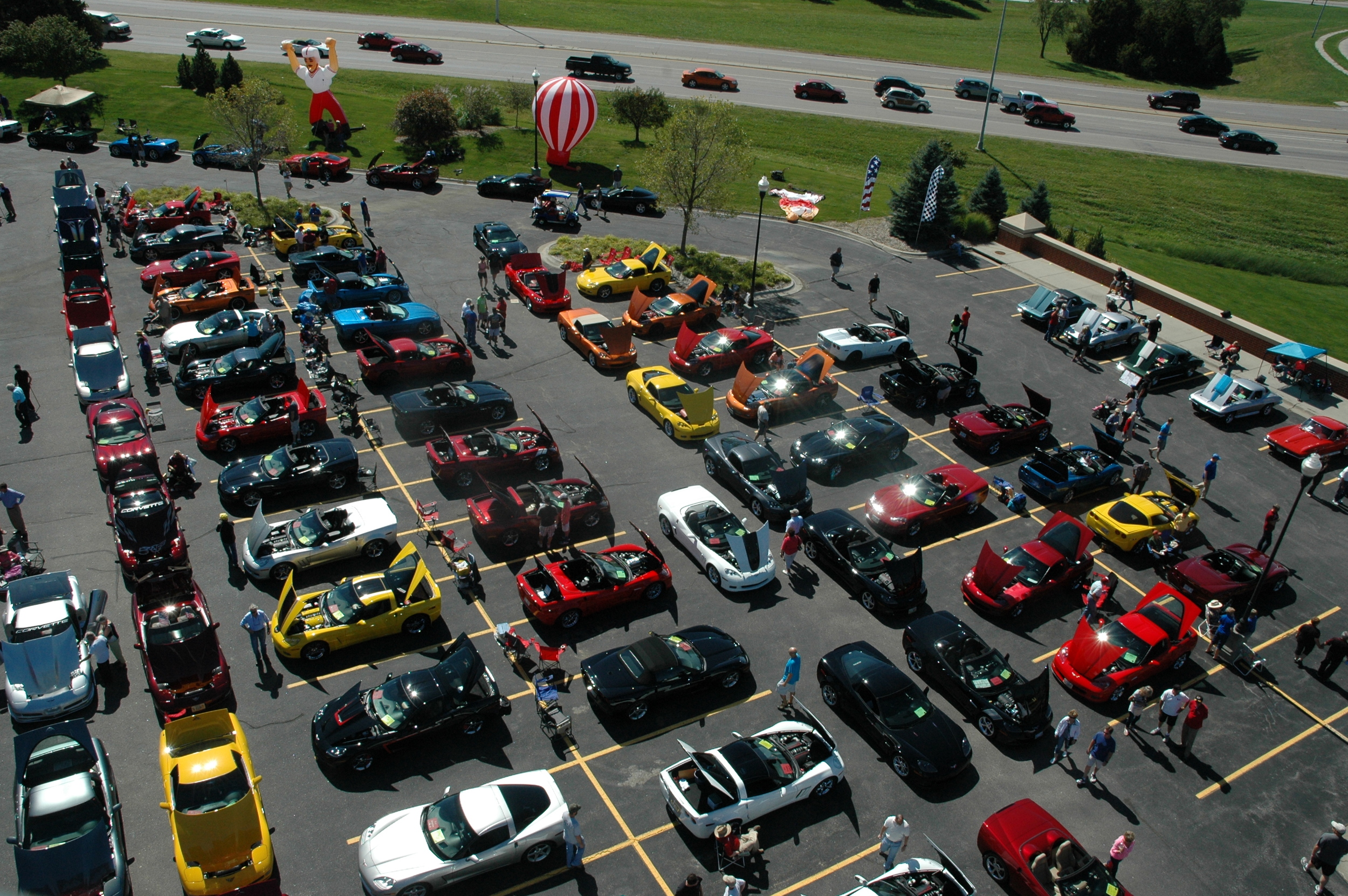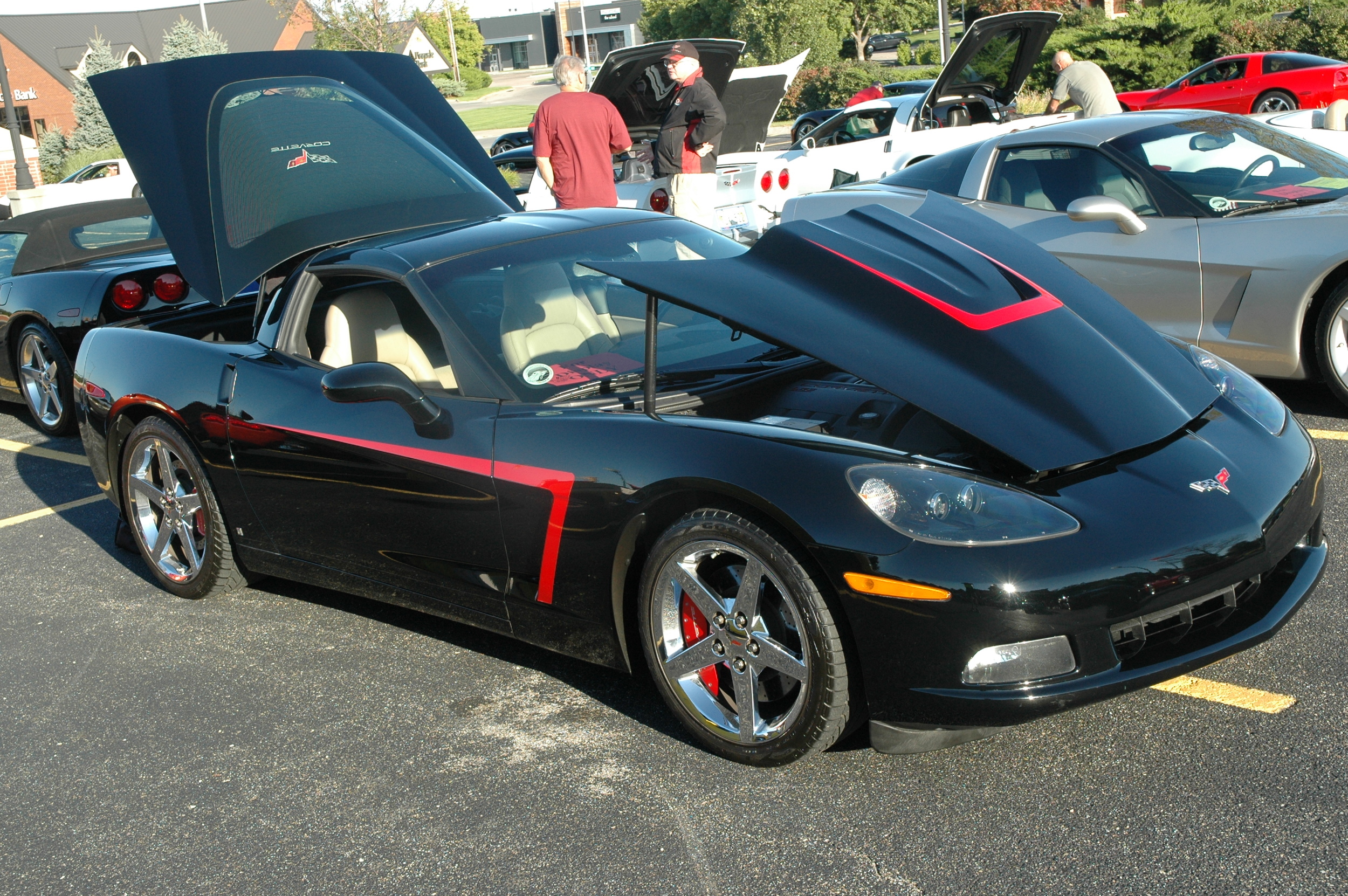 All Corvette Show 9/20/15
250 gorgeous corvettes showed at West Gate Bank Center Sunday. We had a visit from Mayor Beutler, the Lincoln Fire Department, Dairy Joe's, National Corvette Museum, and lunch from Hy-Vee.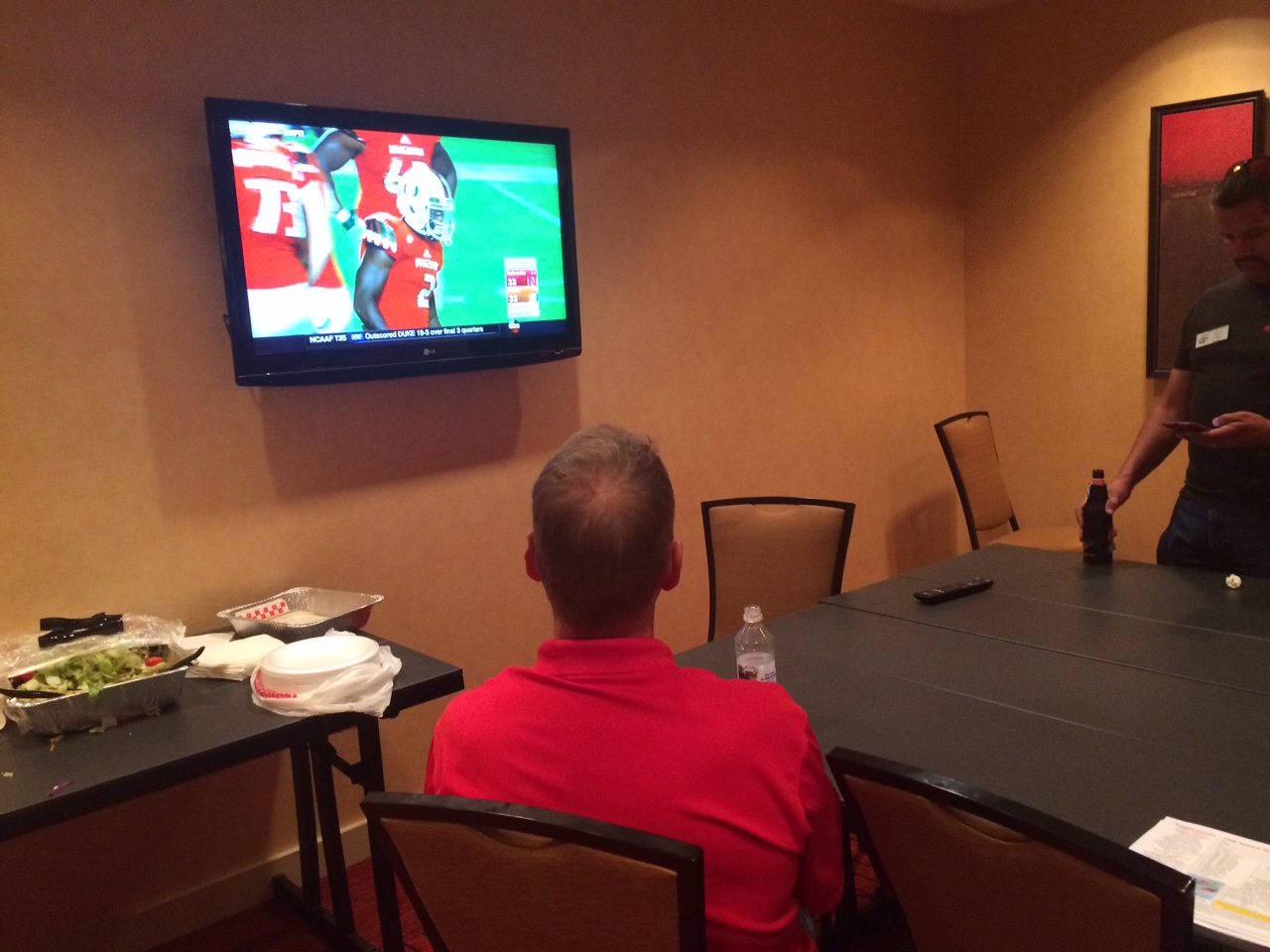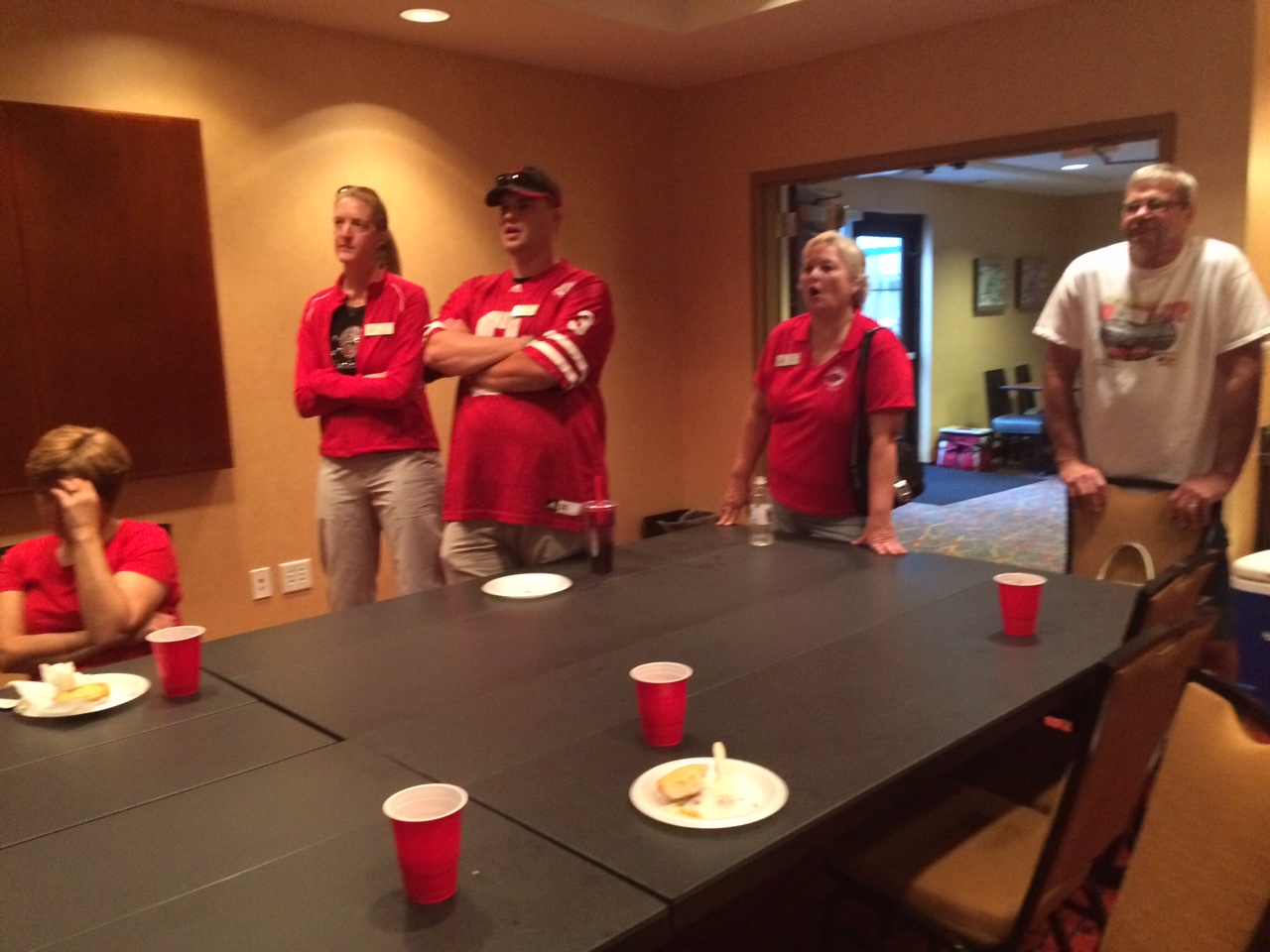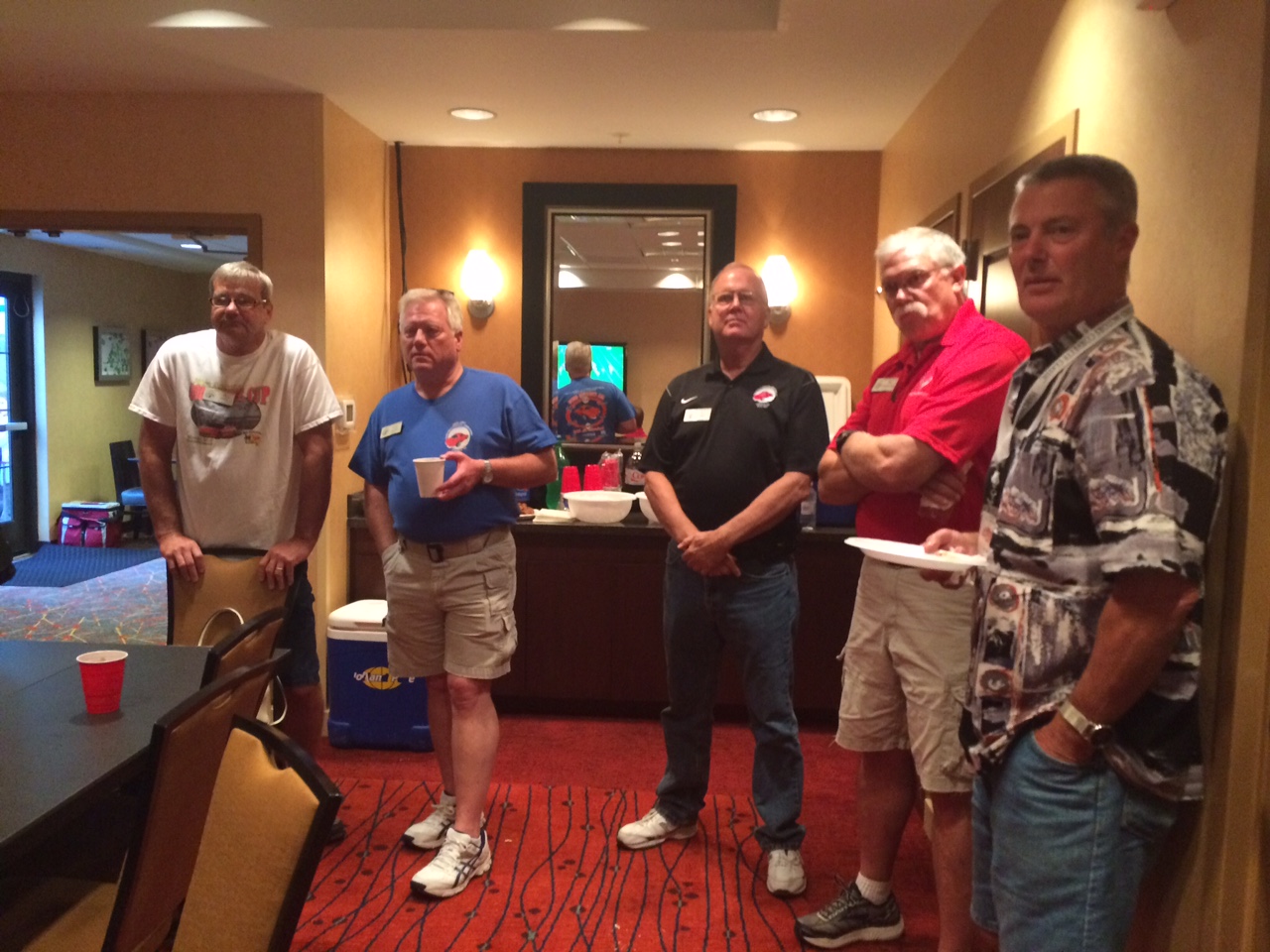 Kansas City Club Dinner 9/19/15
NCA hosted a pizza party for members from the Kansas City clubs.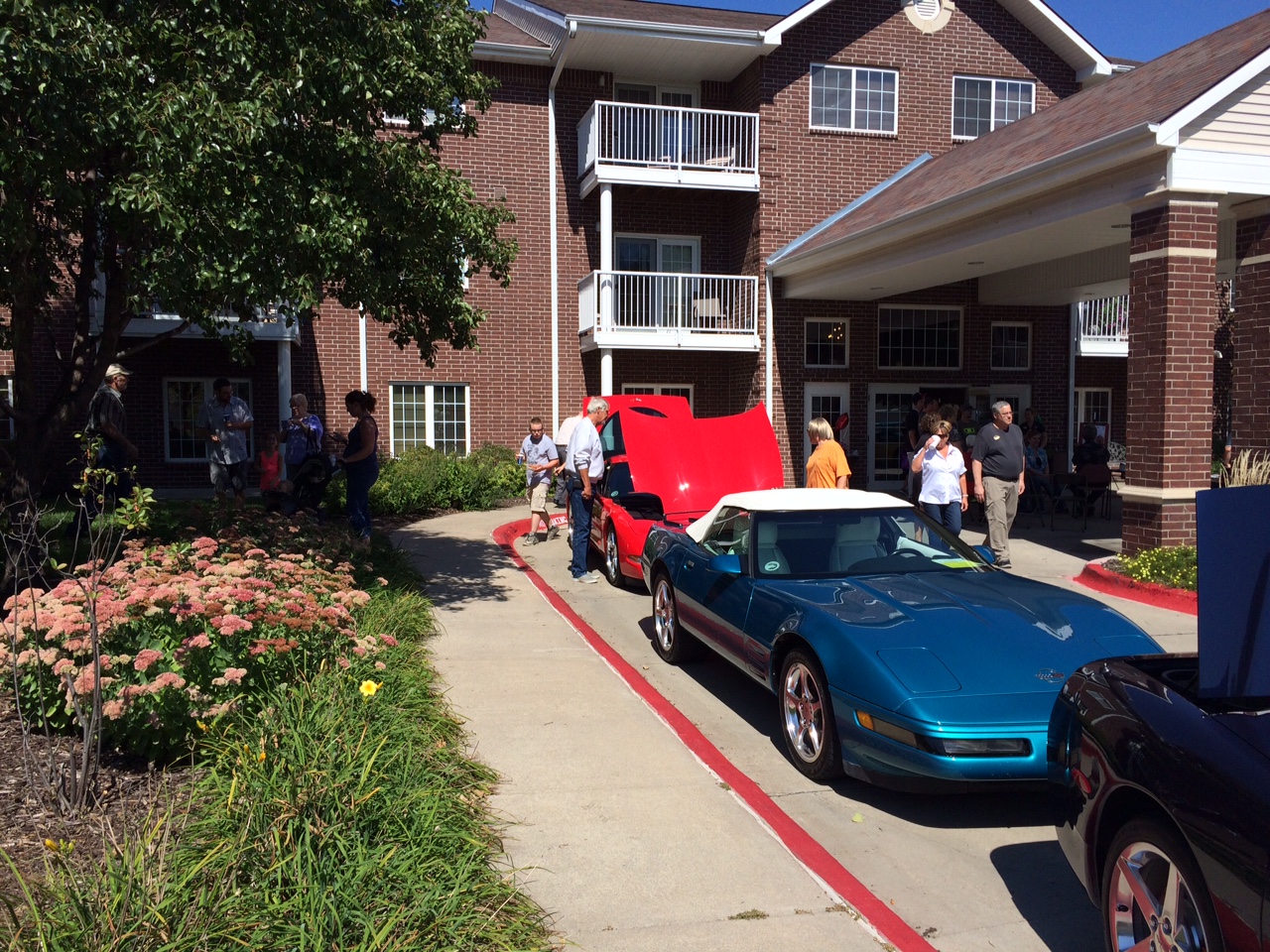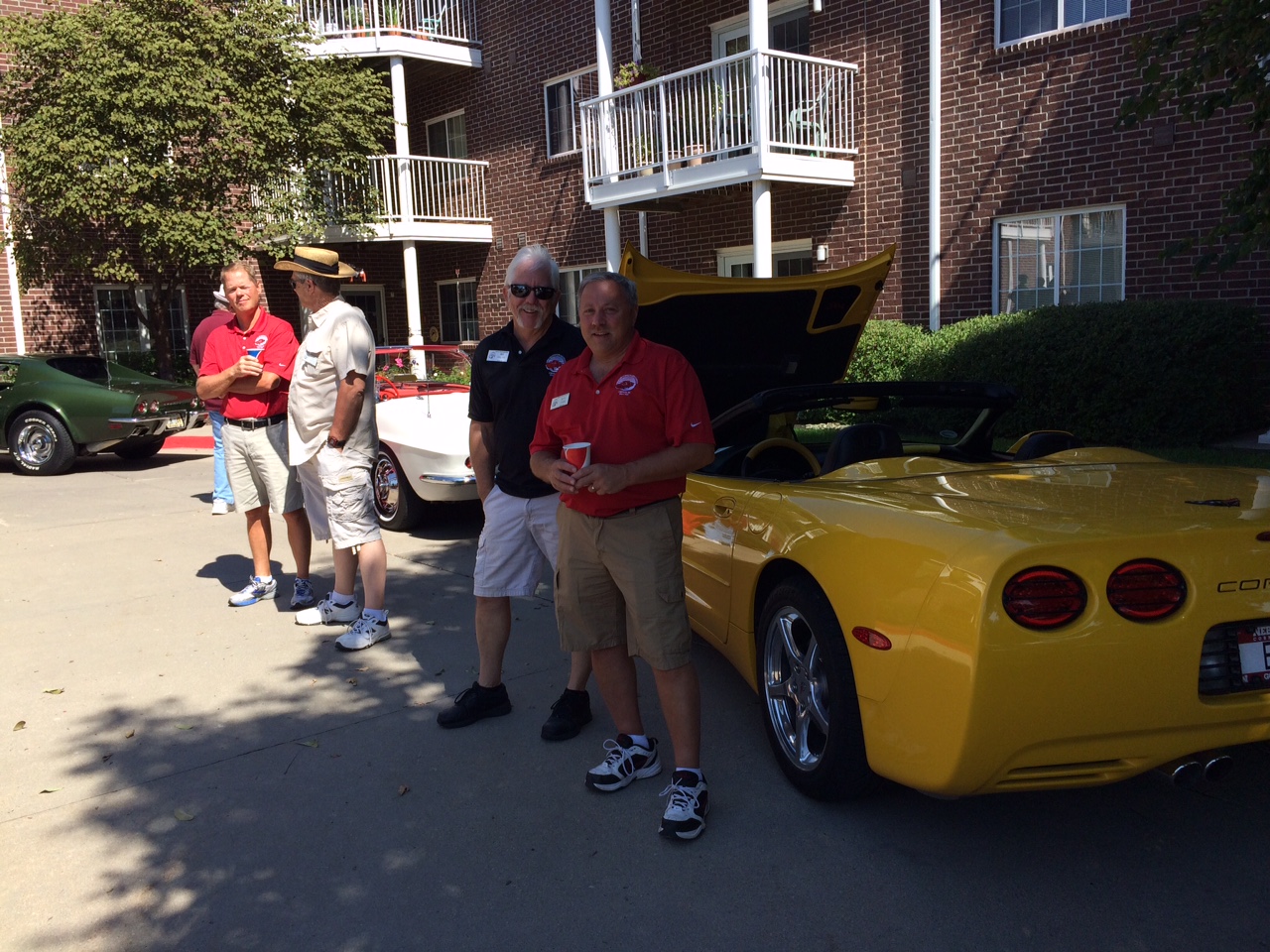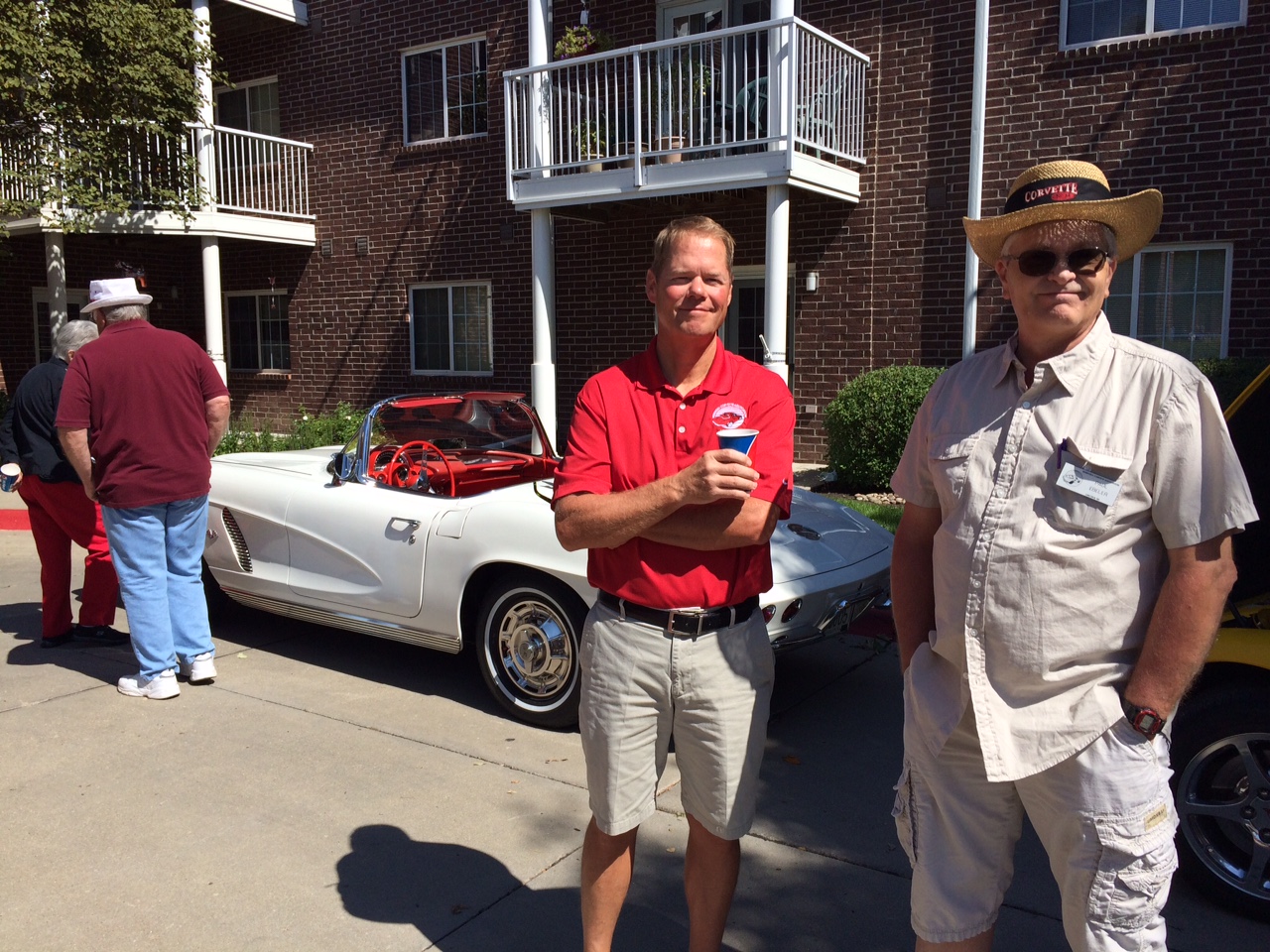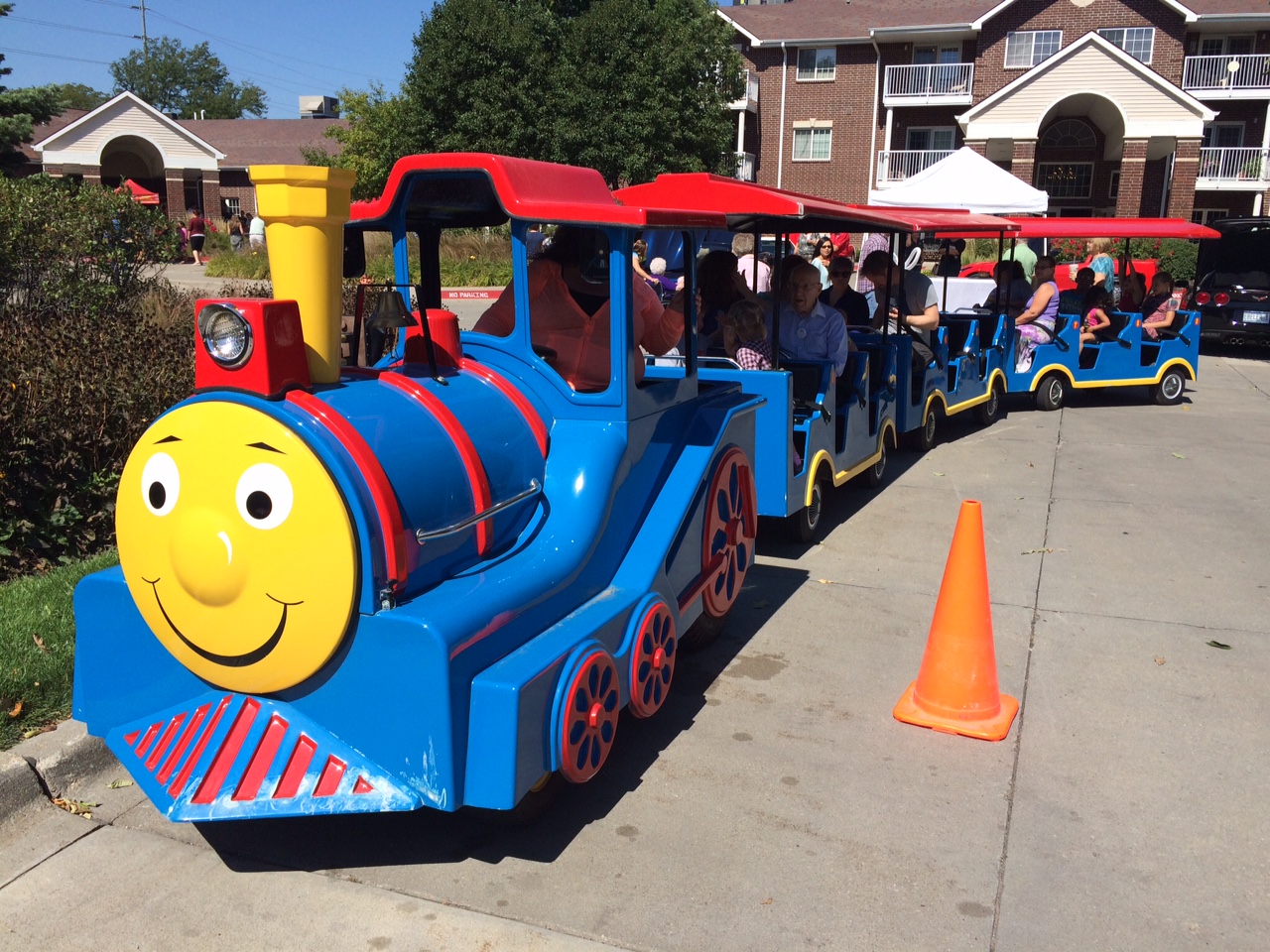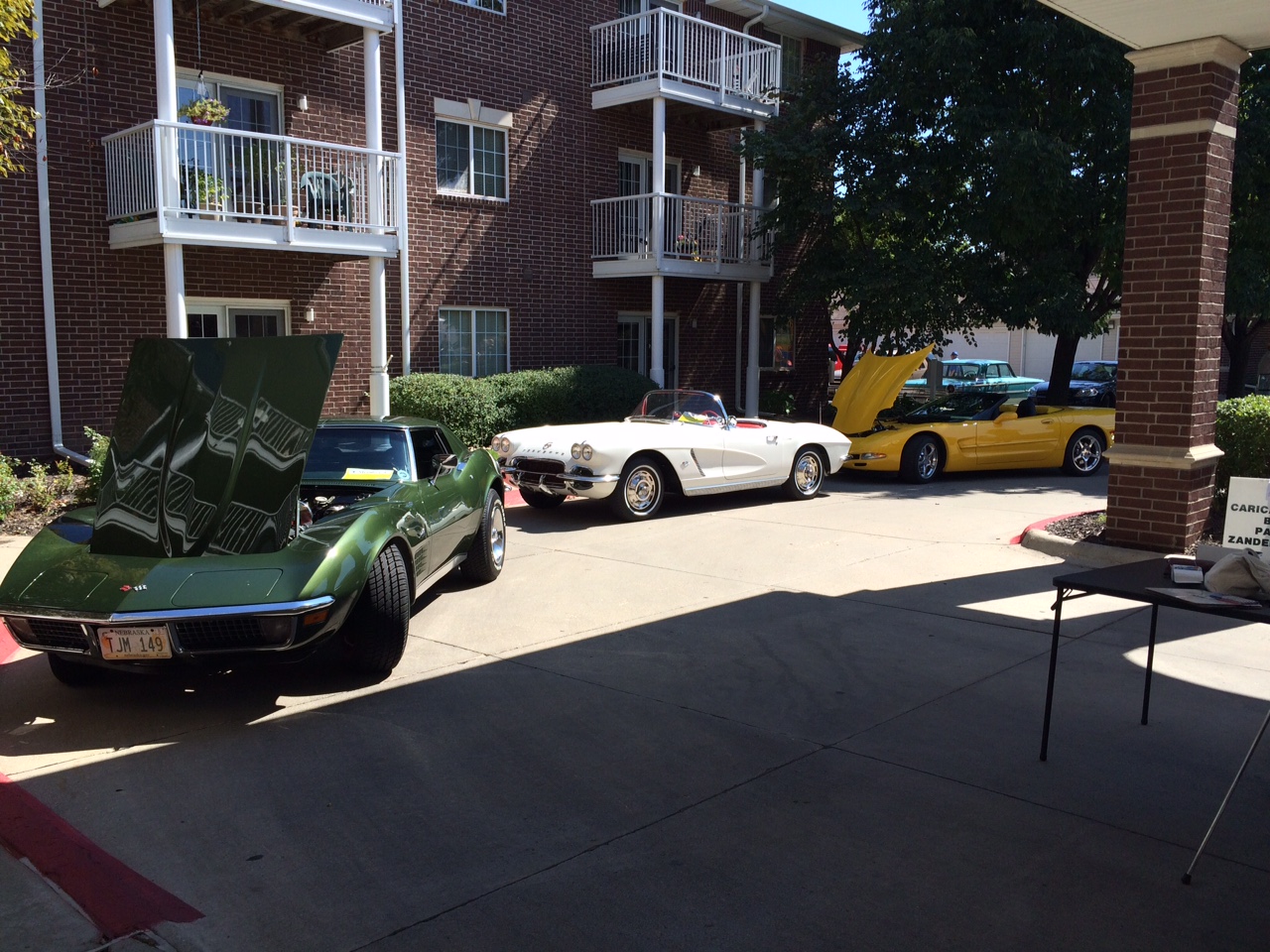 We had another great time at a the Legacy Terrace Retirement Center at 56th & Fremont. We had 9 cars & 10 members attend. Daryl B, Paul & Kathy E, Ed G, Bill Z, Mike H, Terry & DeEtta M, Kevin & Jenny C, Bruce R, and Bob S. It was a Carnival Atmosphere!!!
Tom and Marilyn took their C6 LeMans Blue Coupe around the National Corvette Museum Motorsports Track with Mgr. Mitch Wright (in the Red Polo) Mitch was kind enough to lead us around this challenging 3.15 Mile Race Track designated as the Official Test Track of the C7-R Corvette Race Team. We reached speeds of over 100 mph.
NCA Picnic 8/30/15
Ann pulled off a great event this year with lots of fun and plenty of great food! We had ladderball and bean bag tournaments with prizes, a gorgeous day, and beautiful scenery at Mahoney State Park.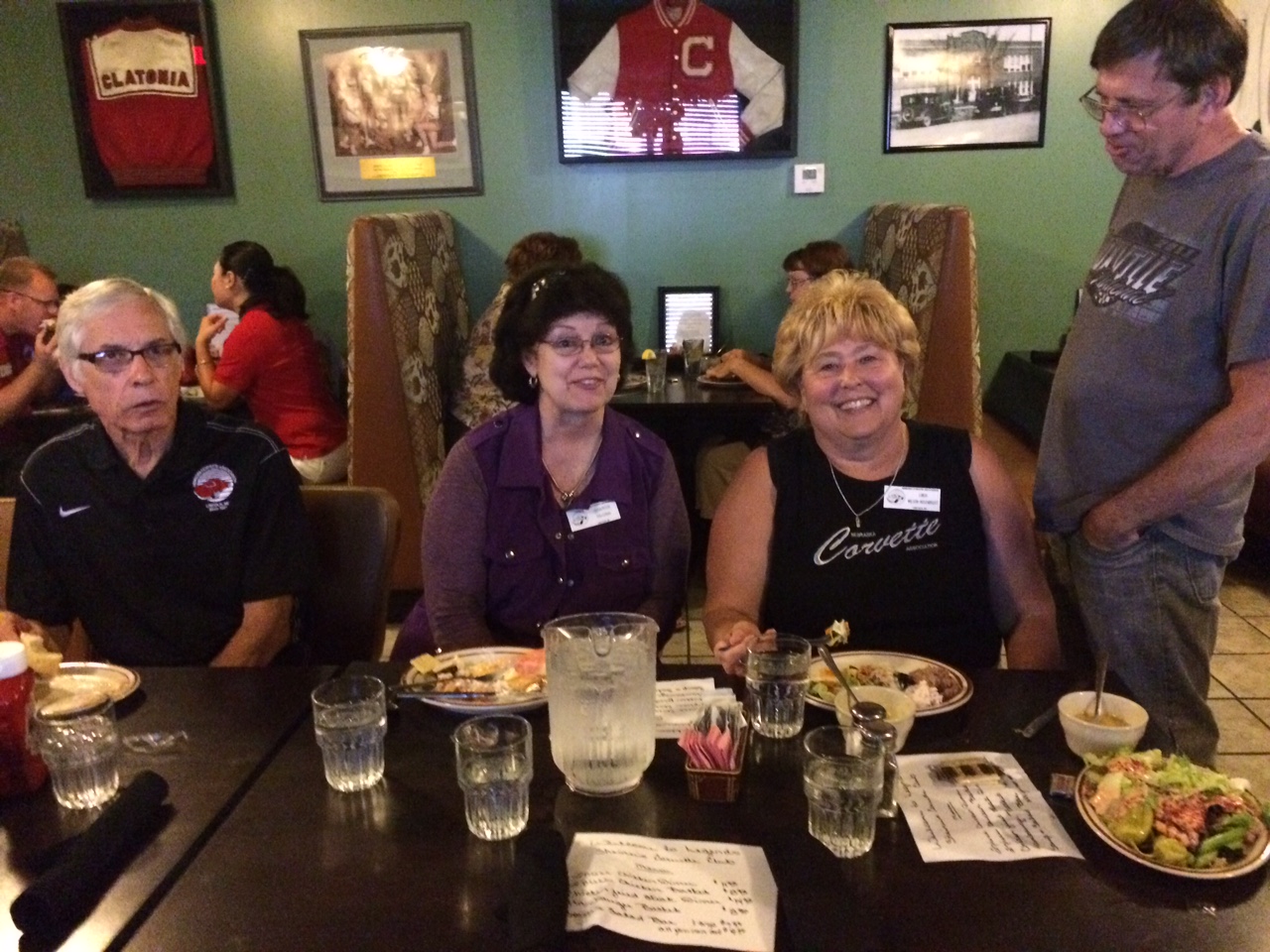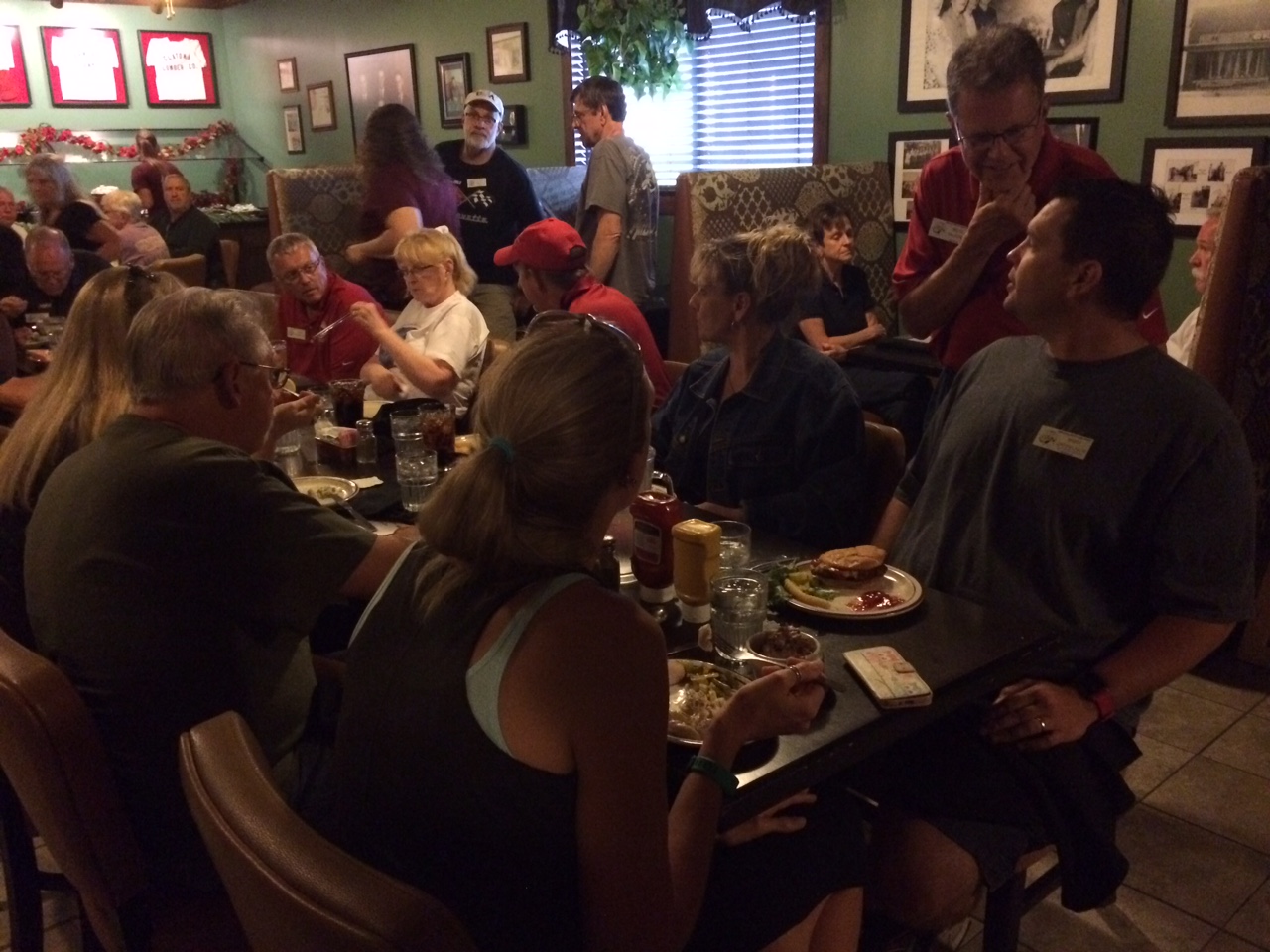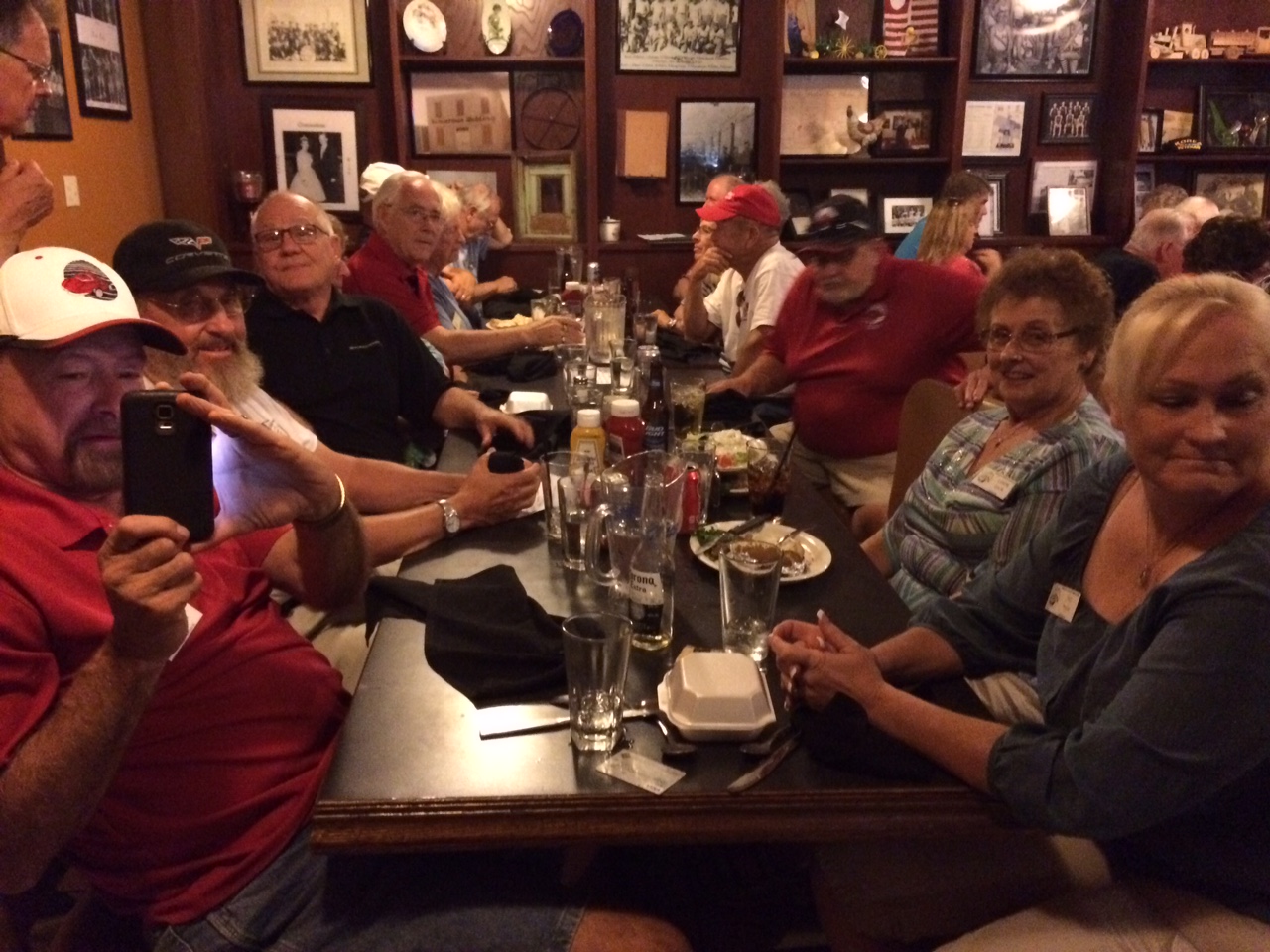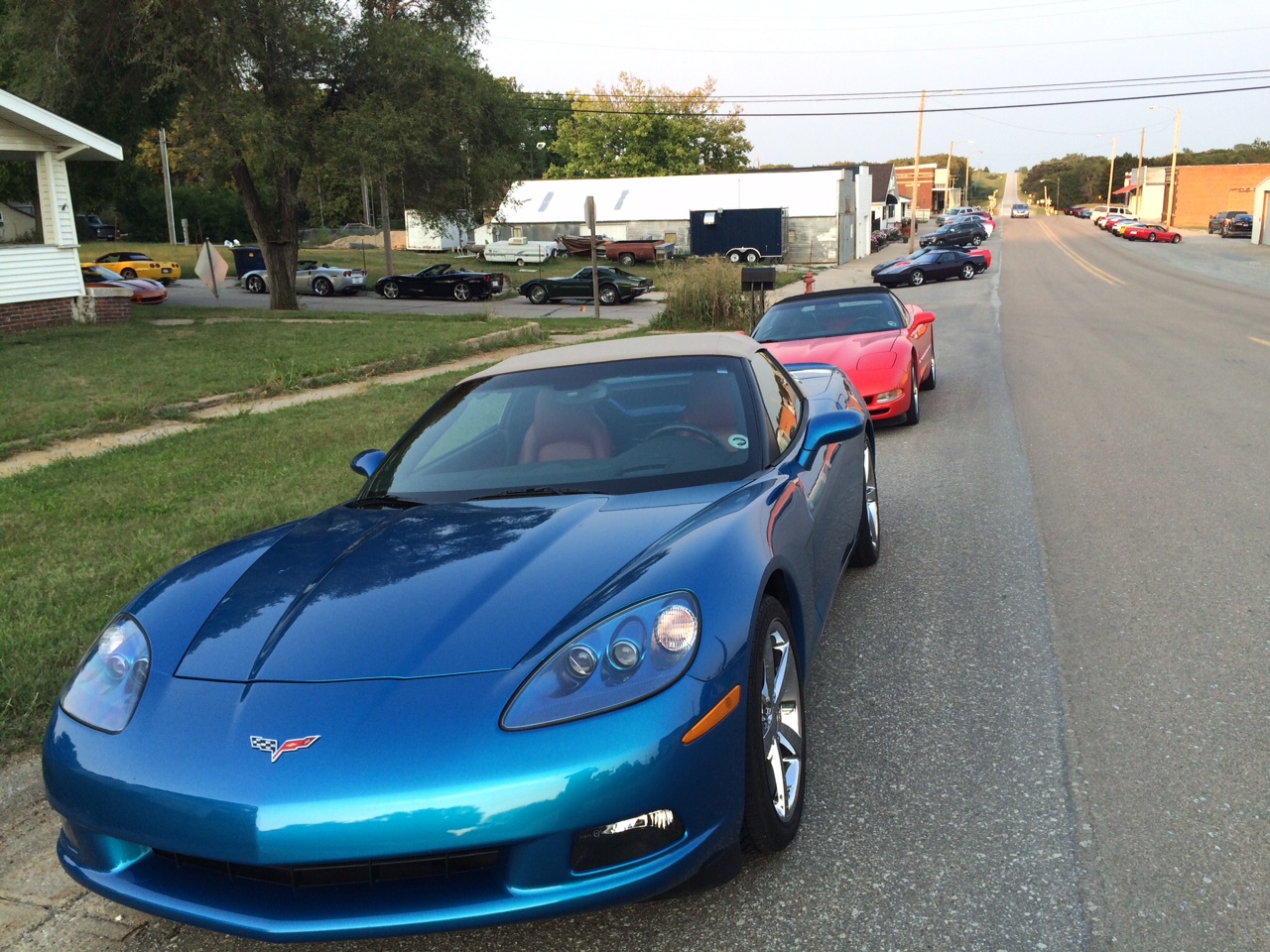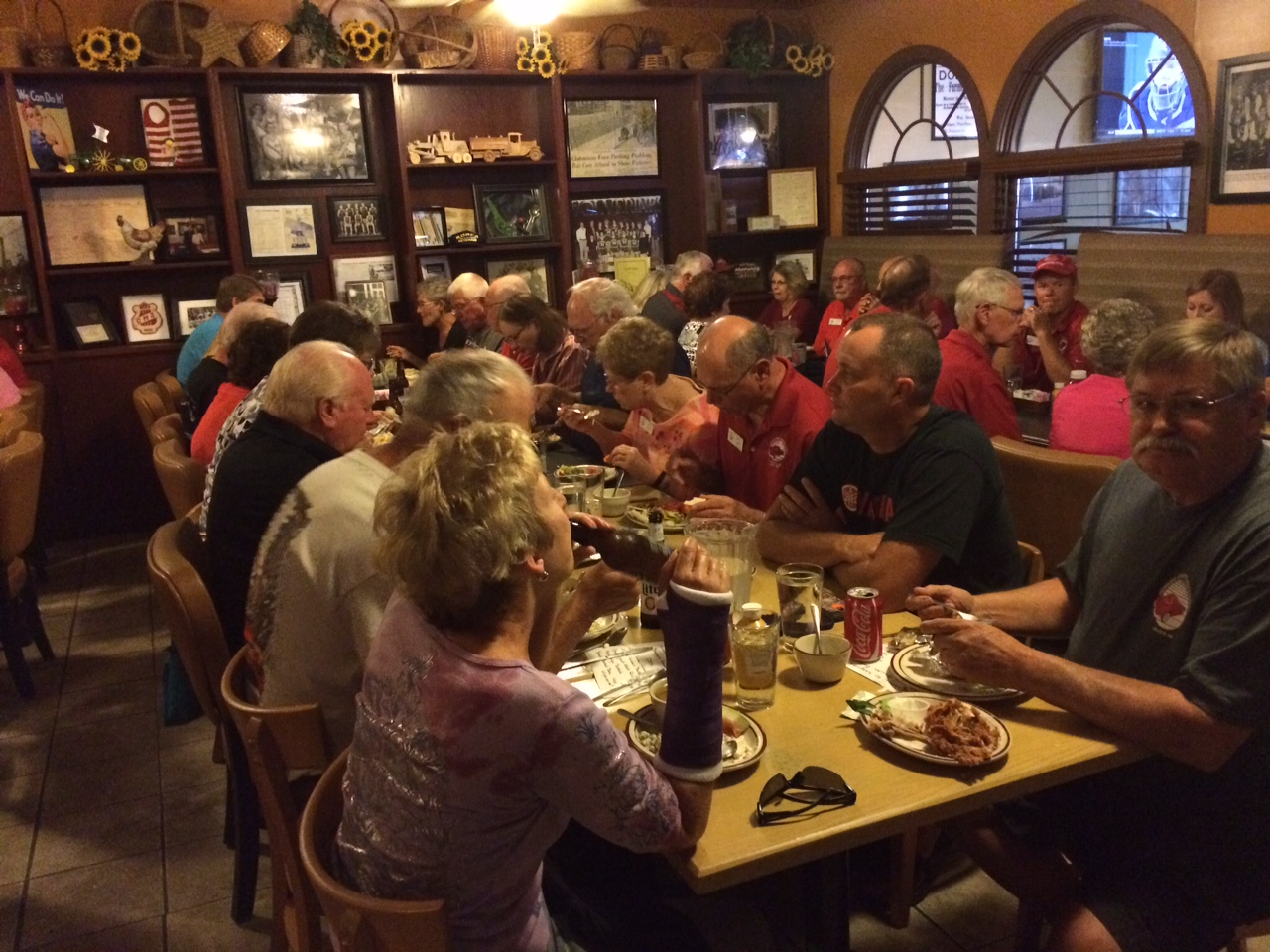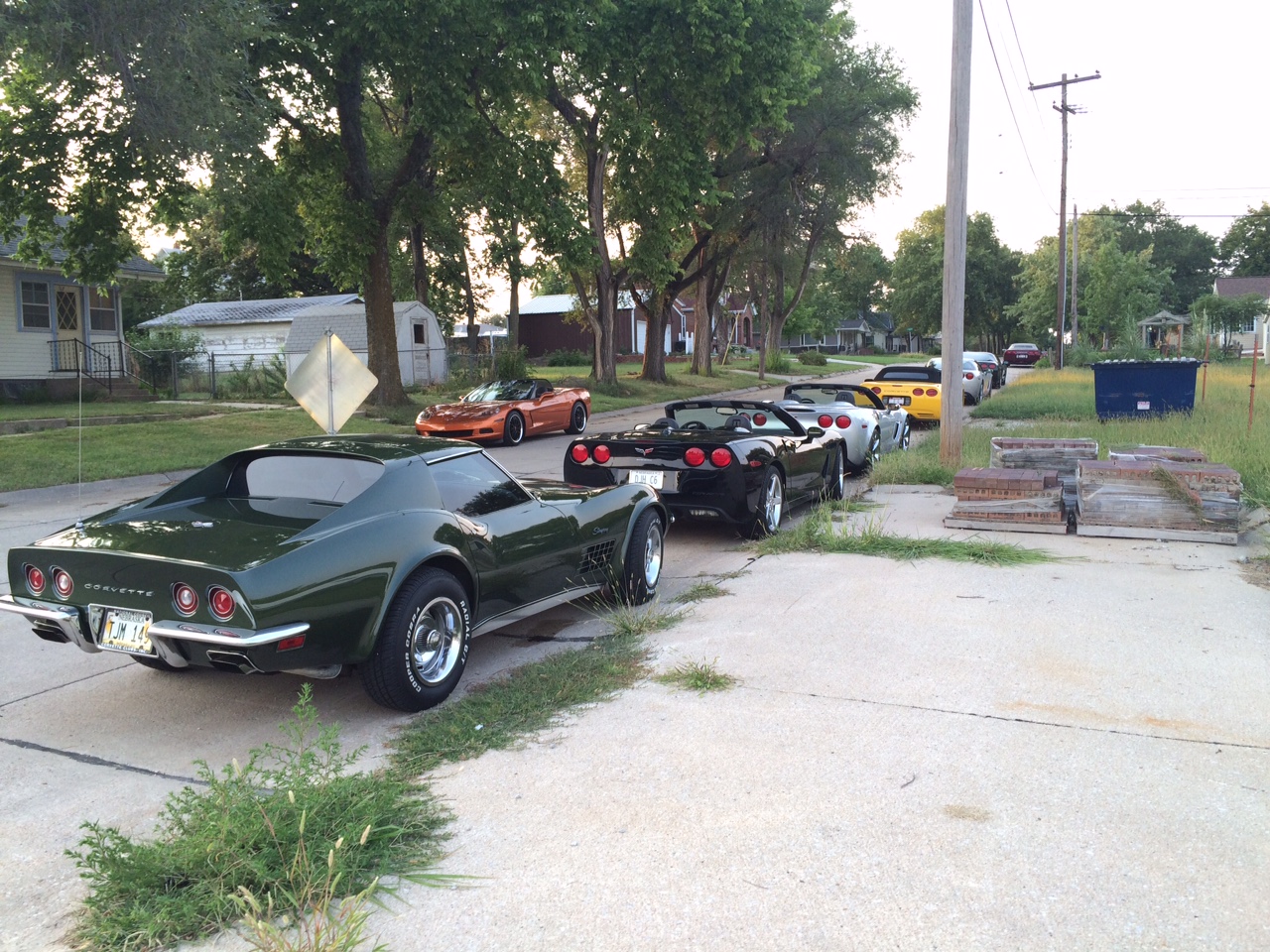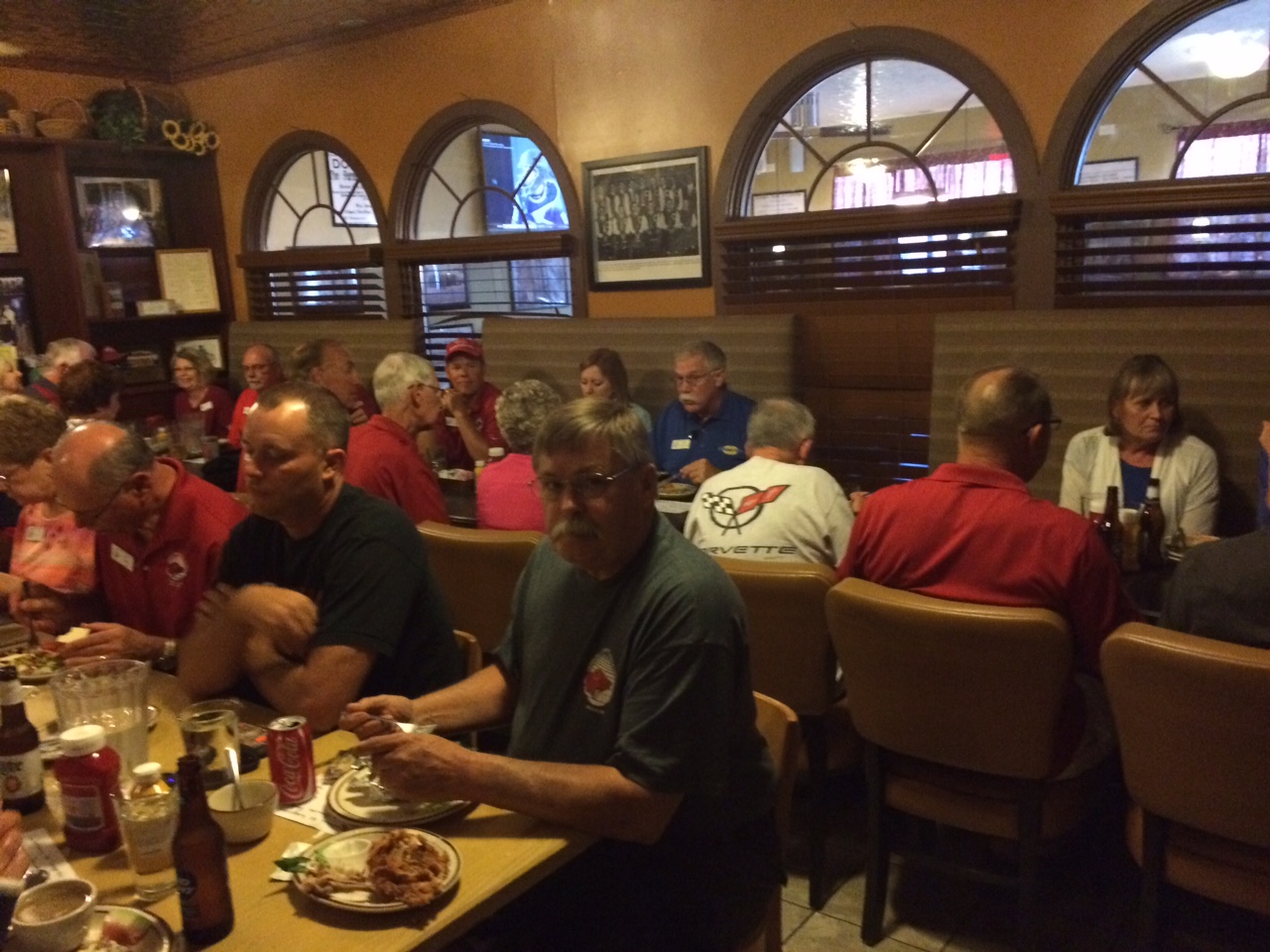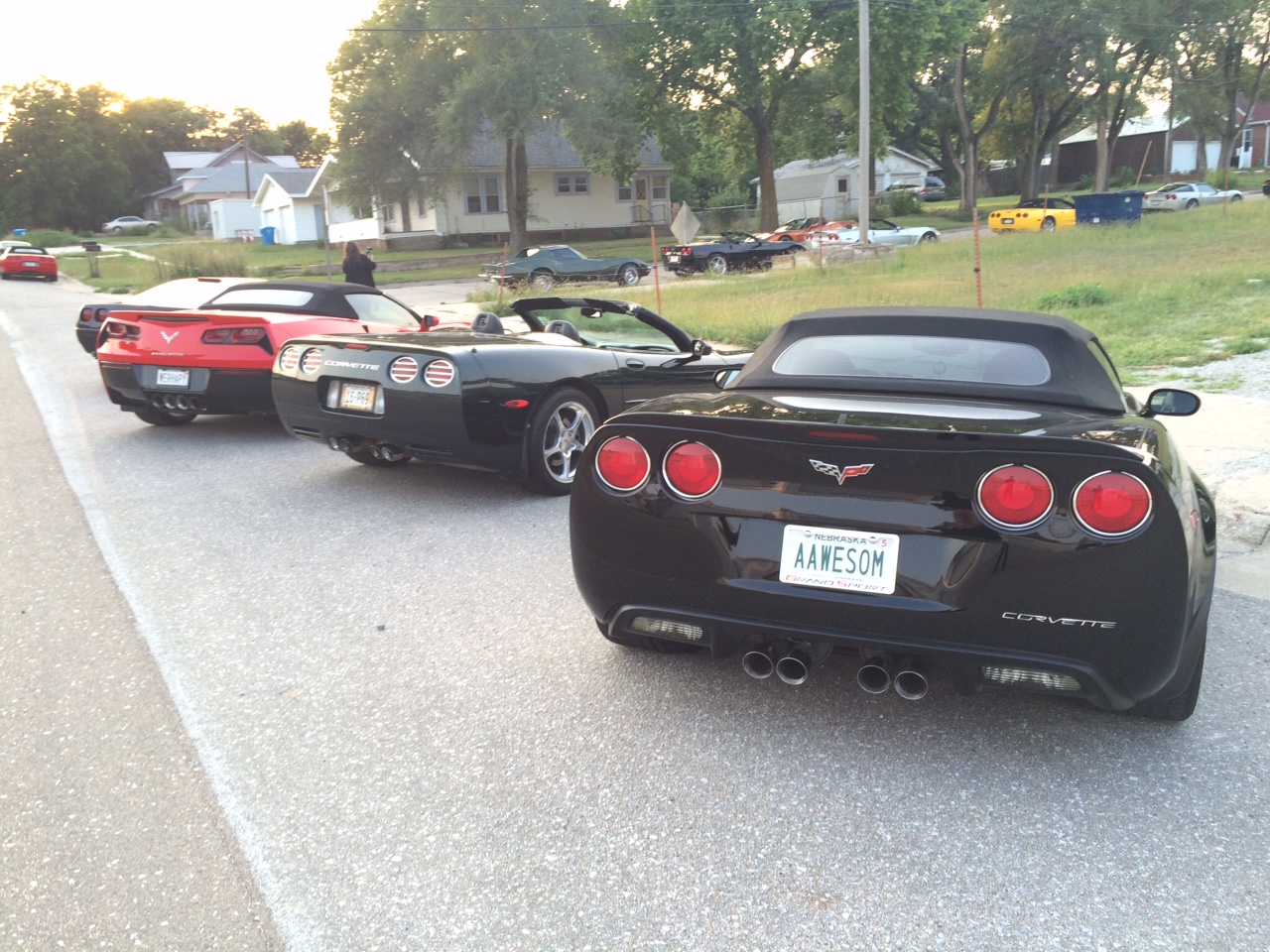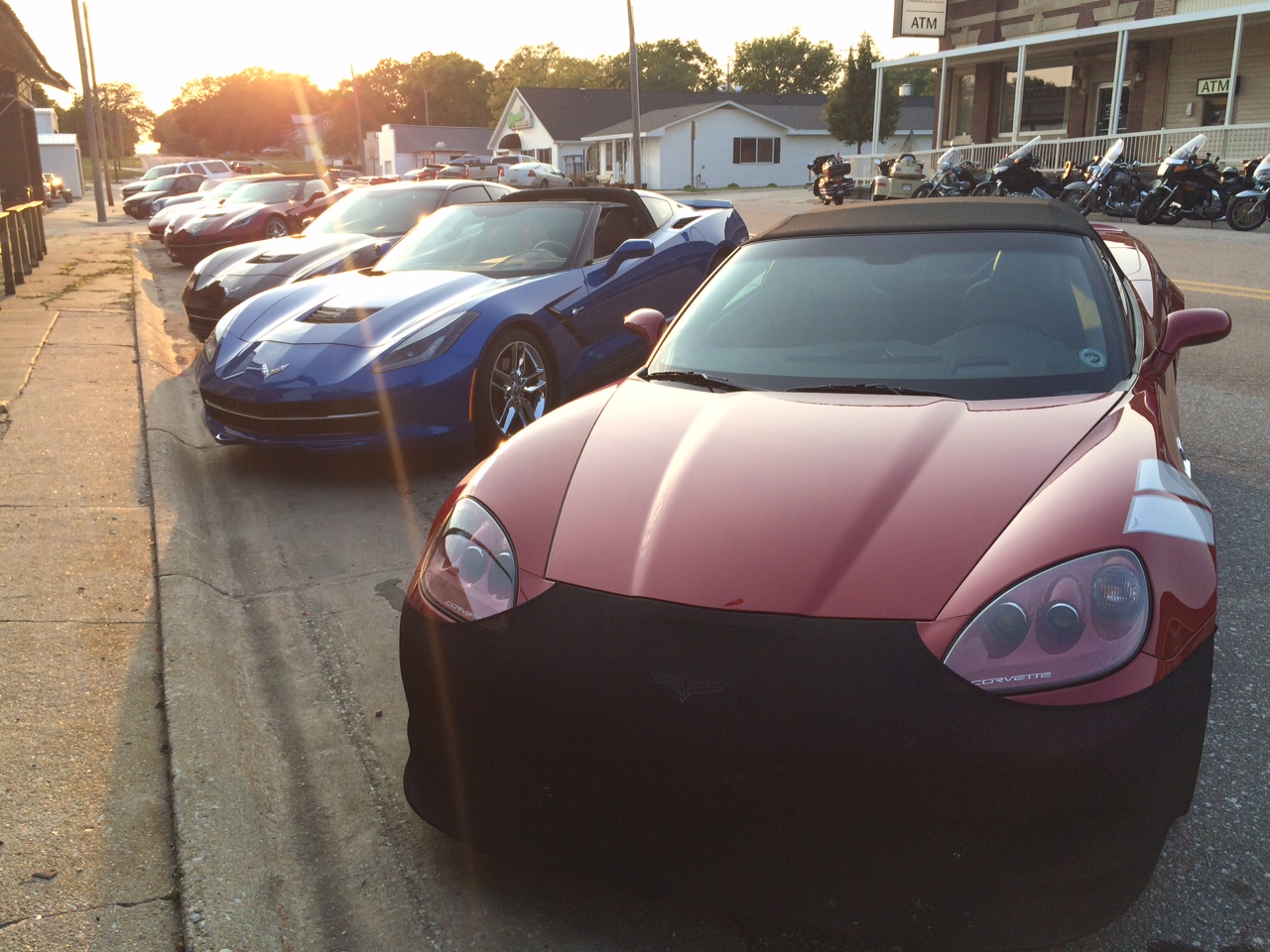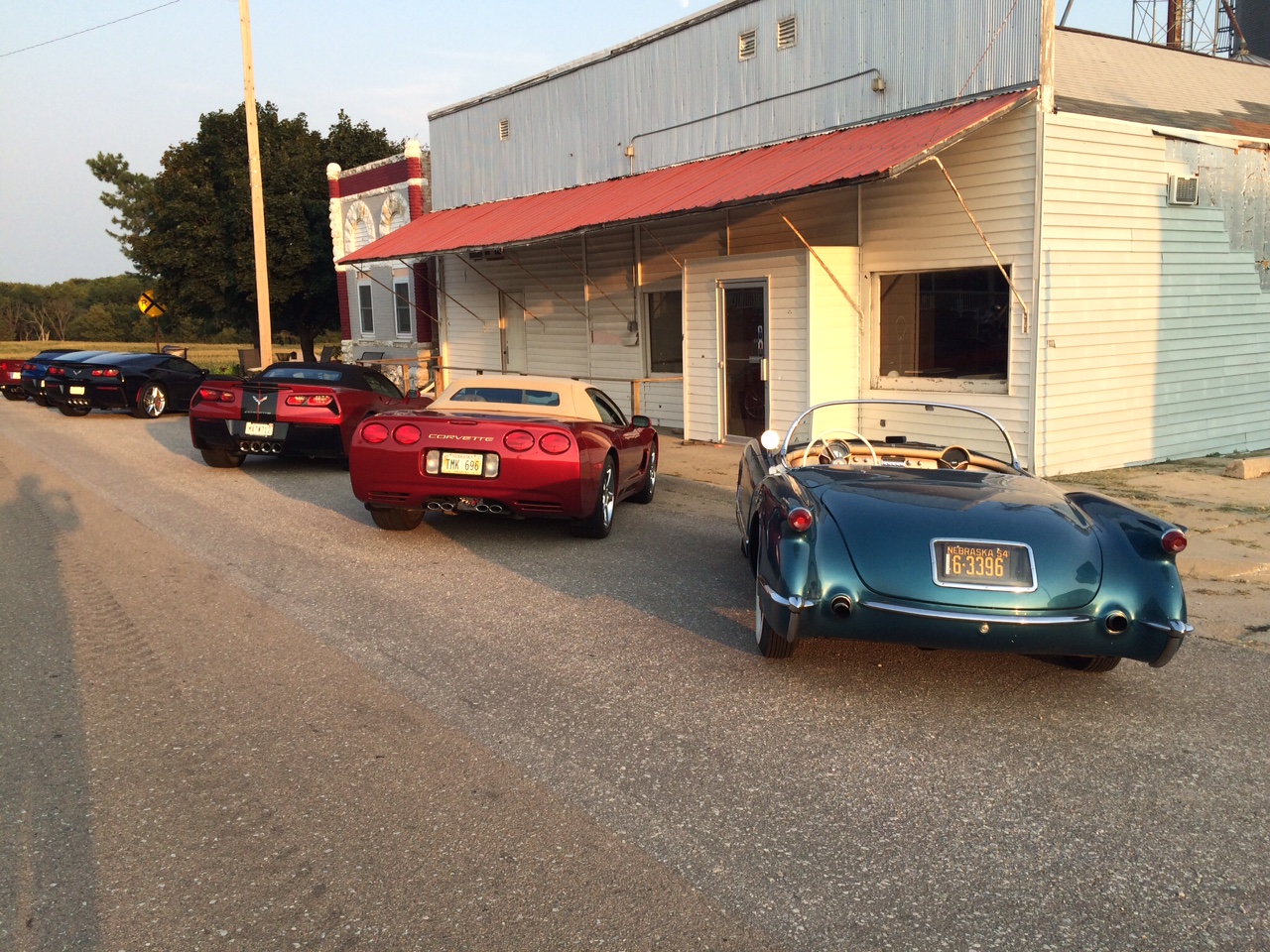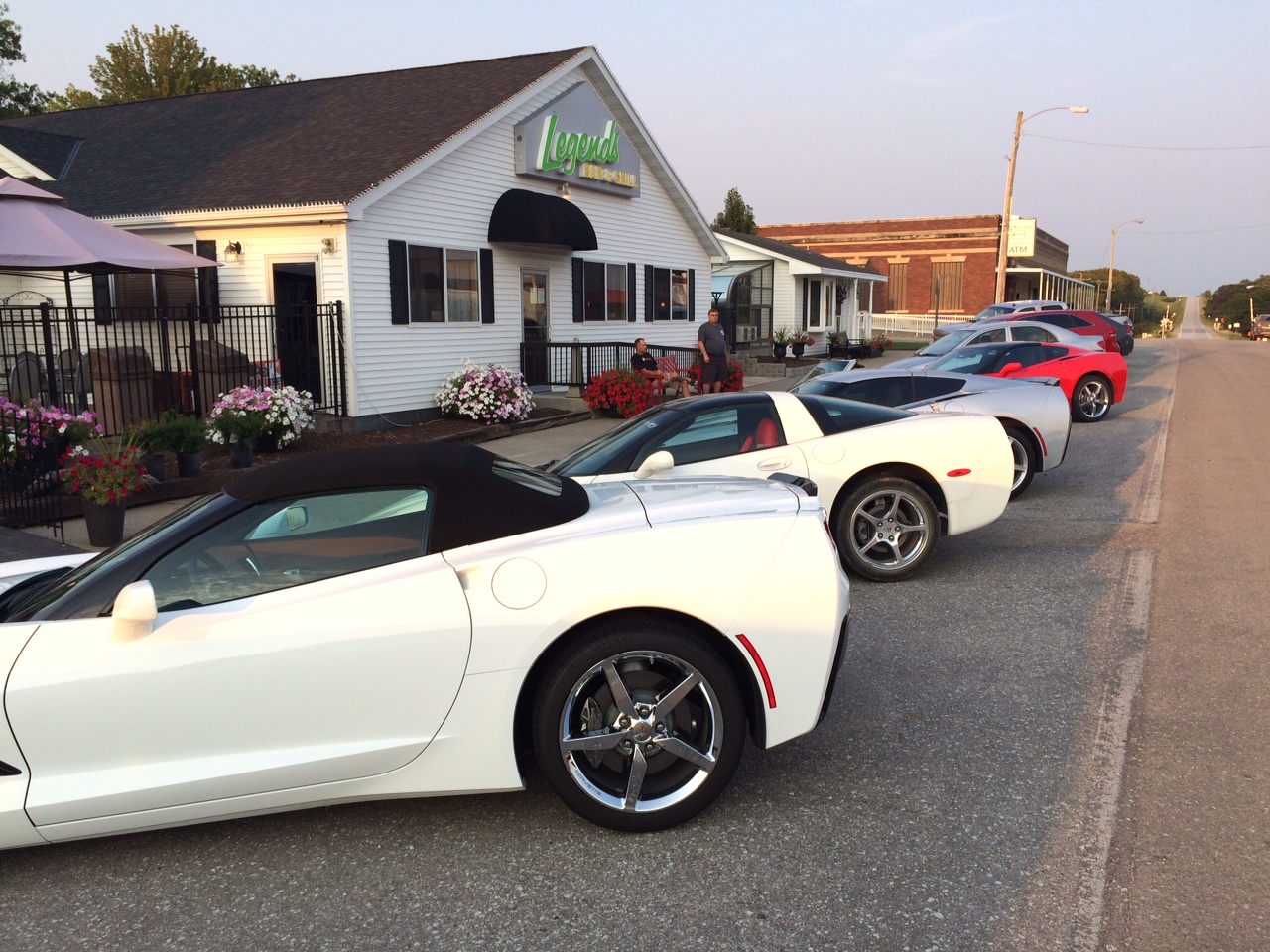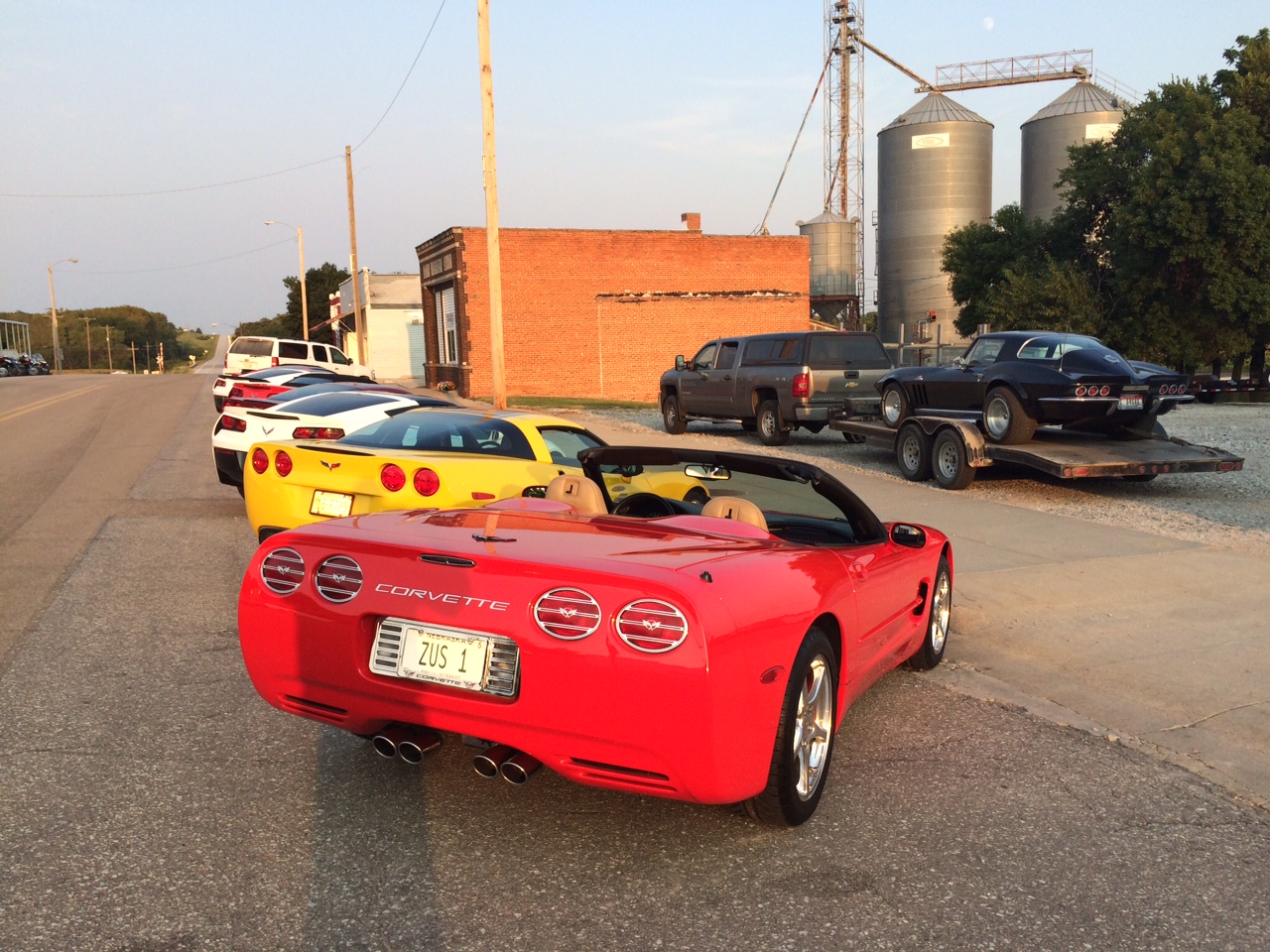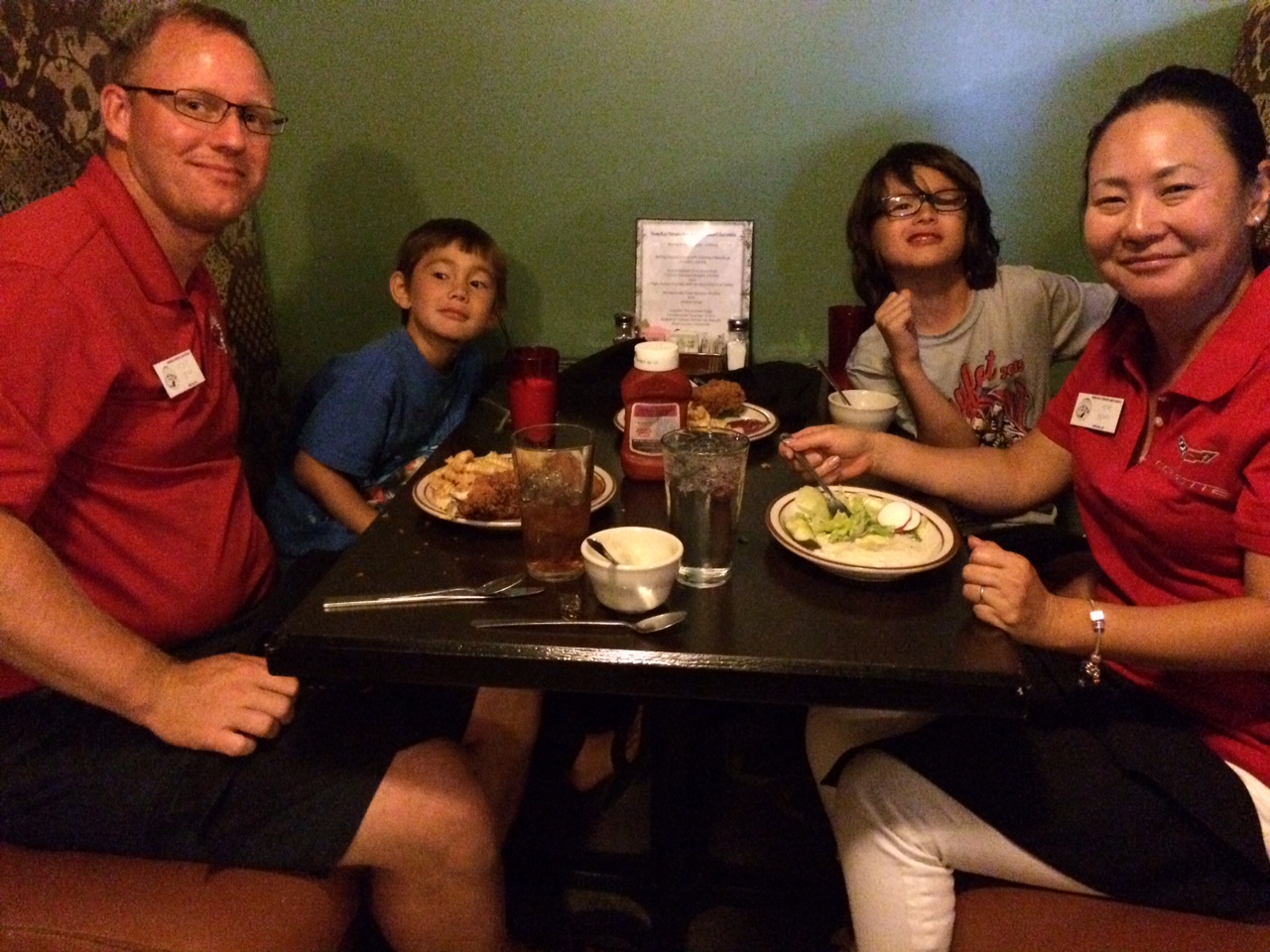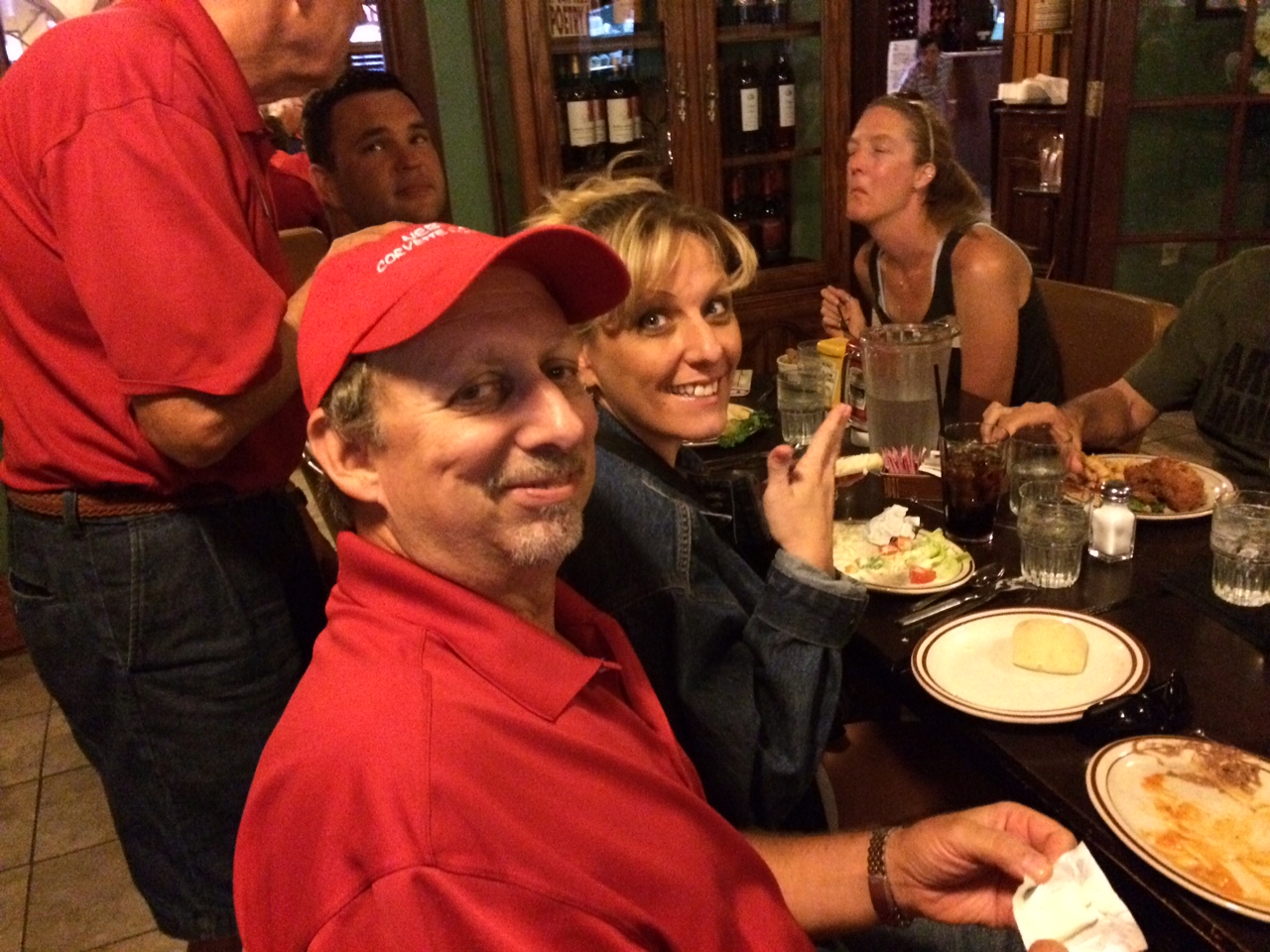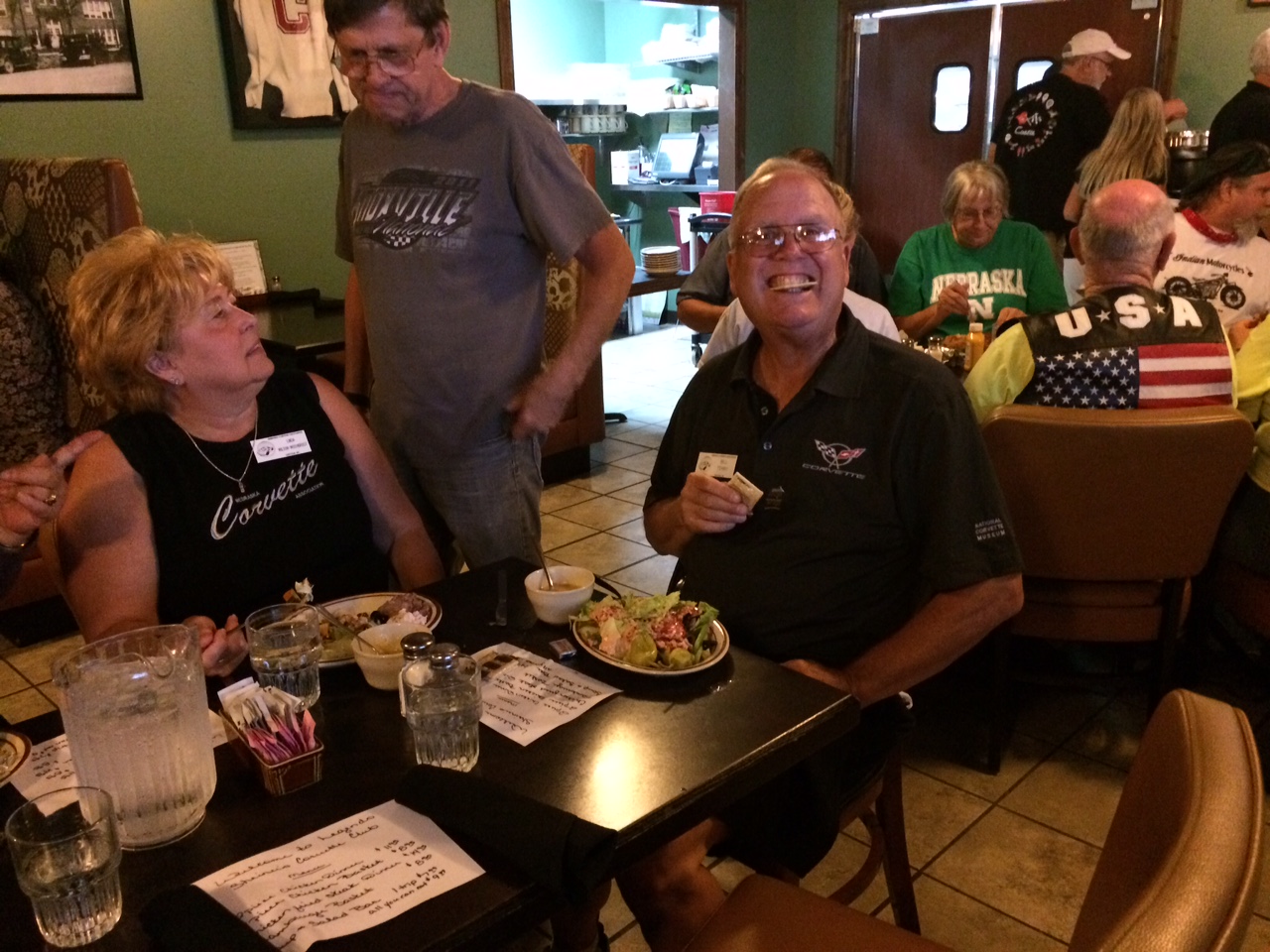 NCA August Social 8/26/15
We left from Southwest High School for a nice drive down to Clatonia and a dinner at Legends. 38 cars and 56 members made the trip on a wonderful evening, many with their tops down.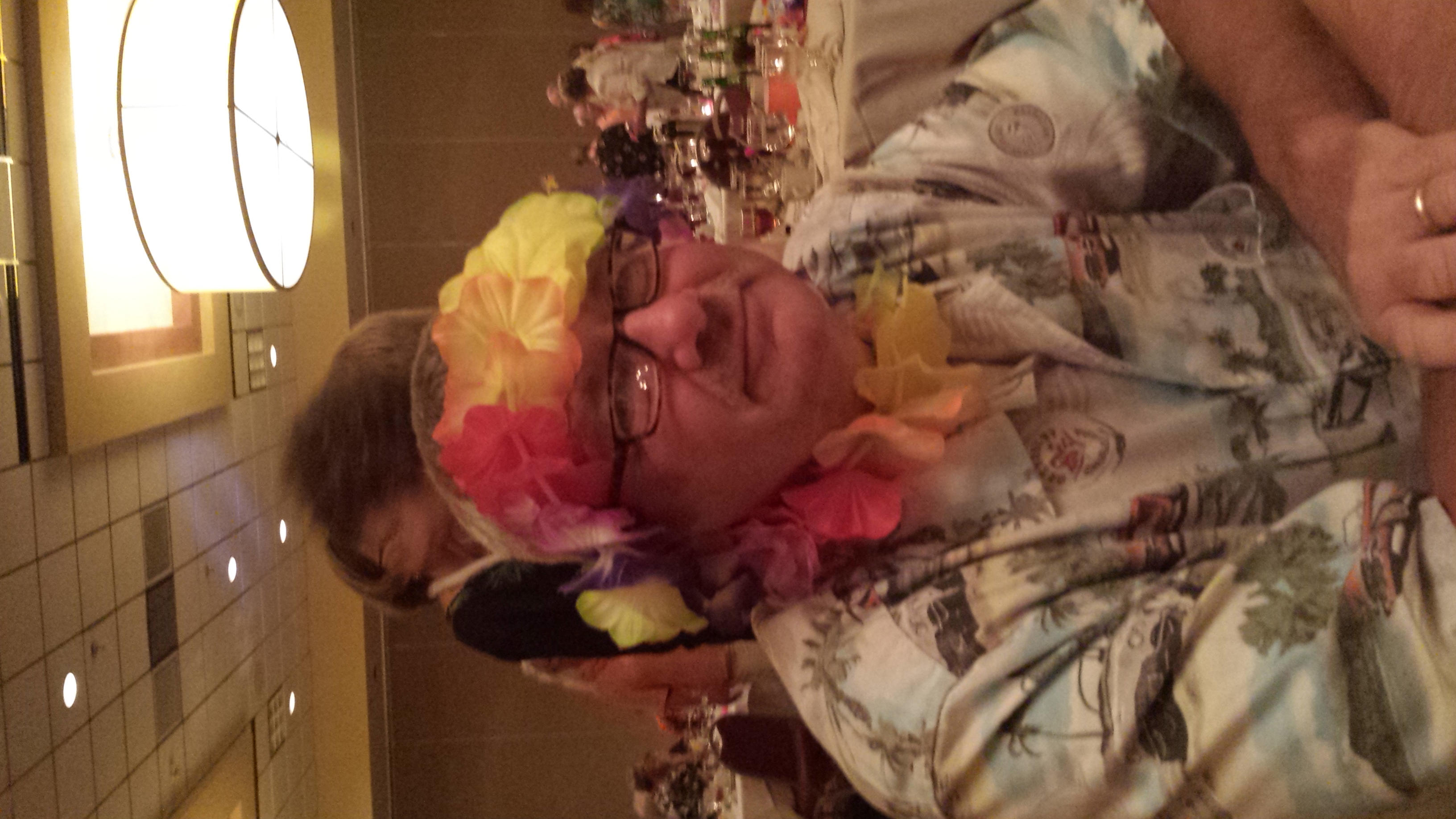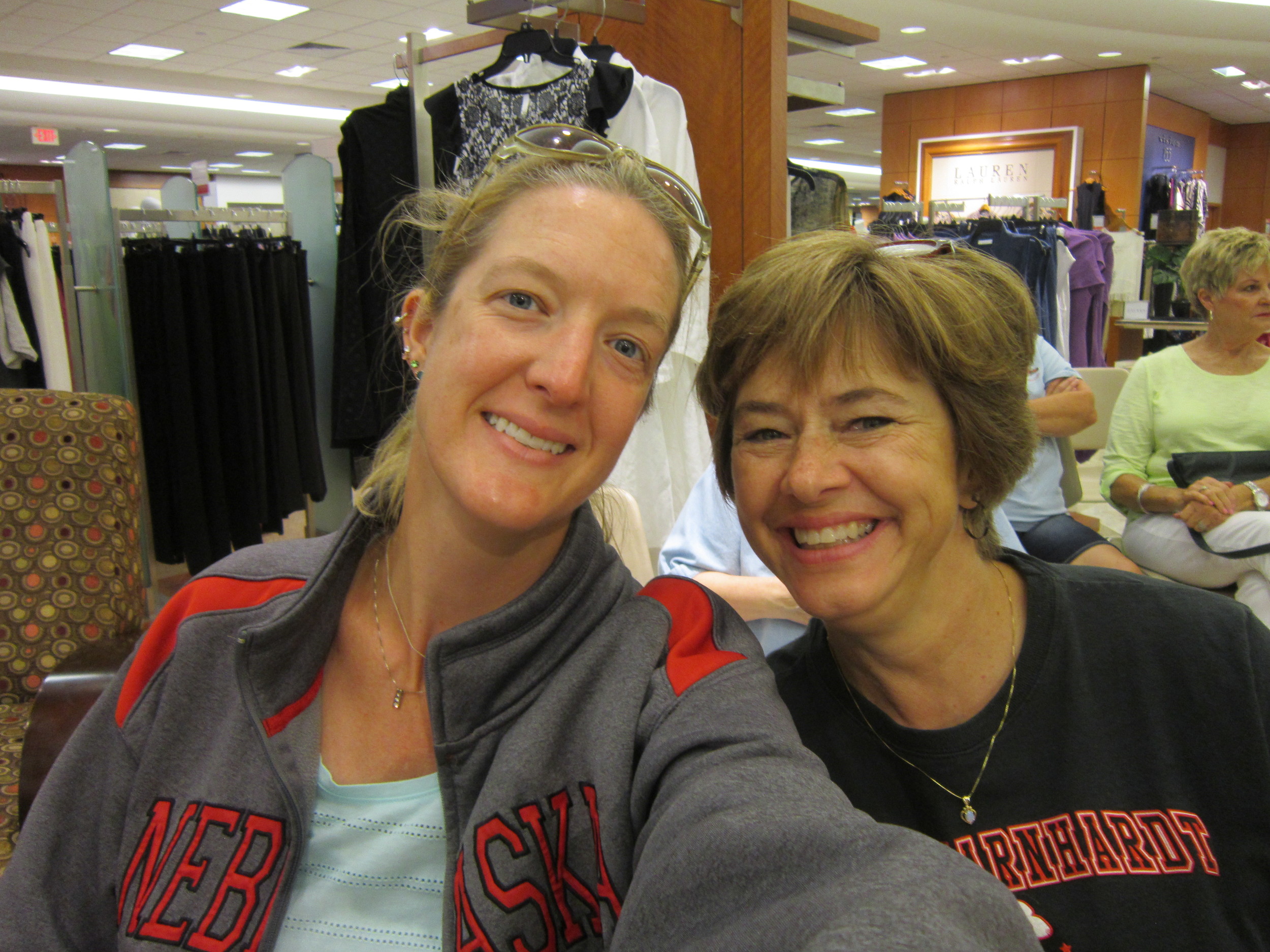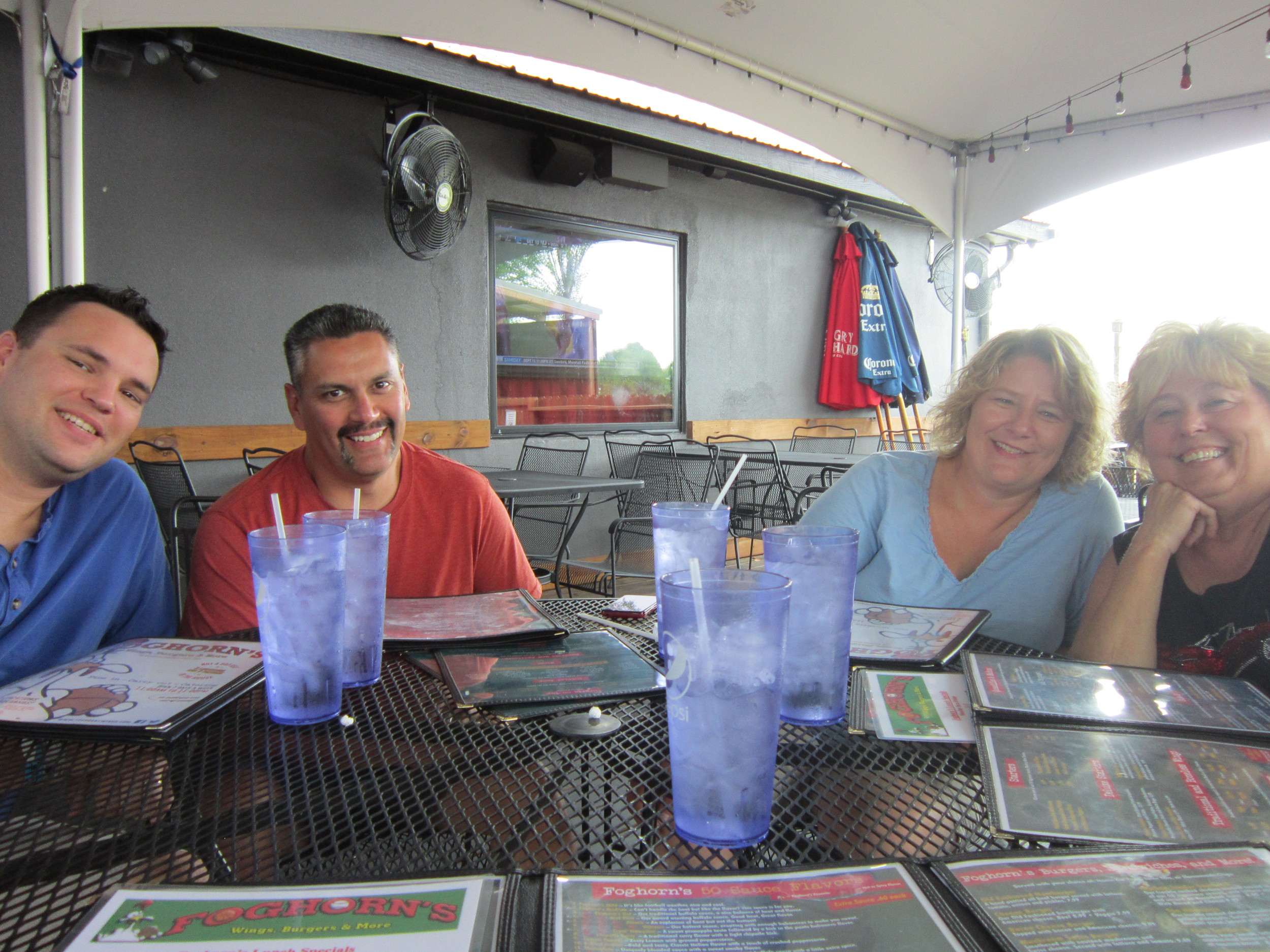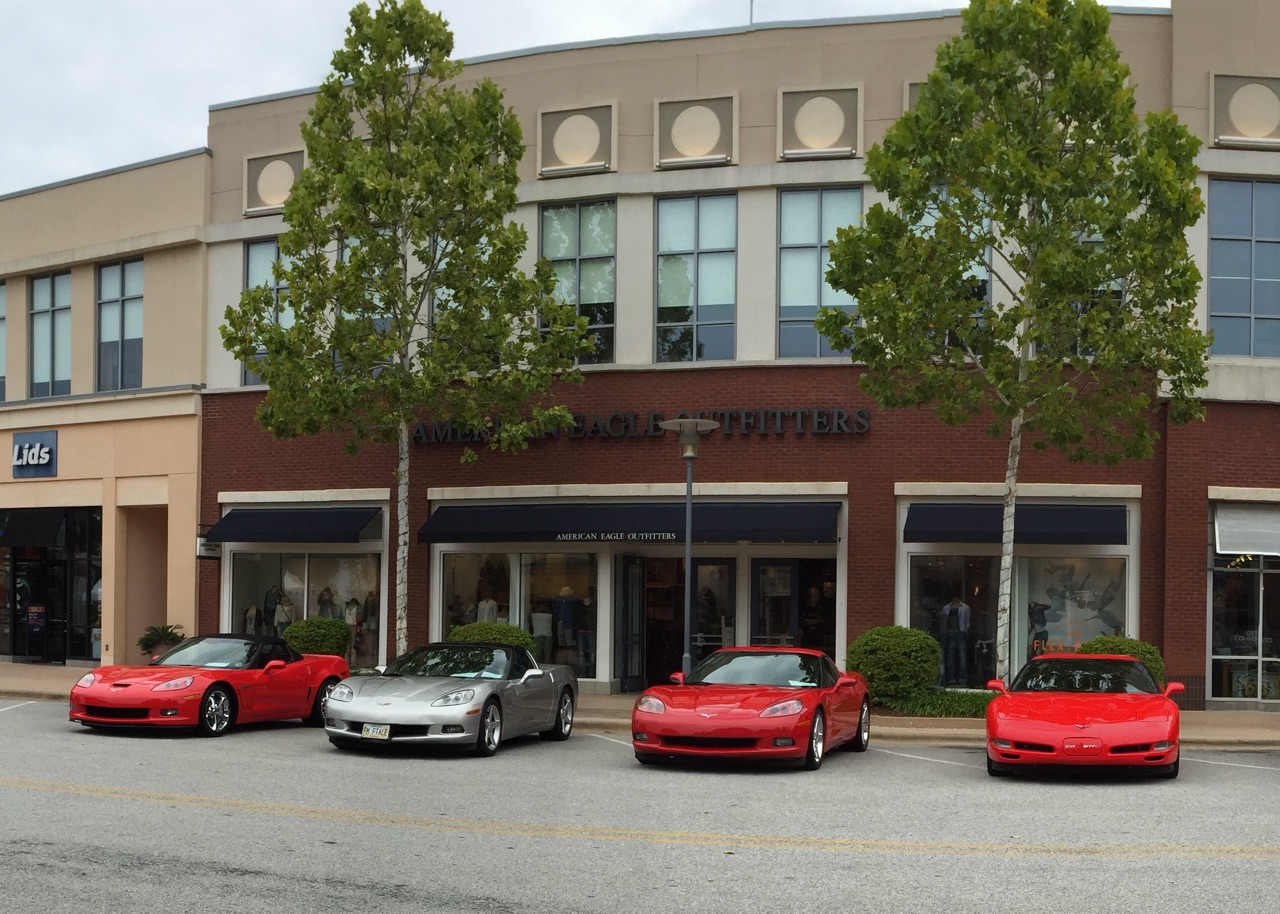 Summer's End Corvette Show 8/21/15-8/22/15
134 Vettes showed at the Pinnacle Hills Promenade Mall for this annual Northwest Arkansas Corvette Club show. Its a great corvette weekend that includes vendors, silent auction, awards banquet, fashion show and much more. NCA brought home Best in Class C6 Grand Sport, Best Interior, and 3rd in Class '97-'00 C5. Congrats Rich, Anna, Brady, and Cindy!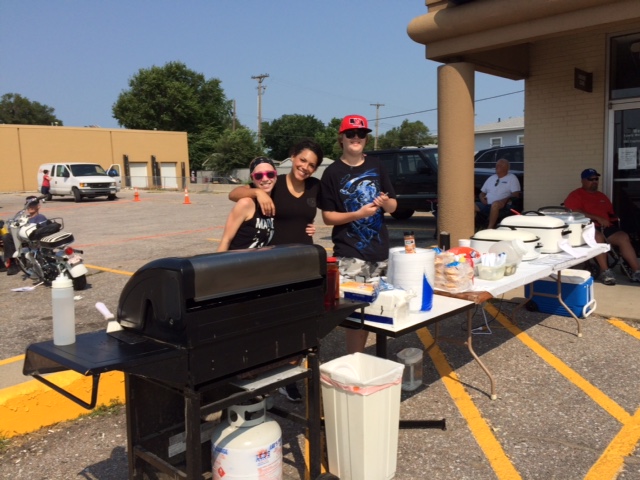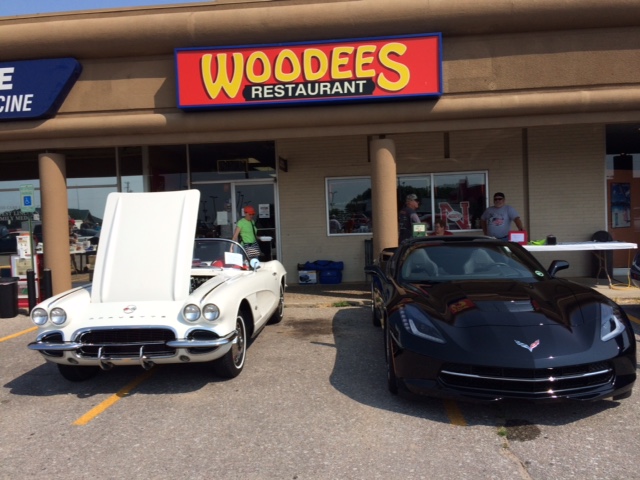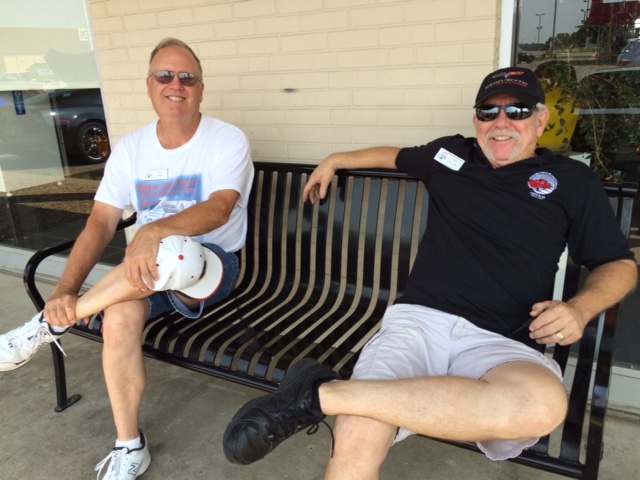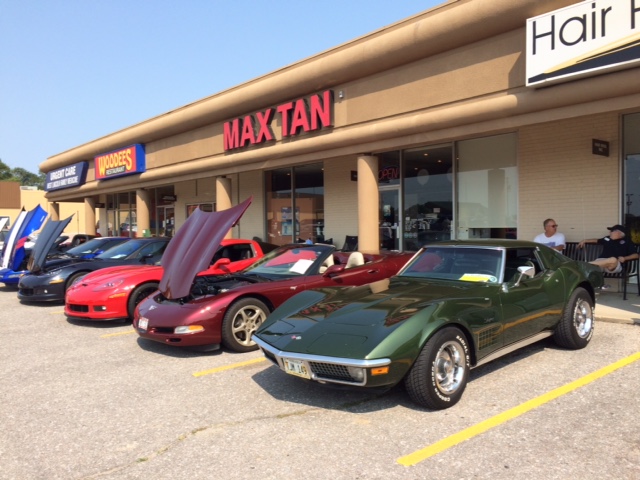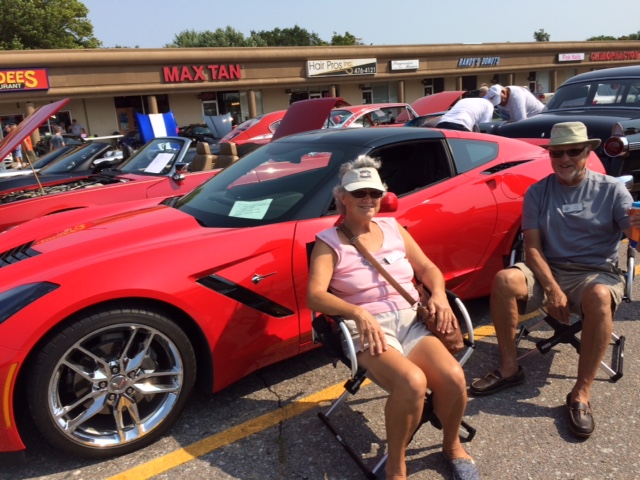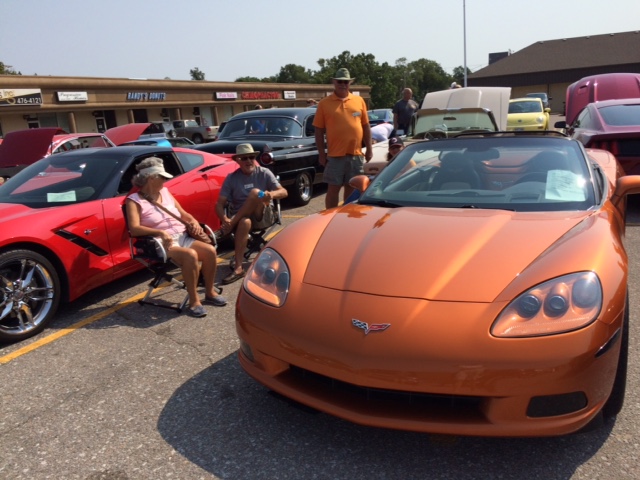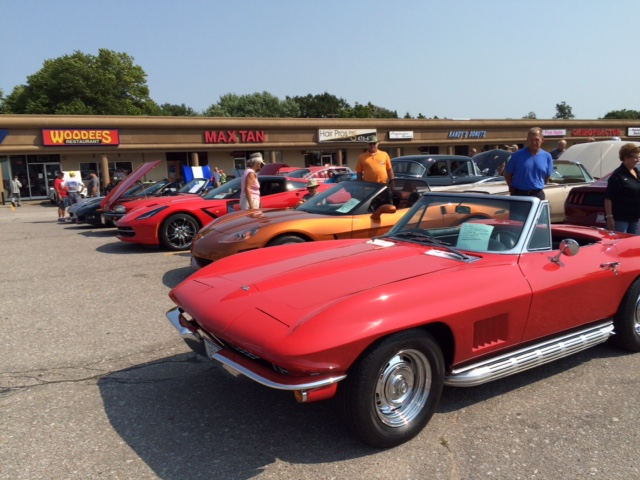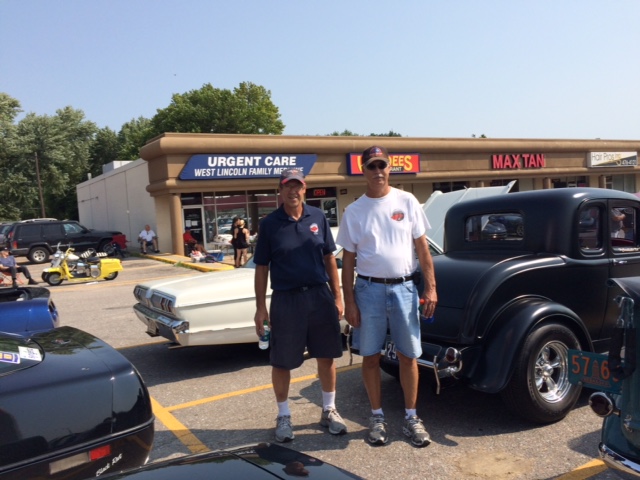 Woodee's Shine and Show 8/22/15
39 nine cars showed at the tasty Lincoln restaurant Saturday with 14 NCA Vettes. It was great to see cars of all types and ages together and everyone having a good time.
Malcolm Car Show 8/16/15
A few NCA members enjoyed the sunny weather out in Malcolm, NE 11 - Paul & Kathy E., Yellow 04 - Ed G., Red 12 - Dave L., Red 69 - Judy H., Blue 64 - Brian P., All placed in their divisions and received plaques.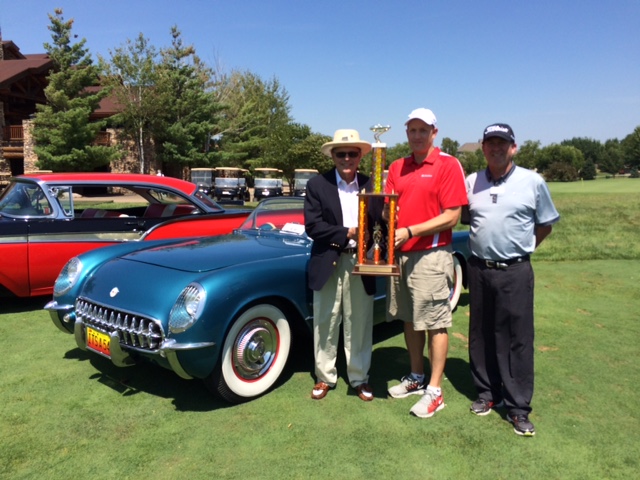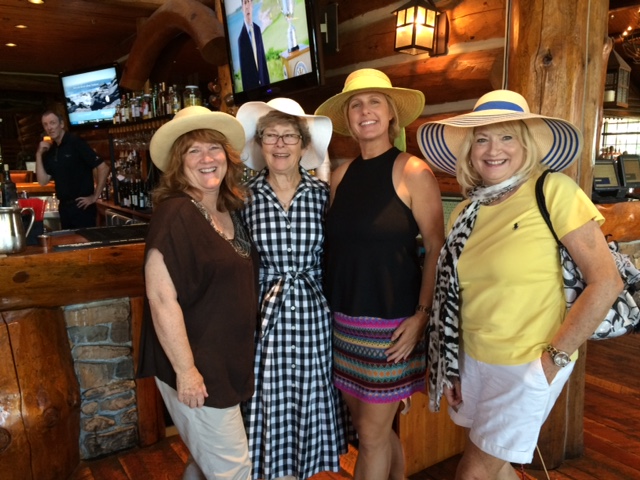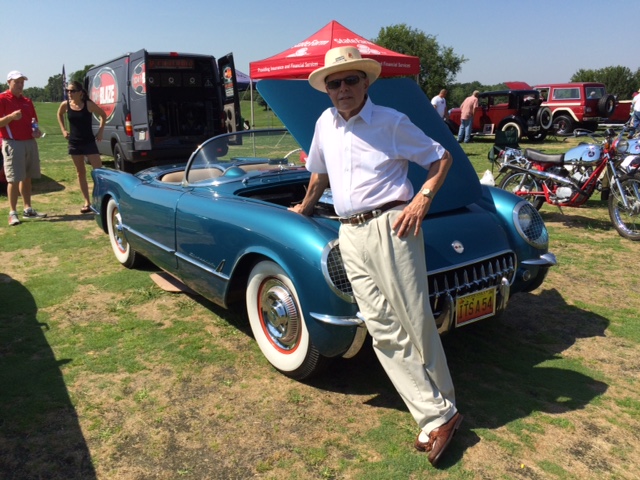 Wilderness Ridge Car Show 8/15/15
NCA had several cars in the show of about 75 total. Duane A., Ron B., Daryll L., Rich F., and Bill Z. showed there cars along with Bruce and Ann R. who won first place with a cash award and giant trophy.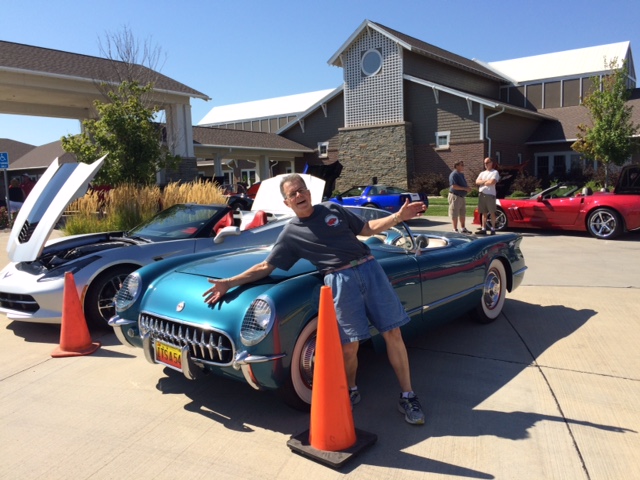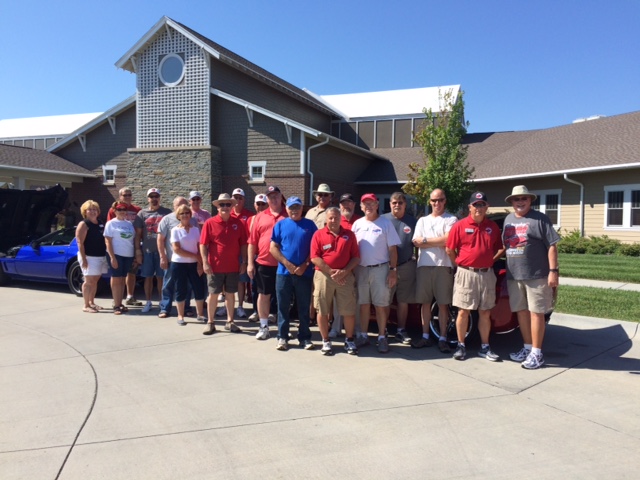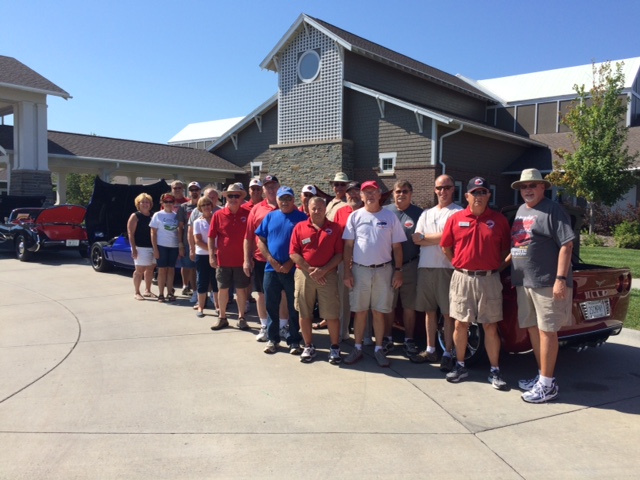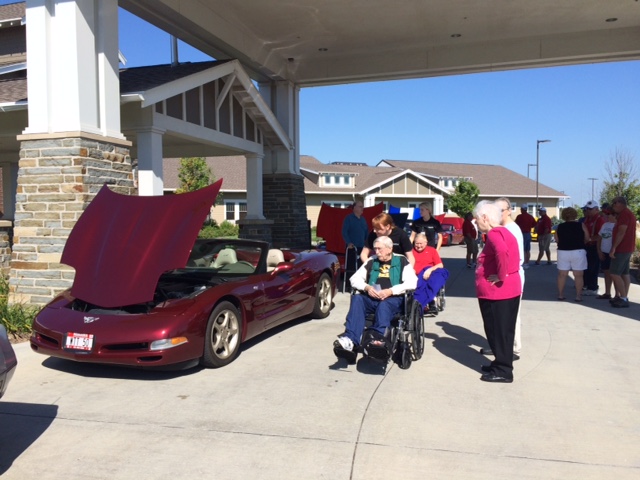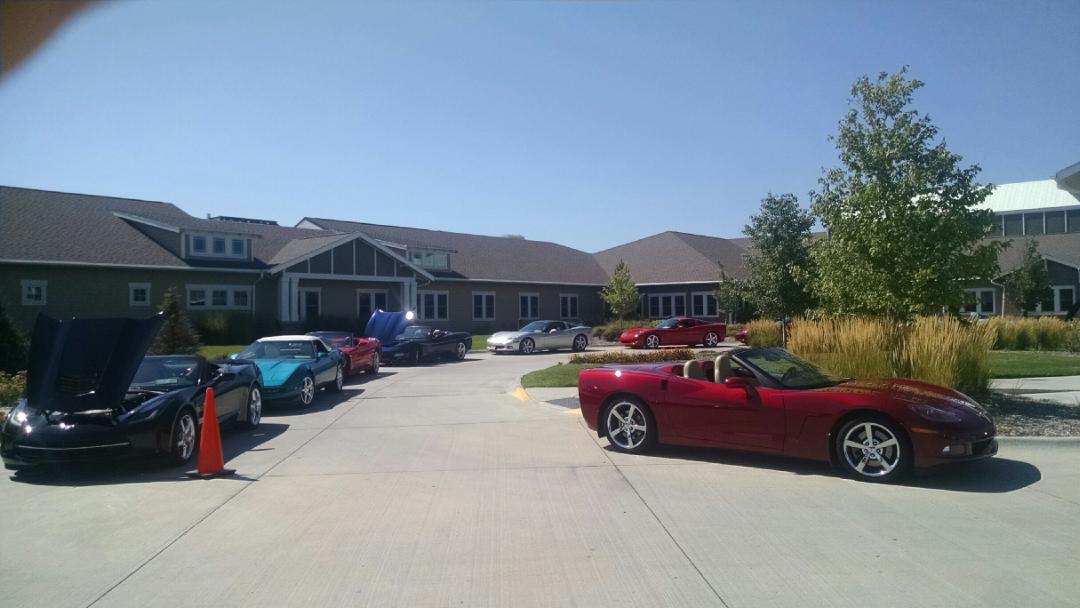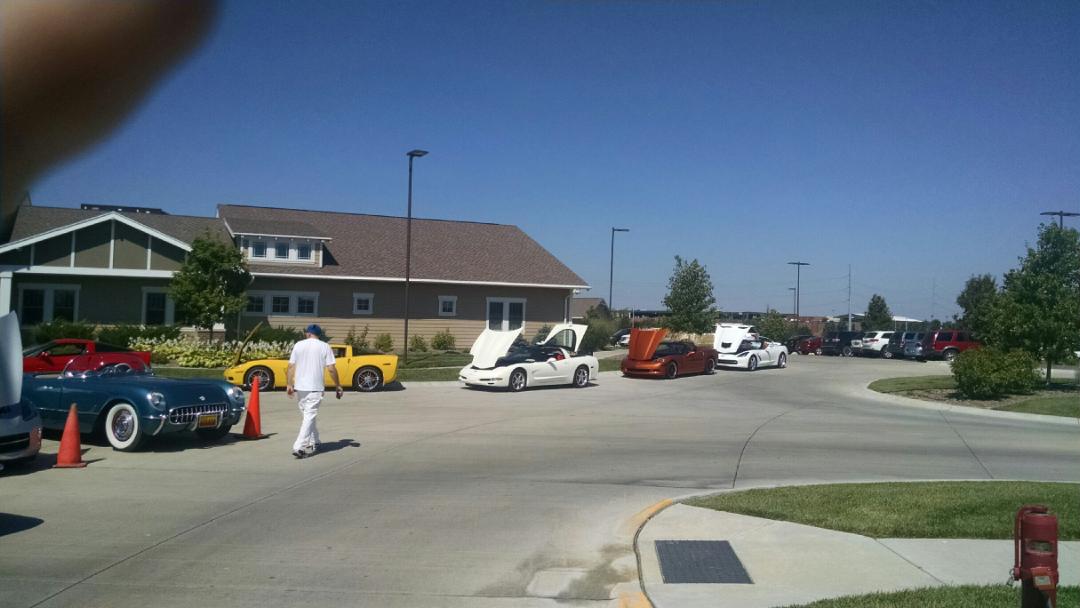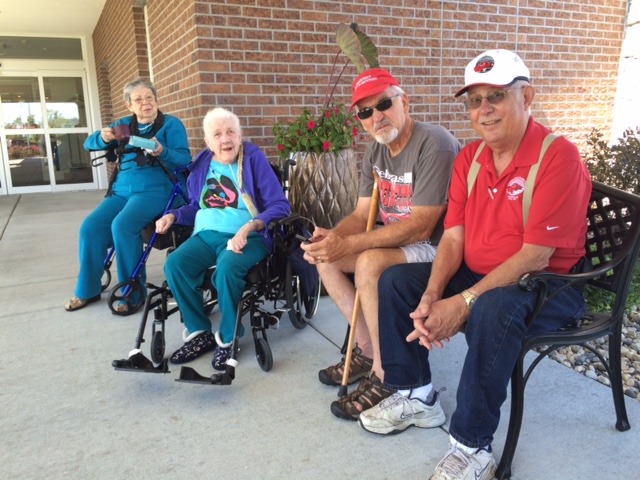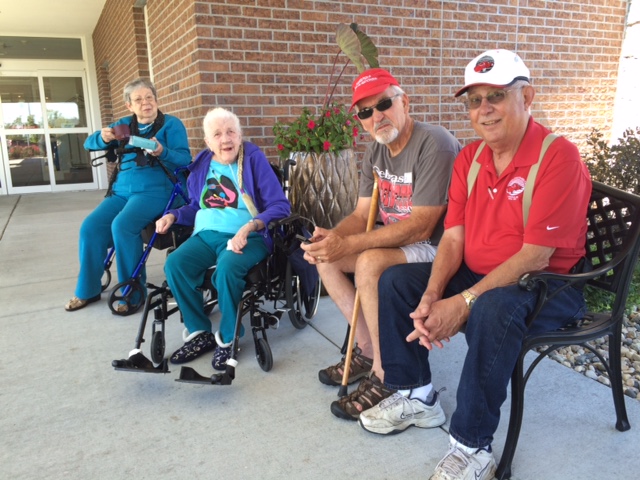 Southlake Rehabilitation and Care Center Mini Show 8/14/15
24 member cars came to the center in hopes of brightening the residents y, there were a few gearheads in the group and many conversations were had about old and new hotrods. The weather was wonderful for the show and Southlake really made it nice for the club to come out providing lunch, drinks and ice cream and hopefully some more good memories for members and Southlake residents.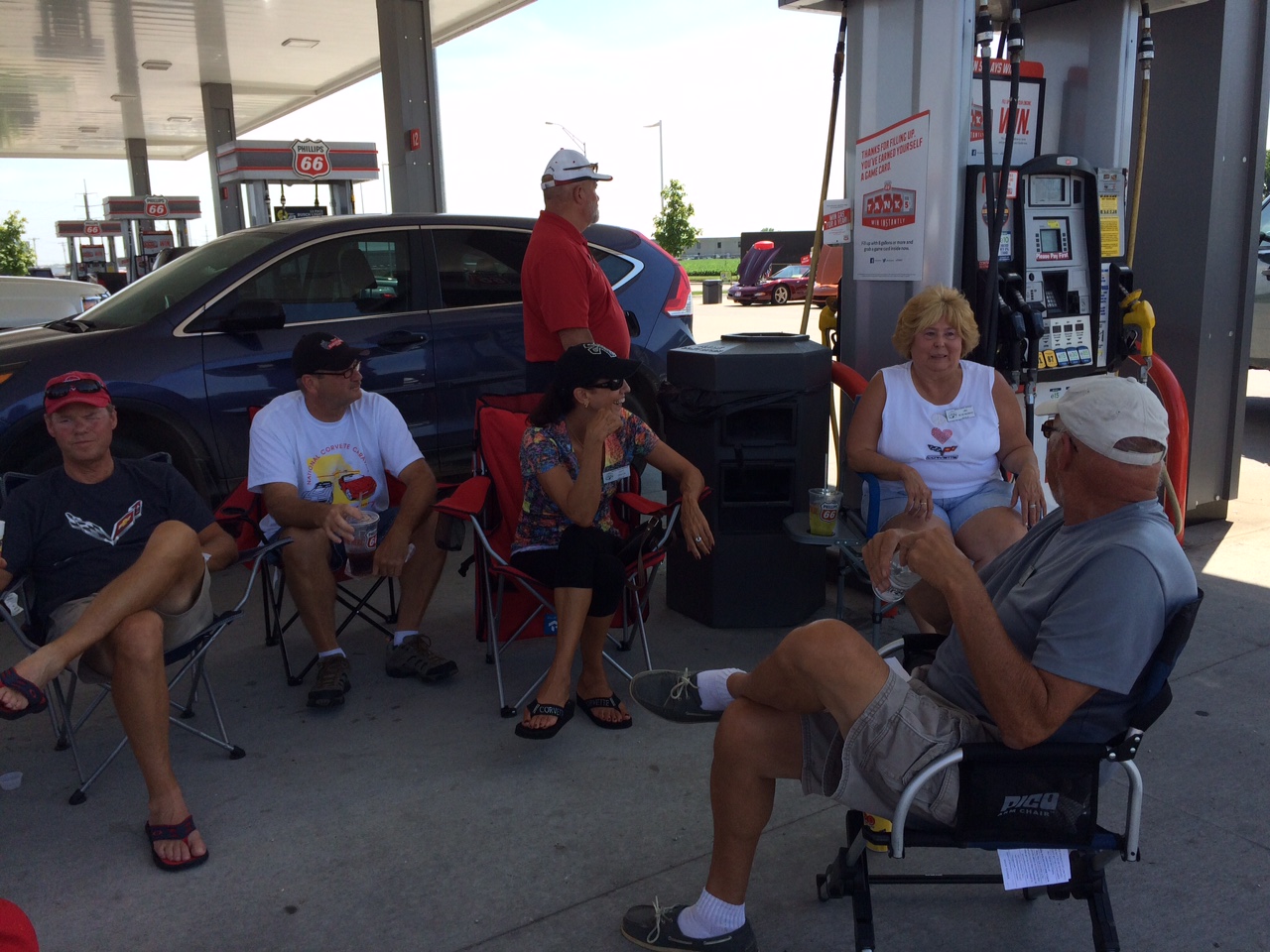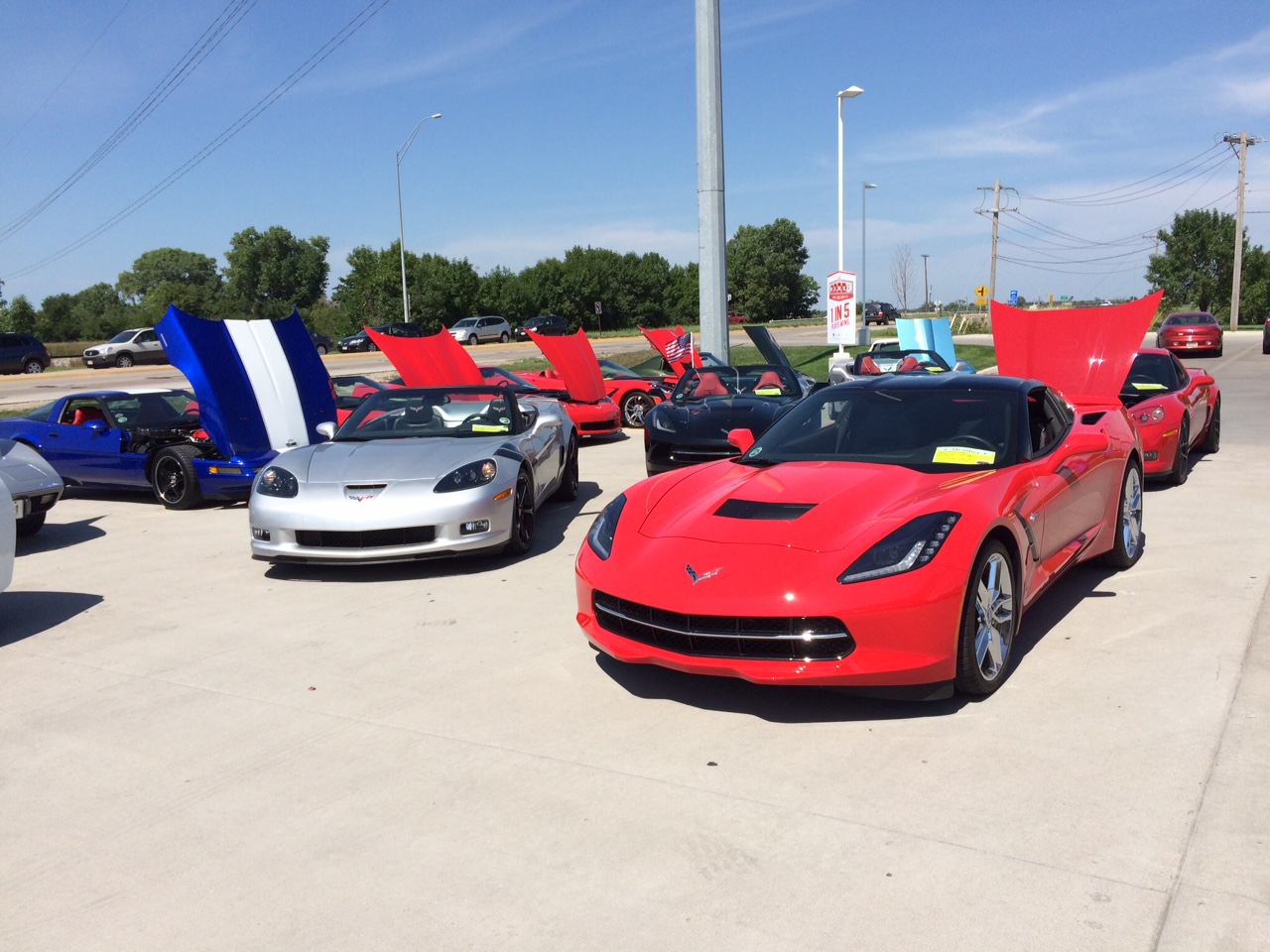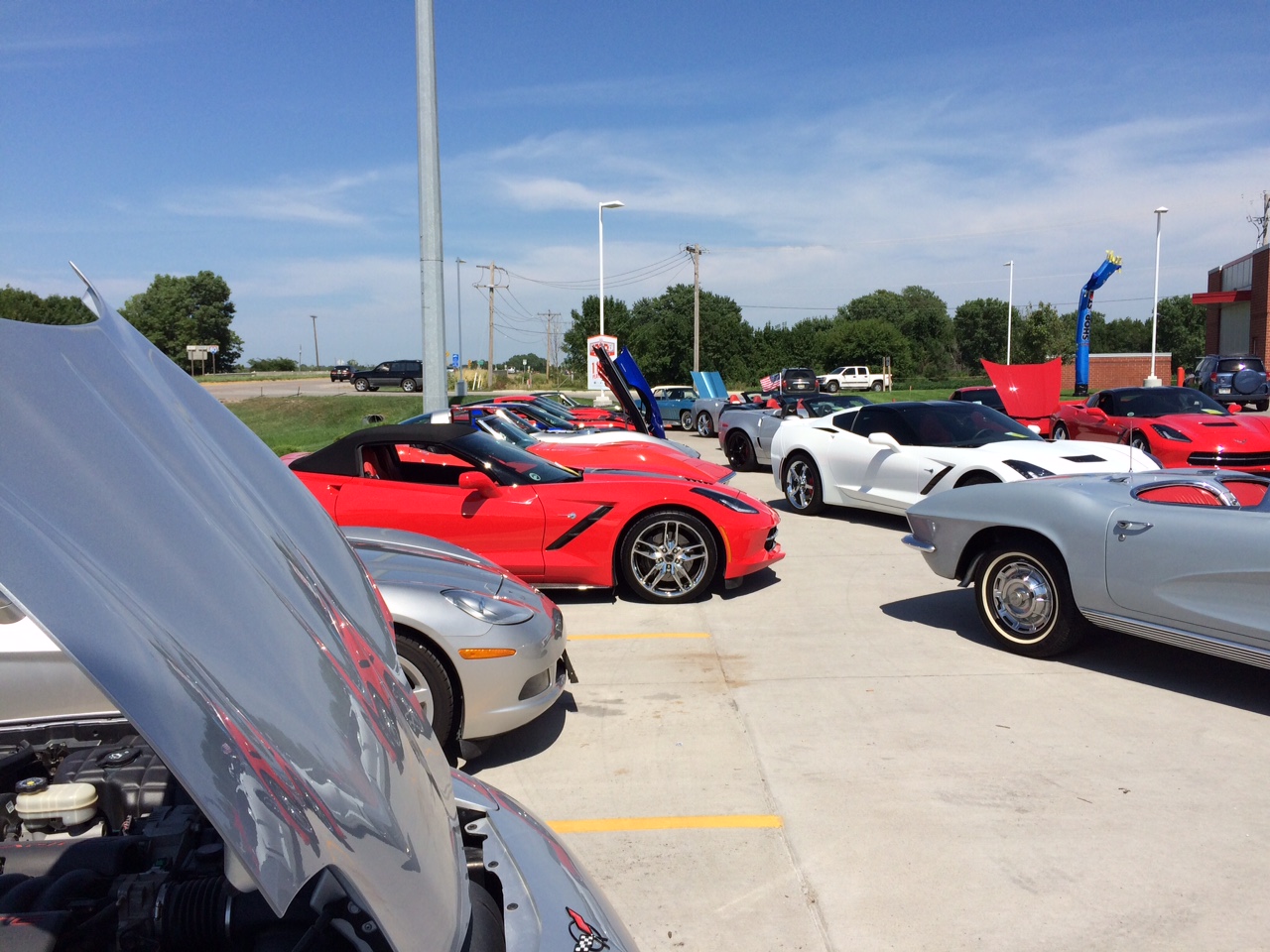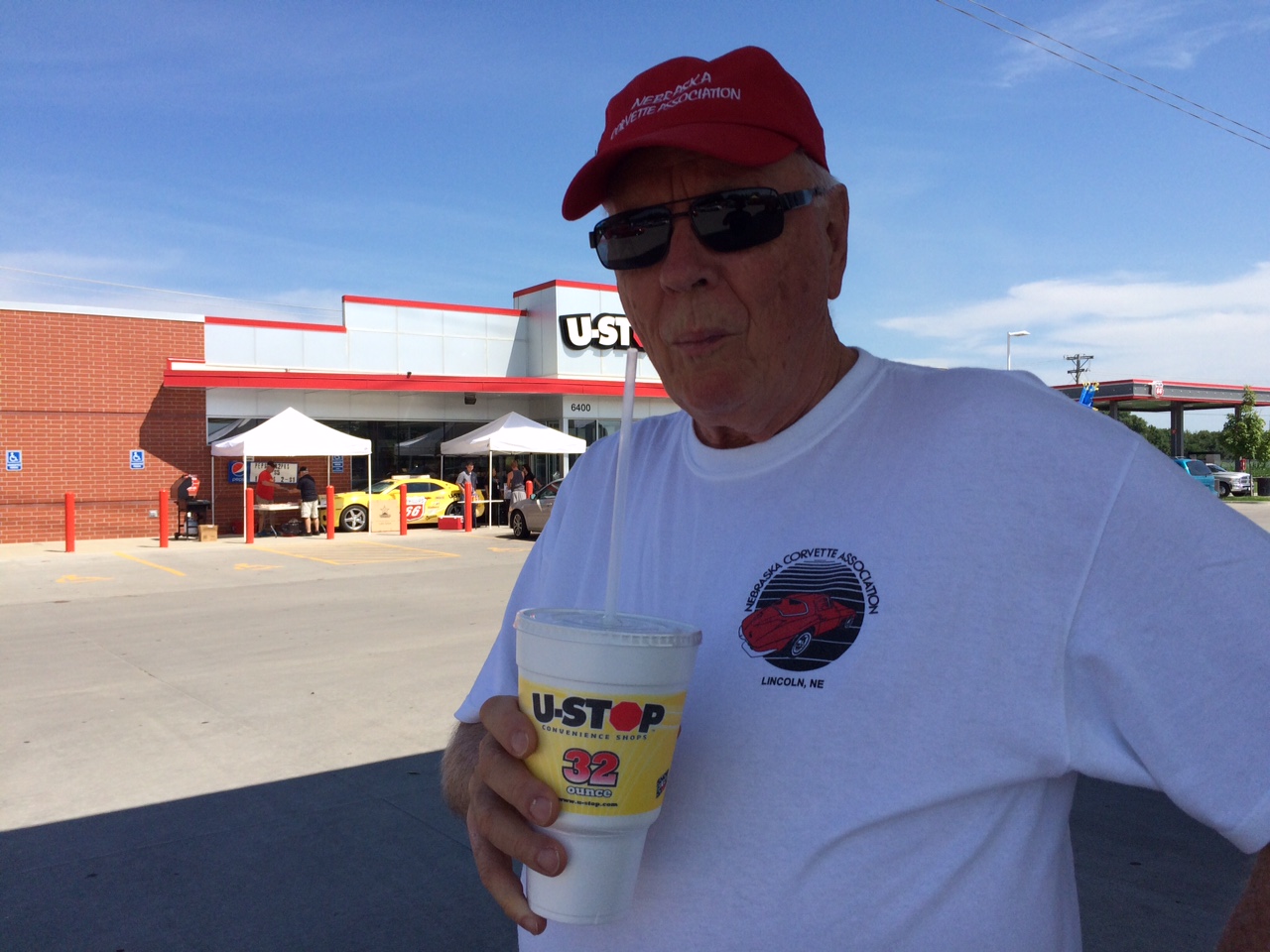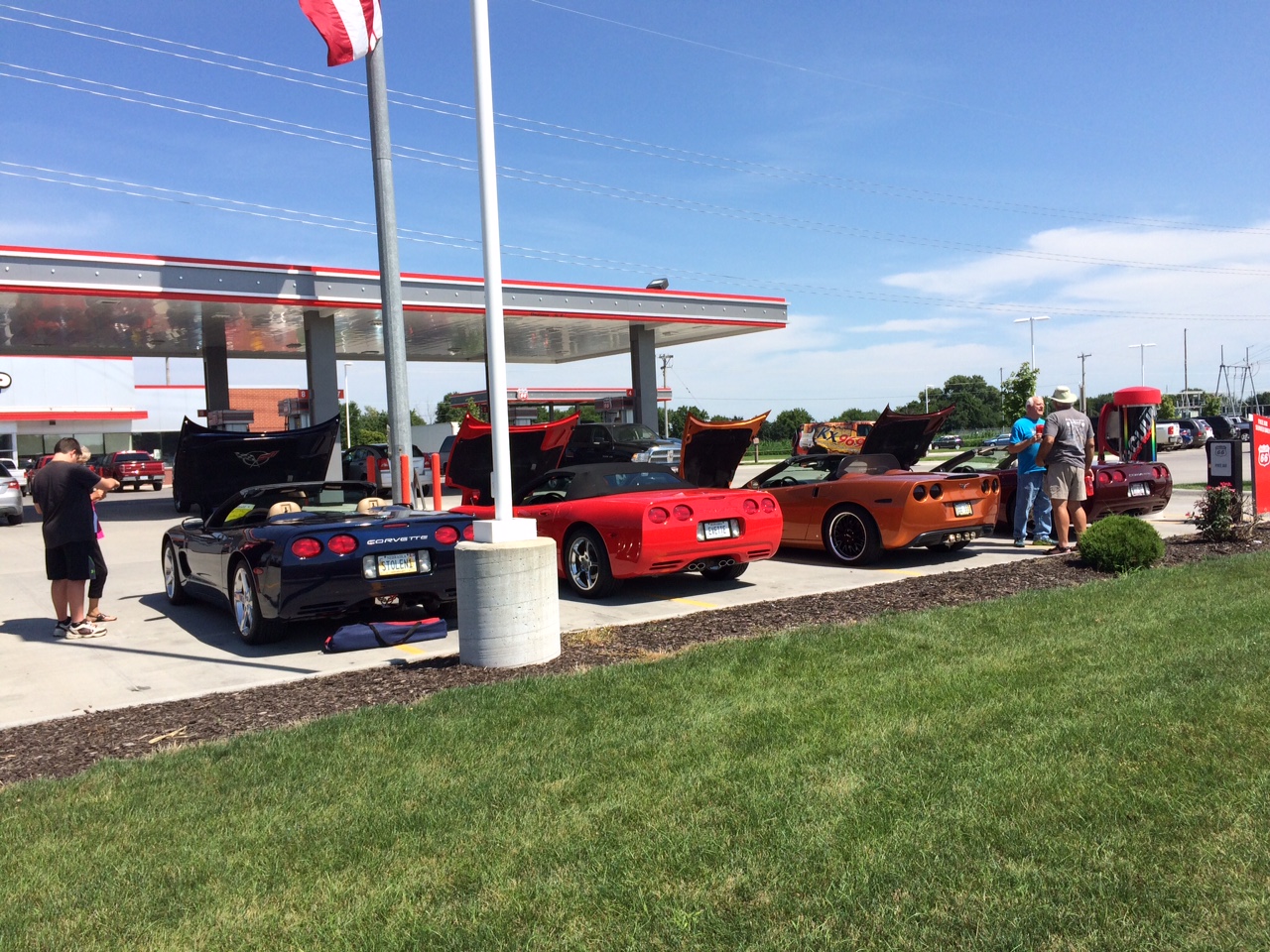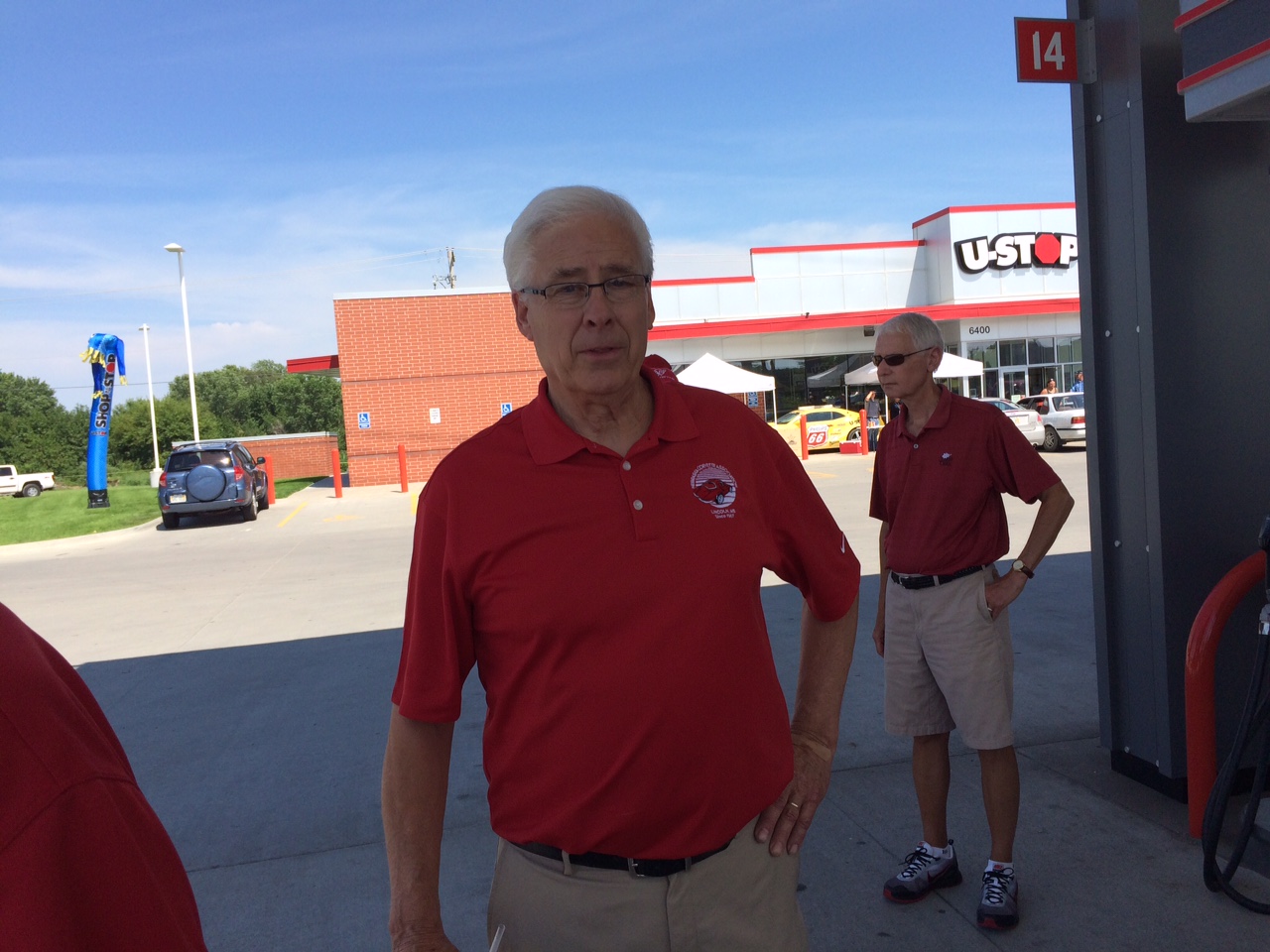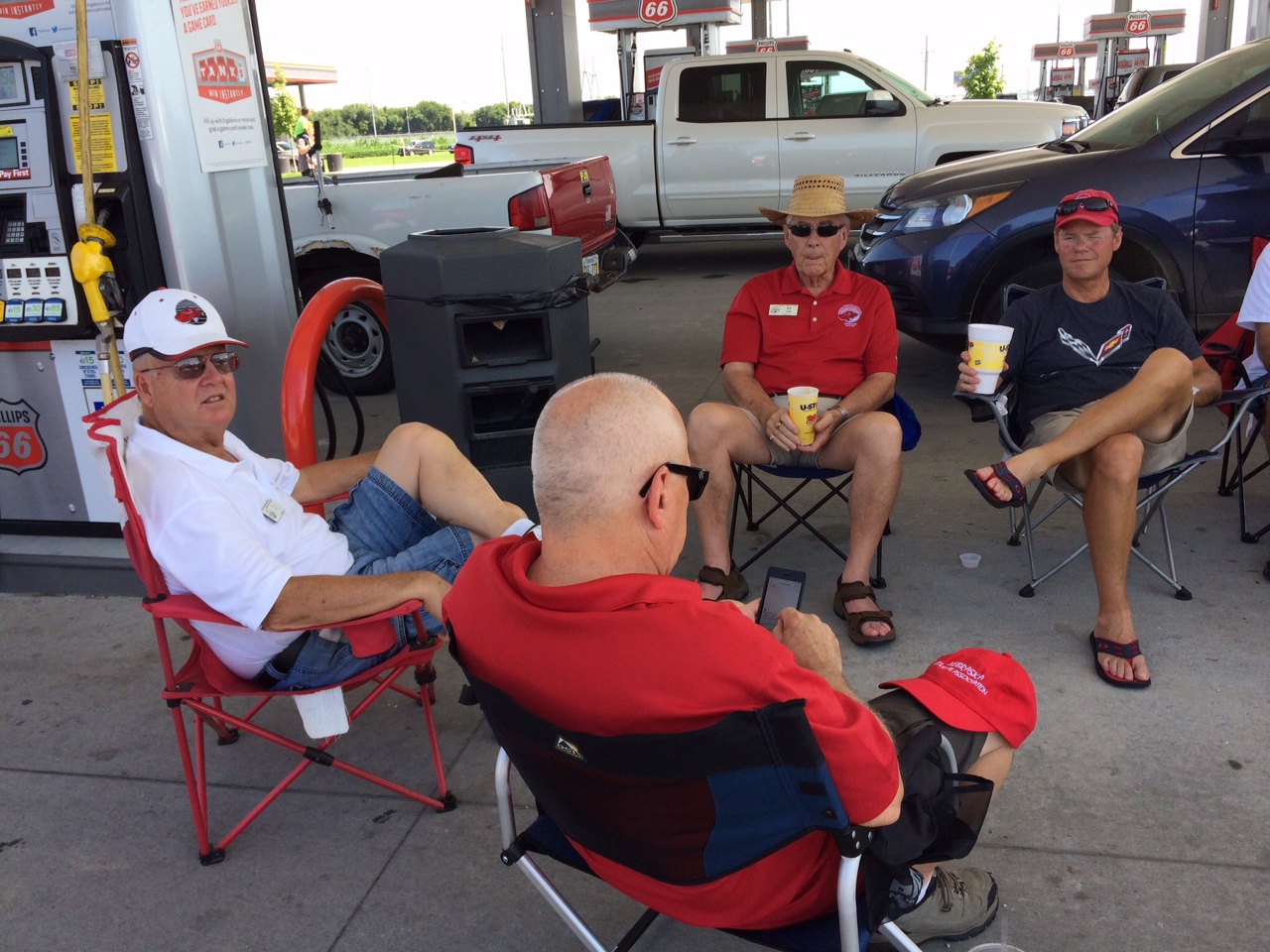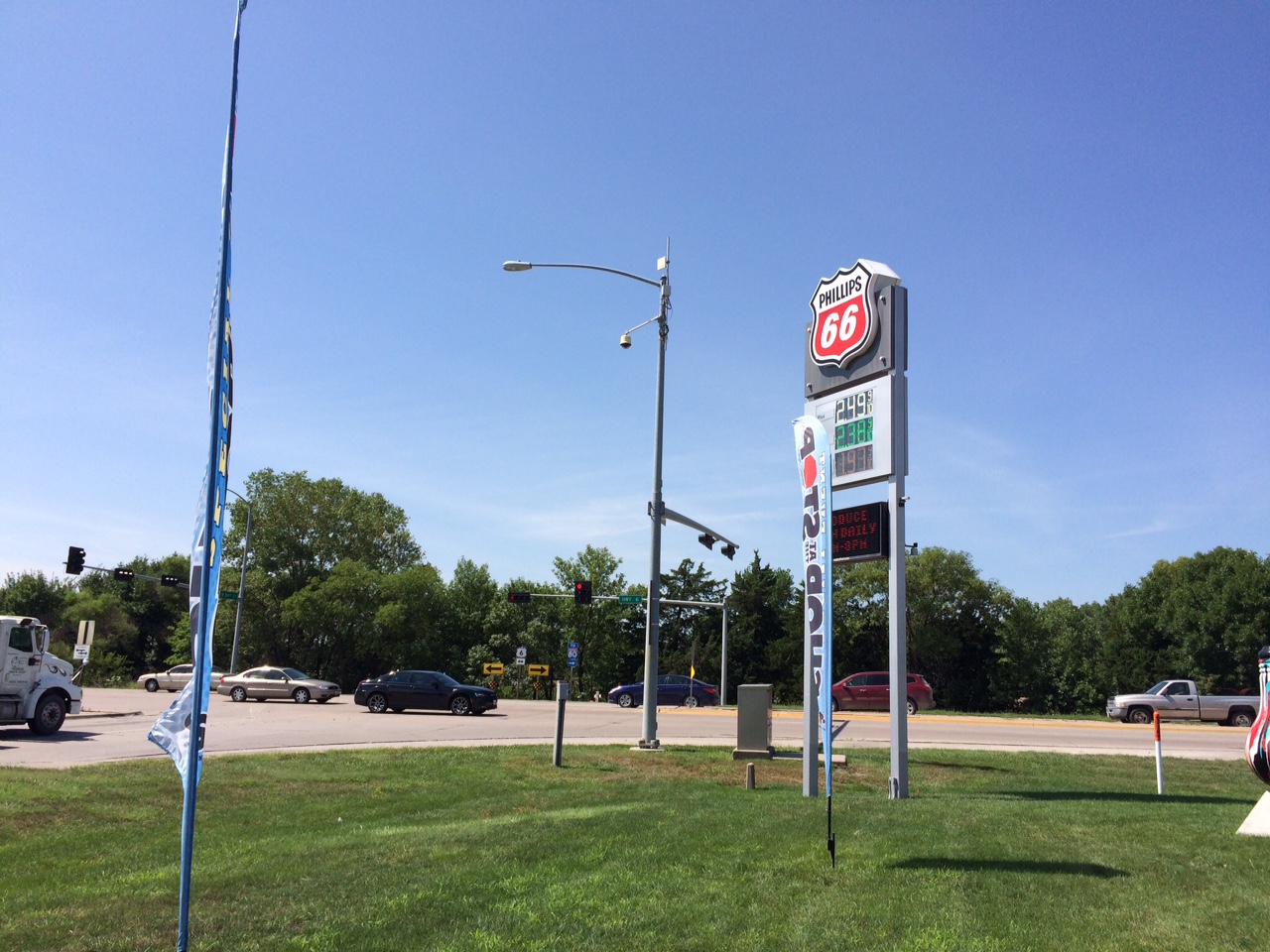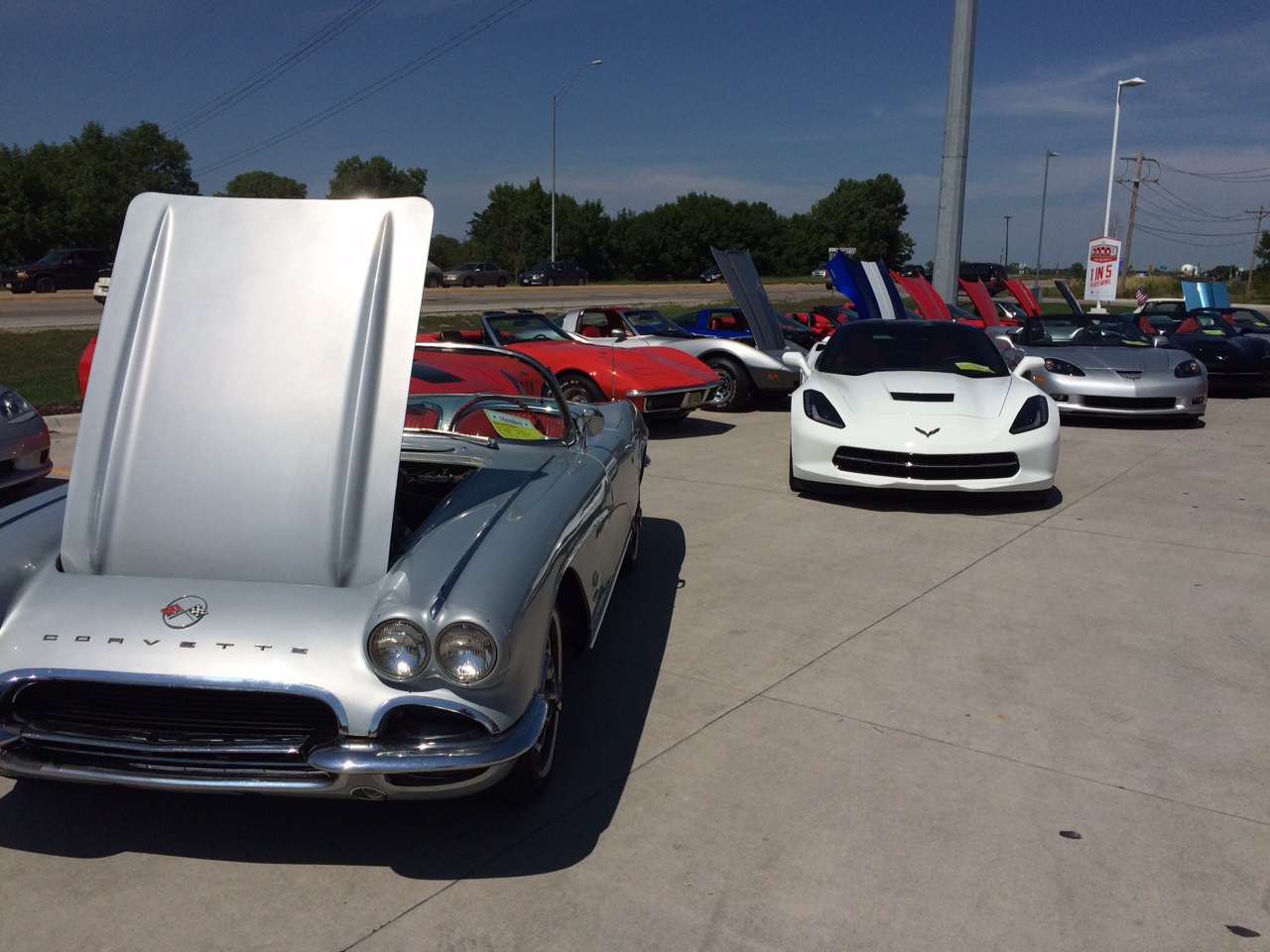 U-Stop Mini Show 8/7/15
24 member cars showed at U-Stop's new store at 84th and Cornhusker, U-Stop has food, drinks, lottery tickets, and entertainment.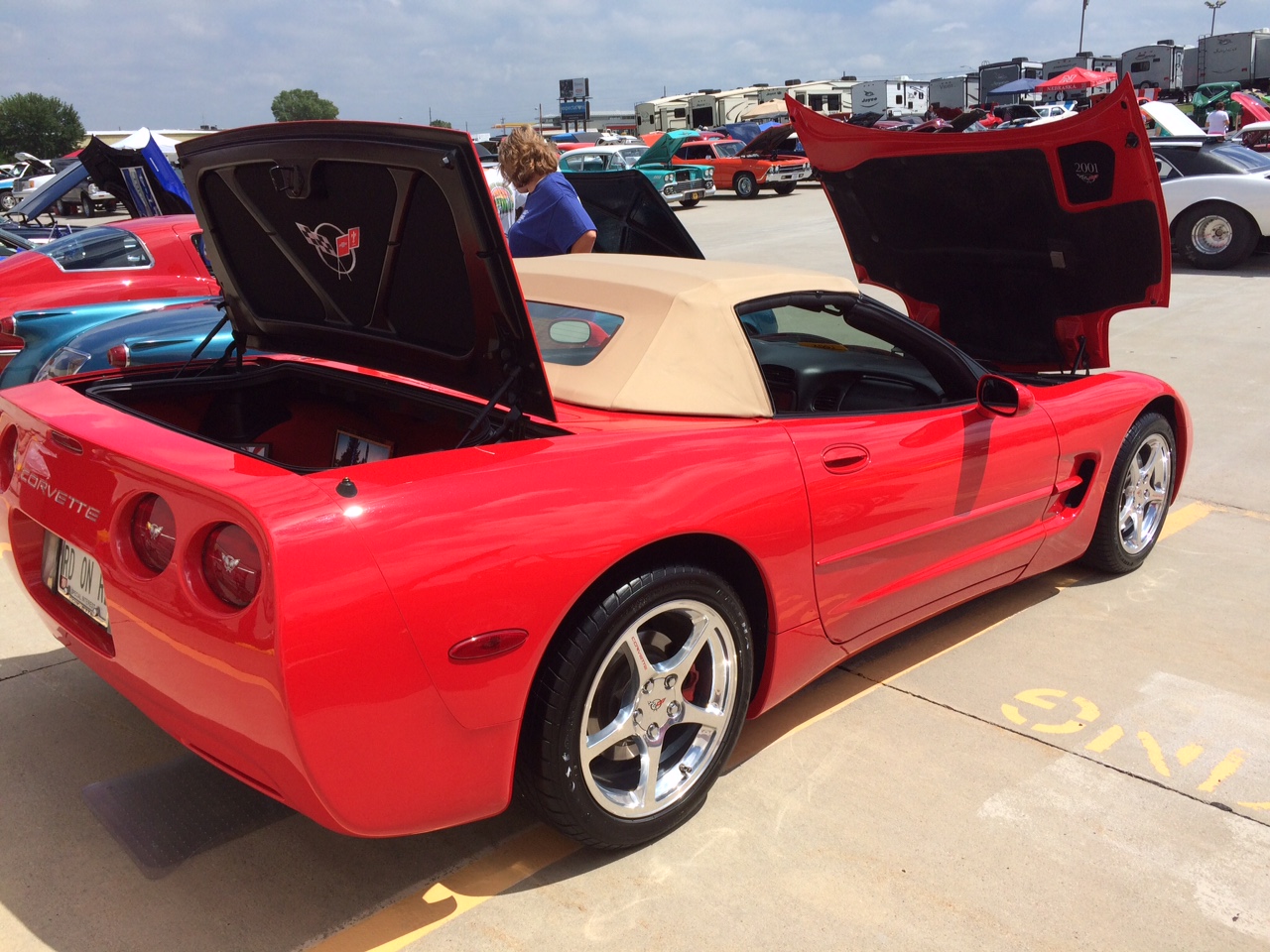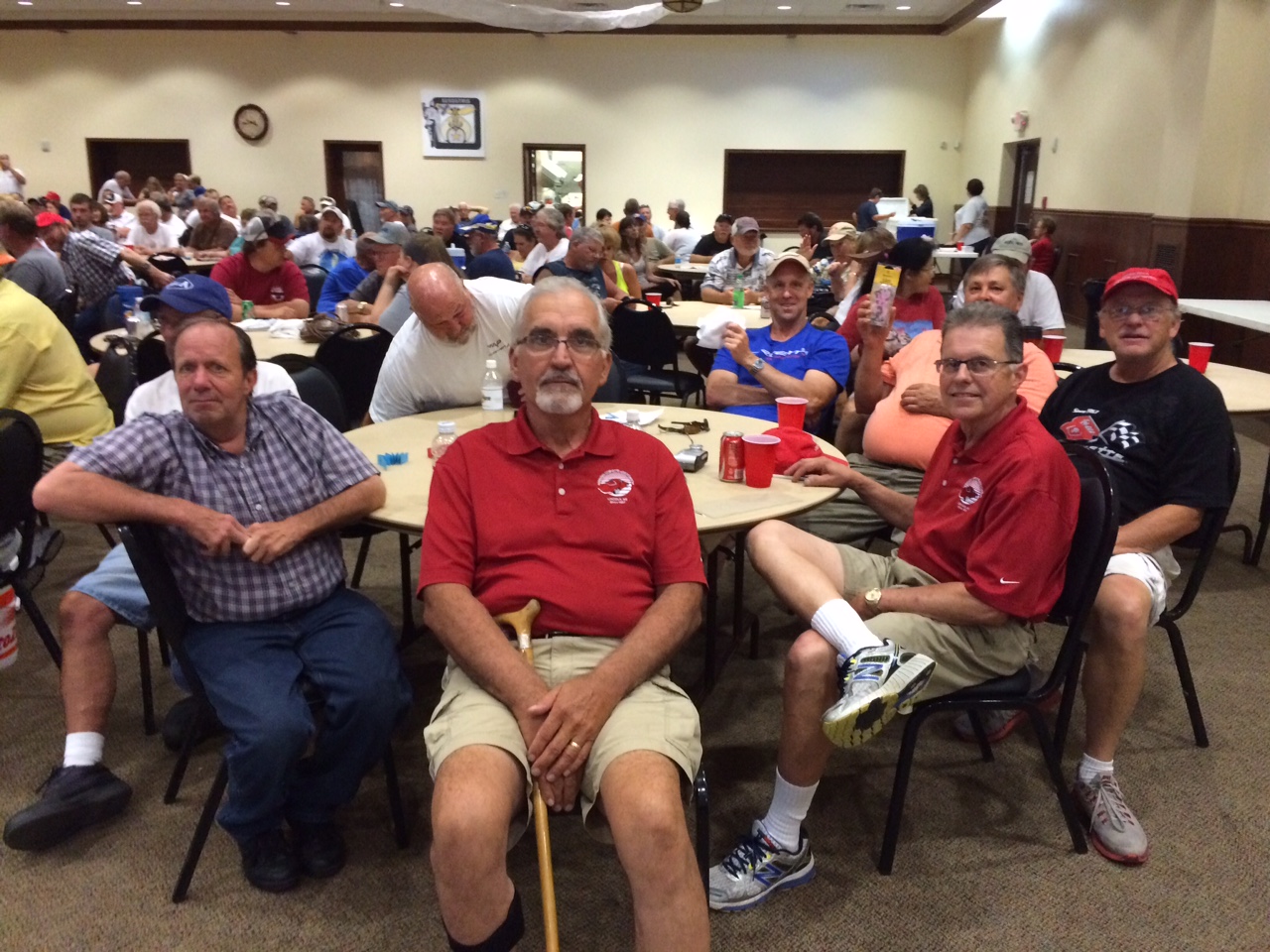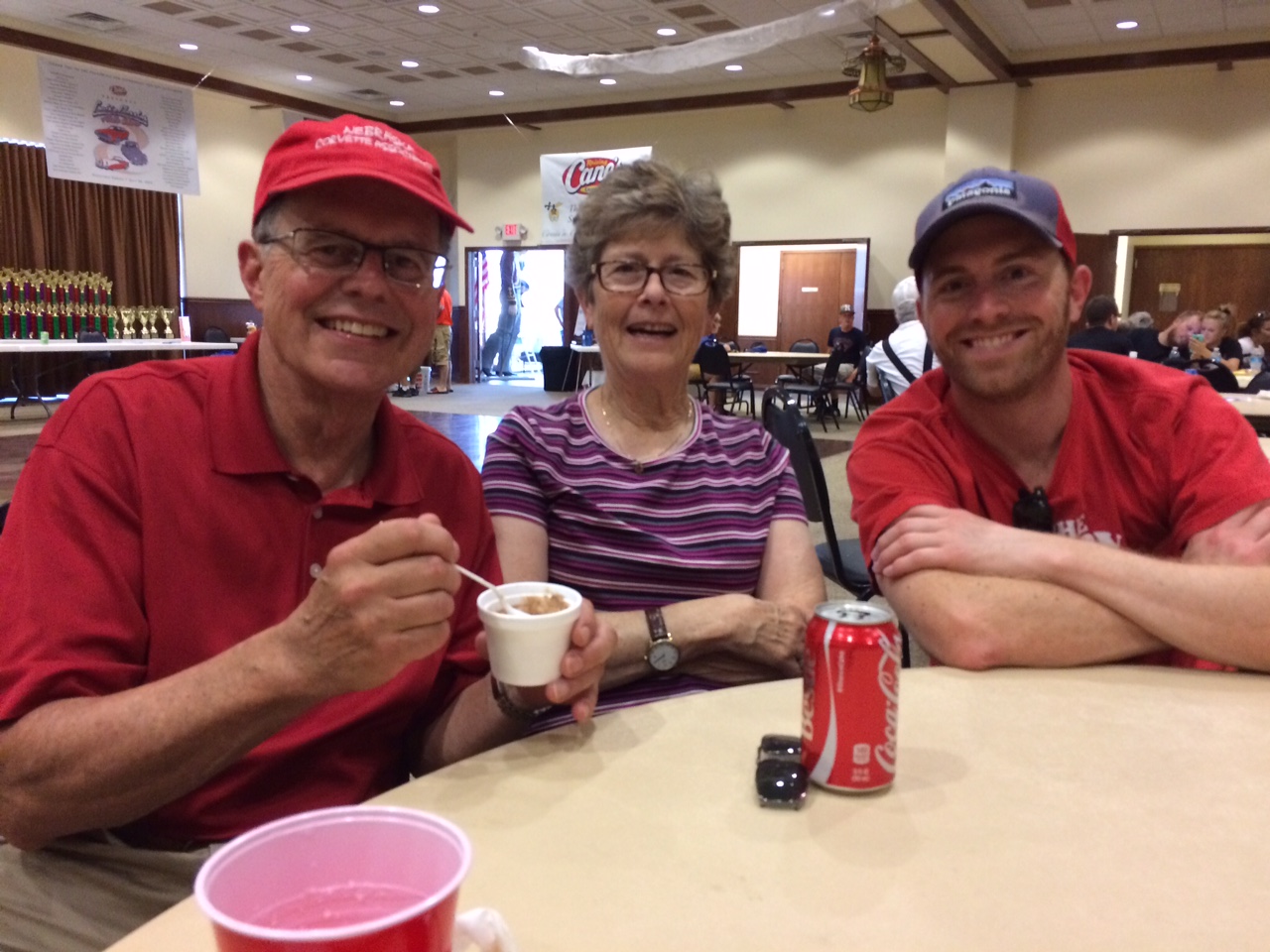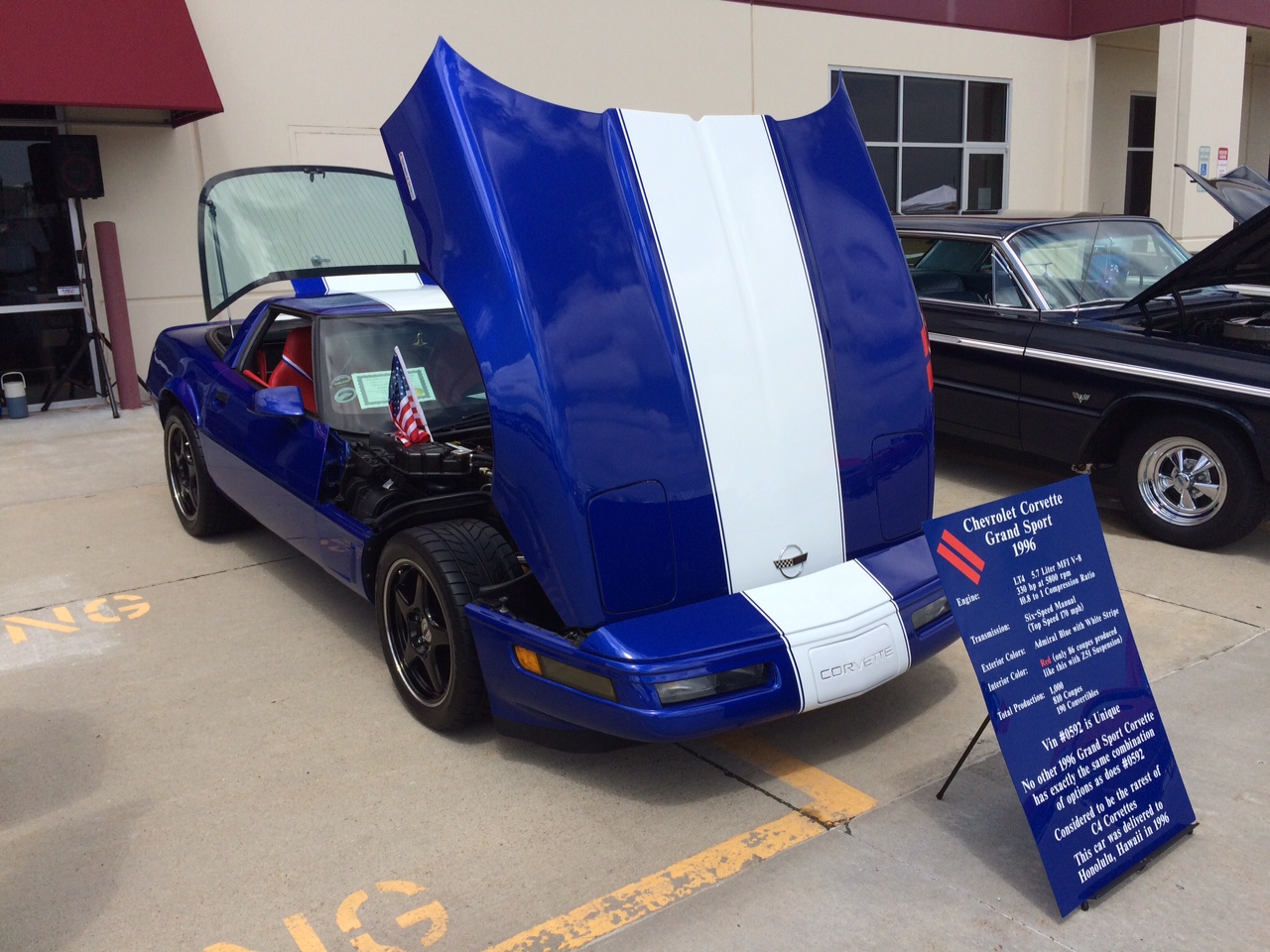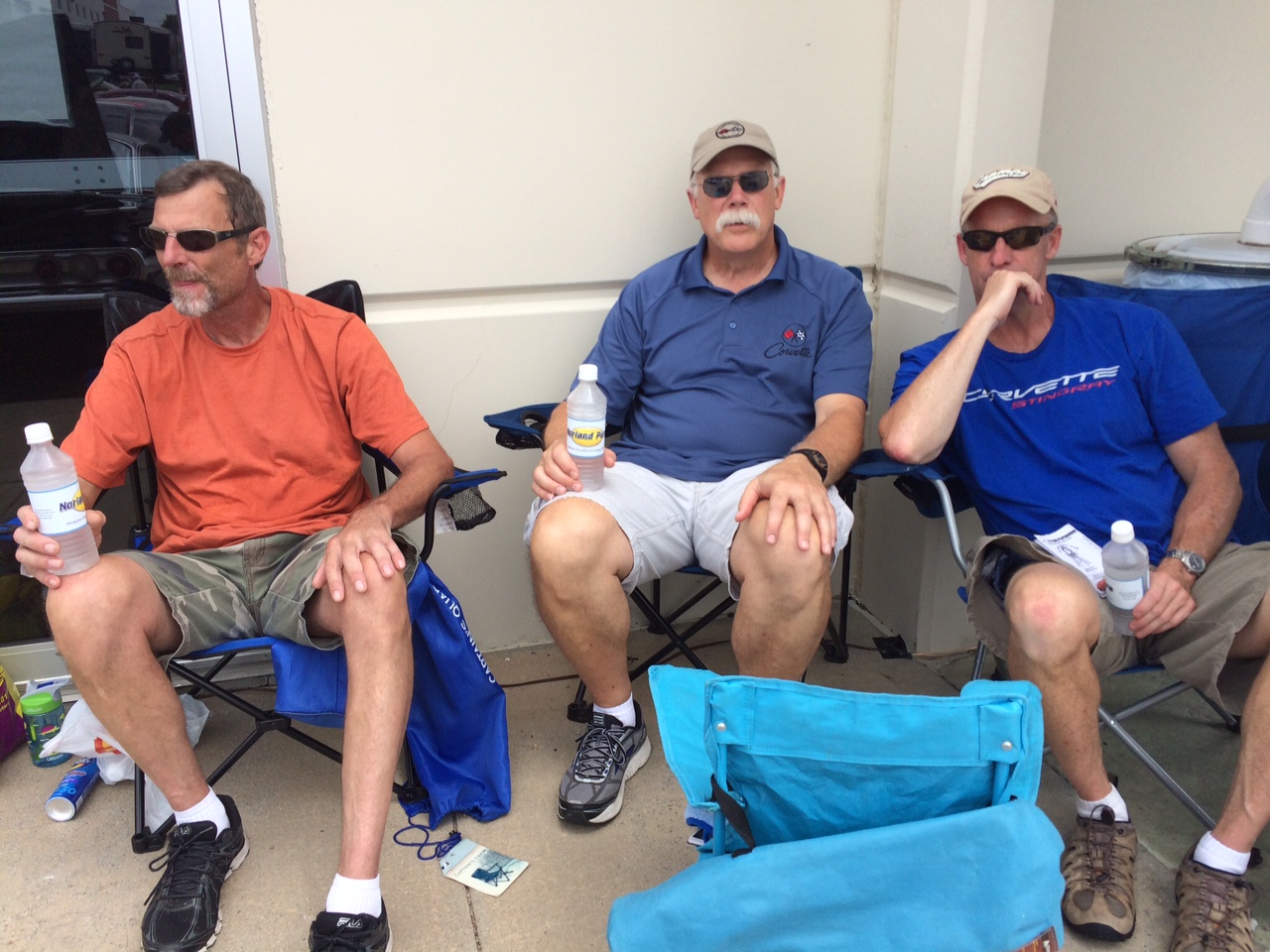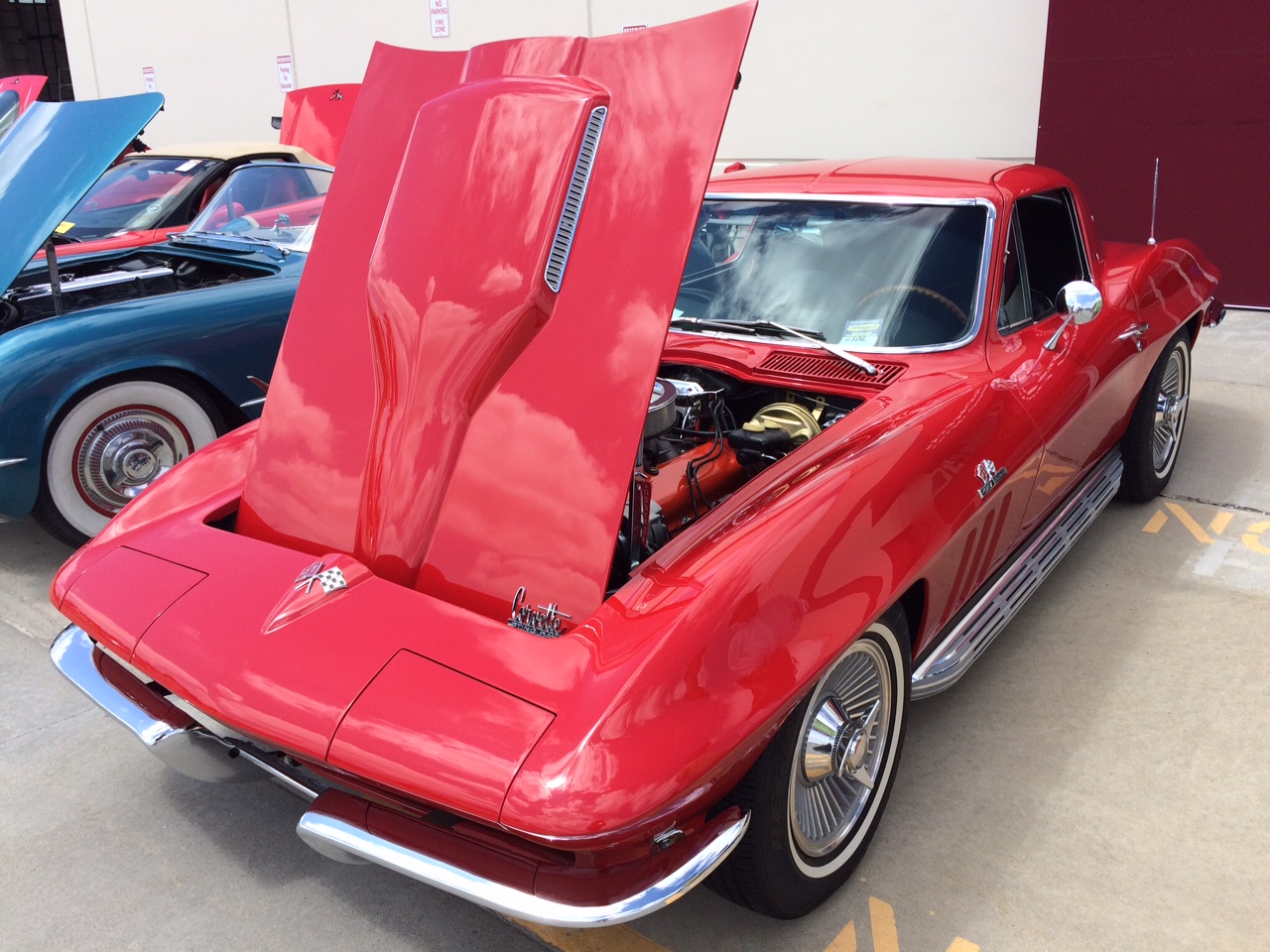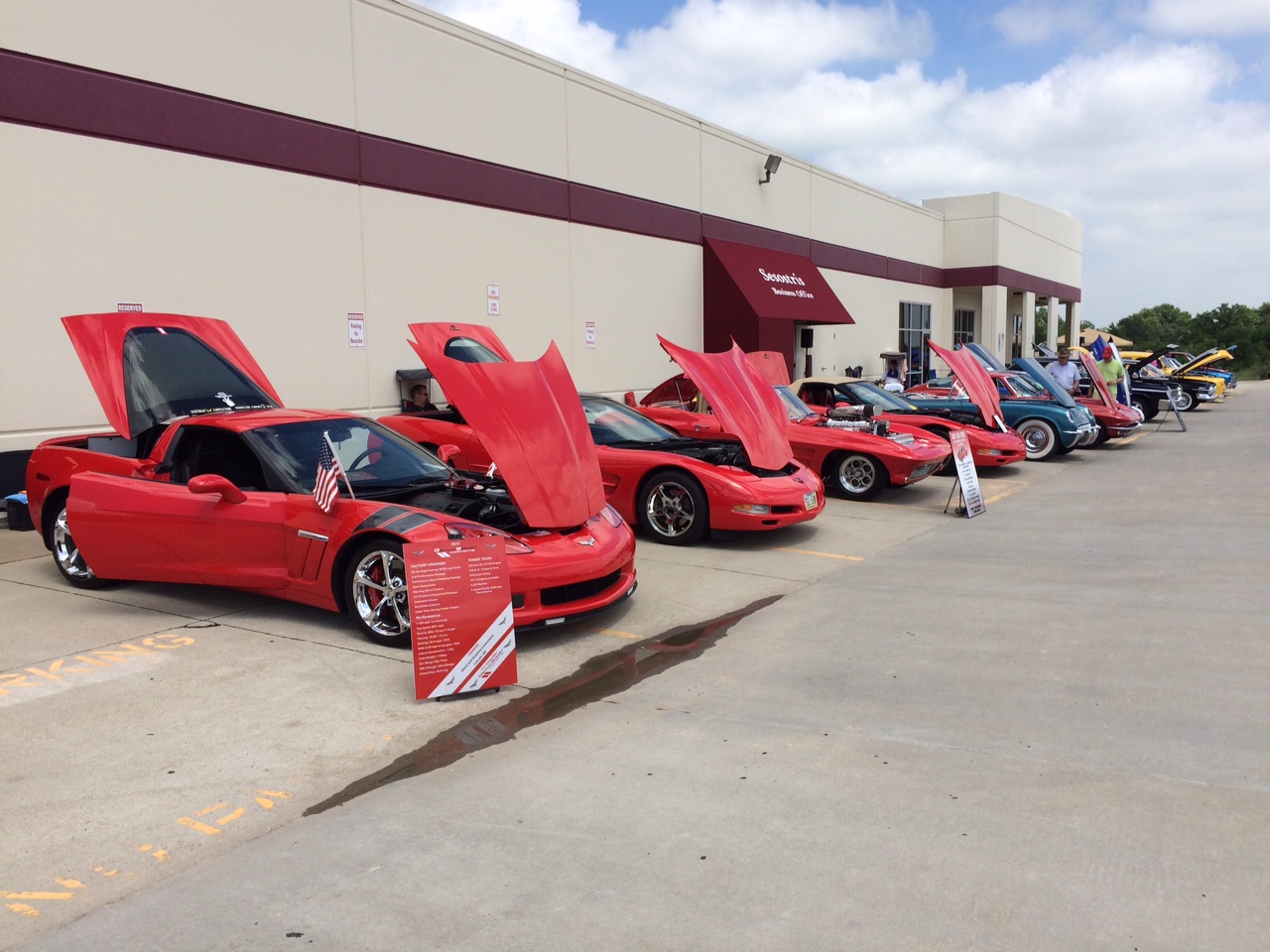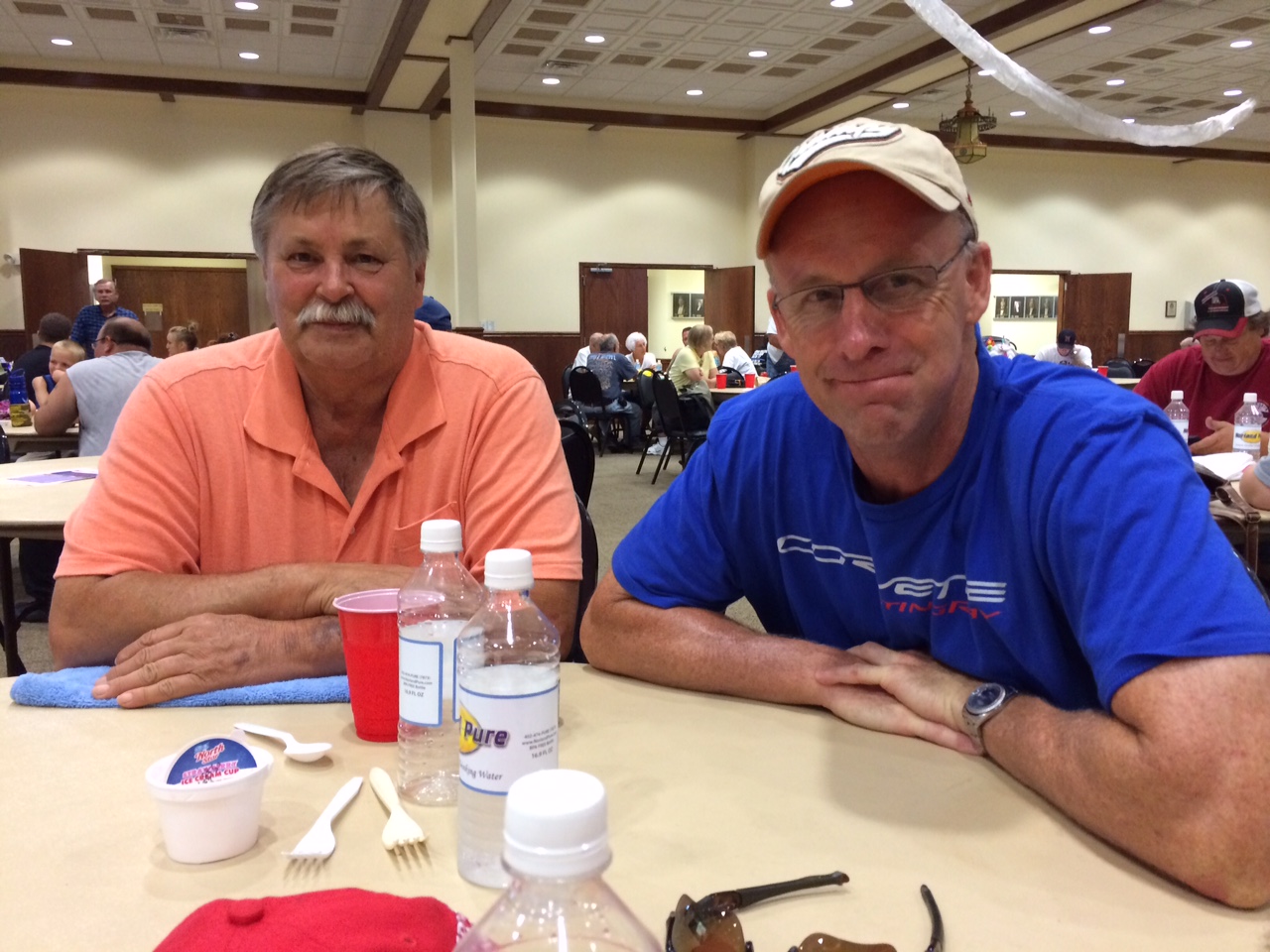 Shrine Cruisi'n Classics Auto Show 7/26/15
We had several members of the Club attend the Shriner's Car Show. There were several winners in a variety of classes. Dave L.won his division..1997 - current. He also received an award for best Chevy & a 3rd award for Military best of show. Arlyn U won 3rd place in the same division with his 2001 Convertible. Ron B was 1st in the 1953-1967 class with his 1966 Big Block Coupe. Another club member Nicole was 2nd with her 1963 Split Window. Bill Z won 1st with his 1996 Grand Sport in the class.. 1968-1996. Mark B also was a 1st place winner with his 1960 Impalla 2 door hard top. Very hot there but we had a lot of fun.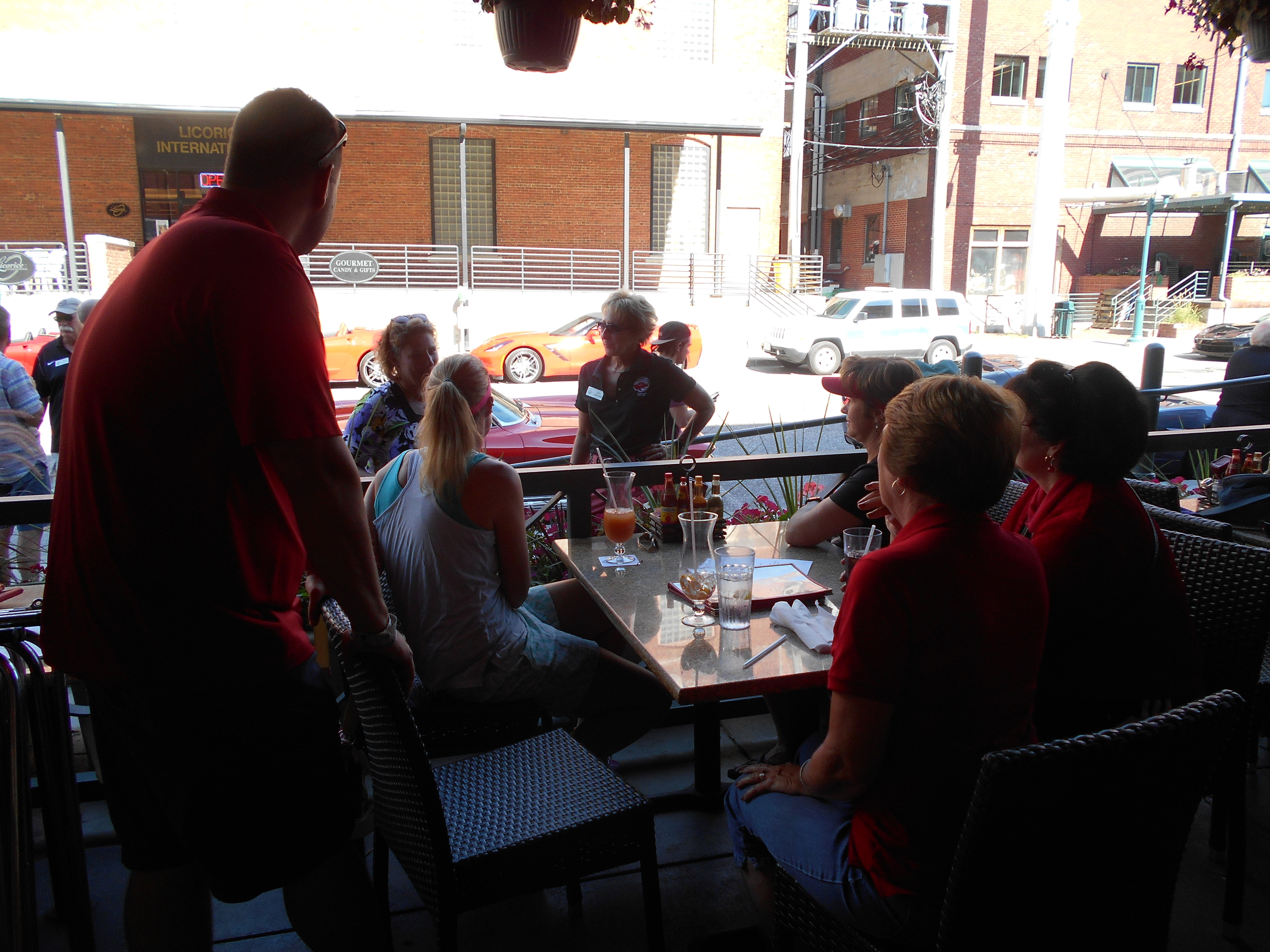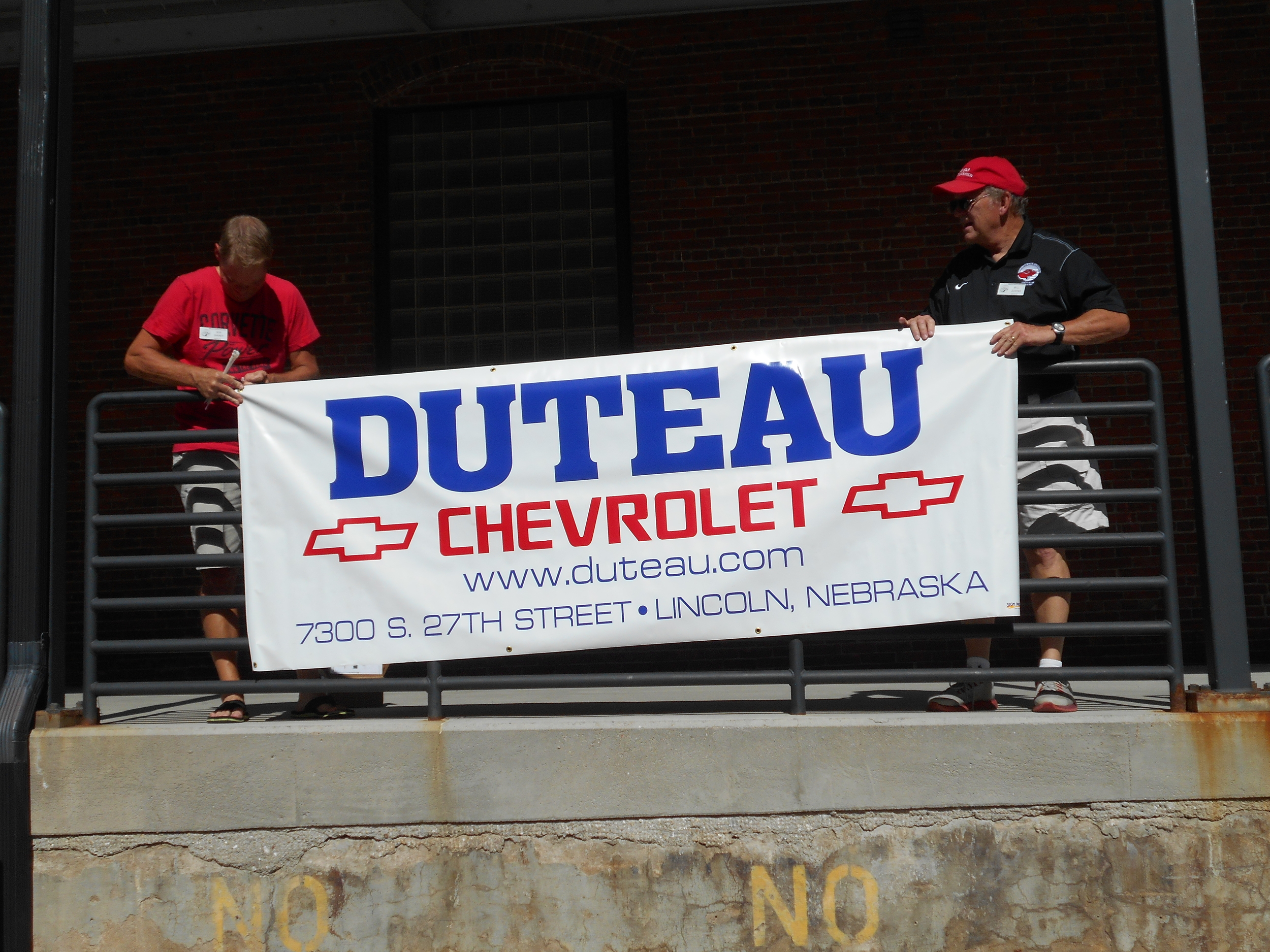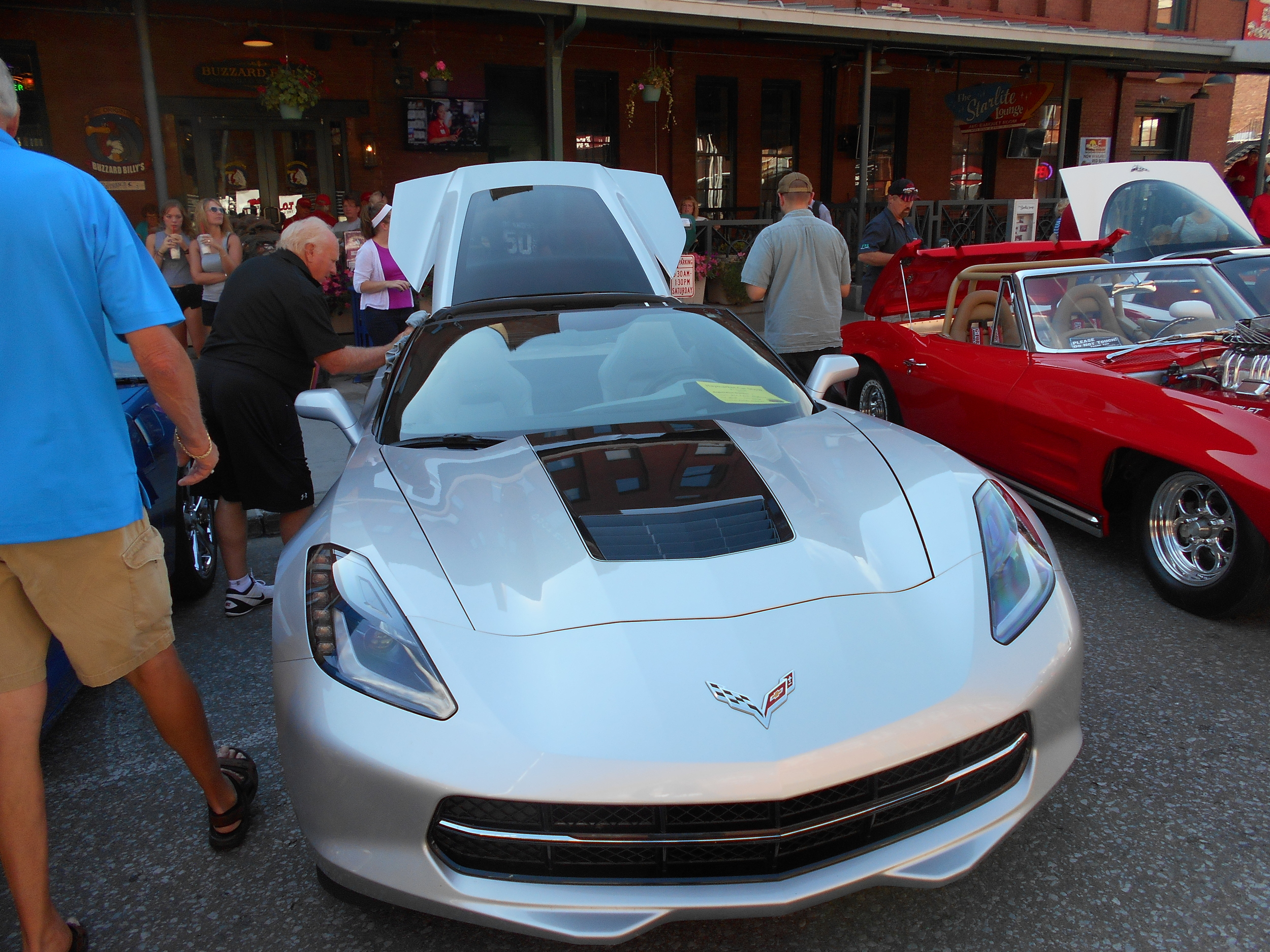 2nd Annual Haymarket Corvette Show 7/22/15
115 Corvettes filled 2 blocks of Lincoln's Historic Haymarket, we had door prizes, food and beverages from our great Haymarket sponsors, and lots of fun.
Andy's Express Mini Show 7/18/15
Quite a few members showed up to celebrate Andy's Express 1 year anniversary KFRX was there along with hotdogs, soda, door prizes, and lottery tickets. A great time was had by all.
Bloomington Gold 6/25-6/27/15
NCA and Archway Corvette Club members went to Bloomington Gold this year, we hearddriving your car around Indianapolis Motor Speedway may have been the best part.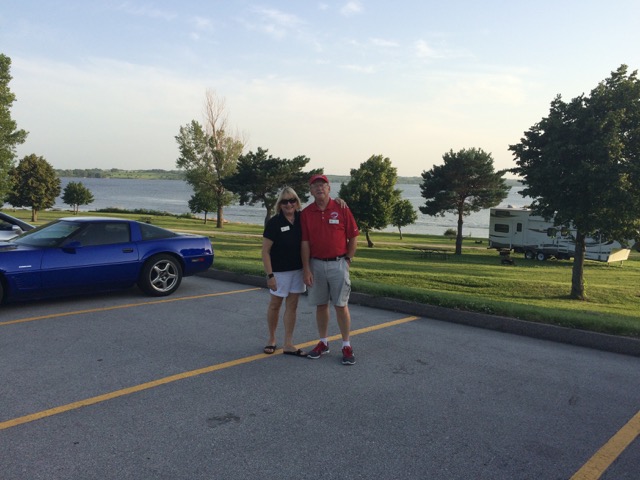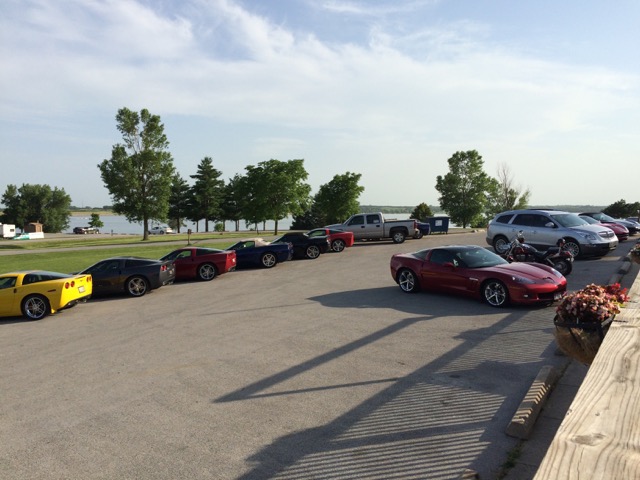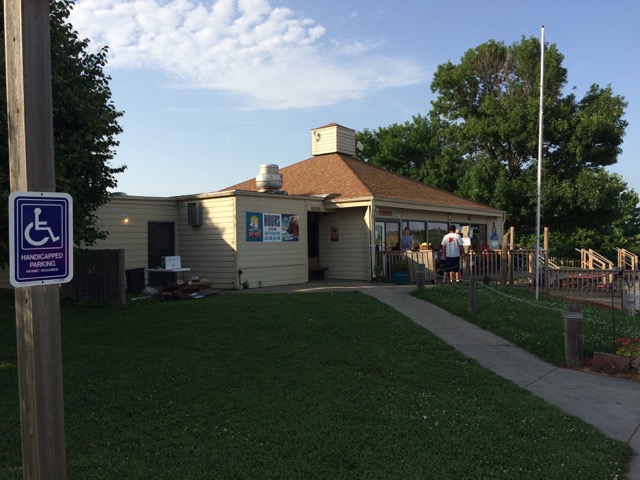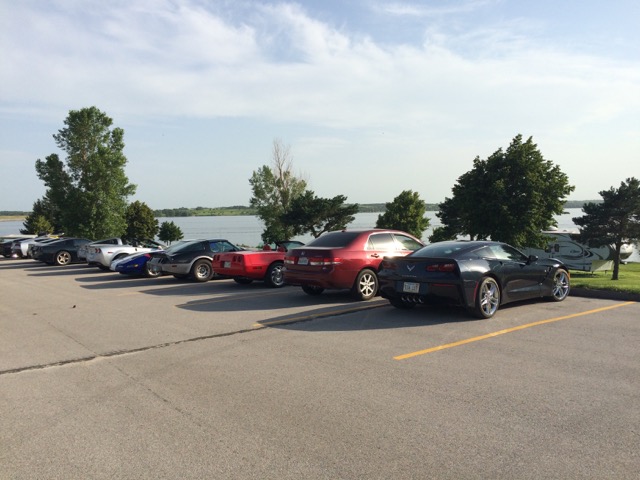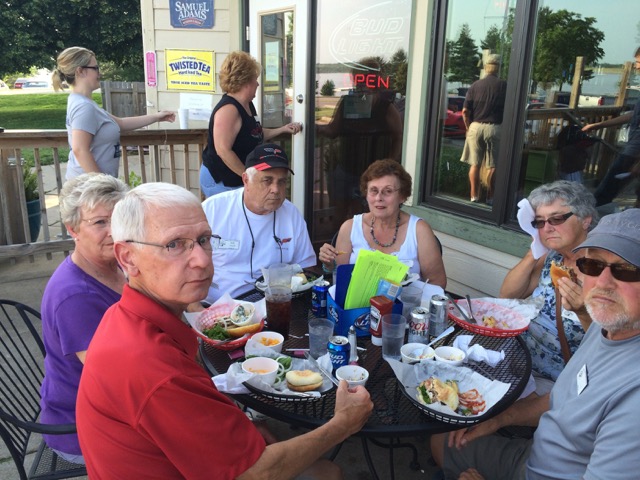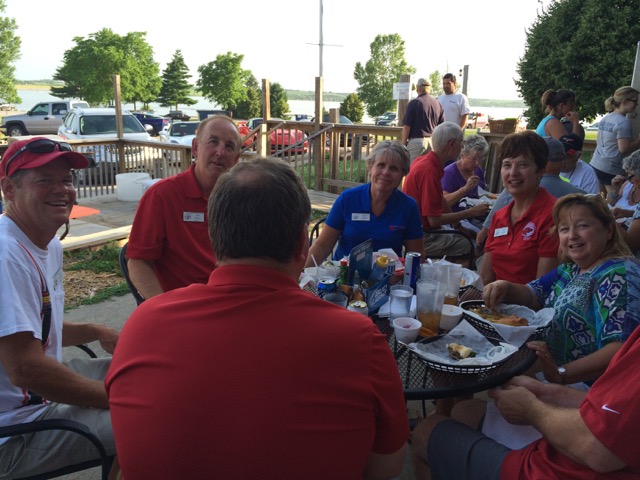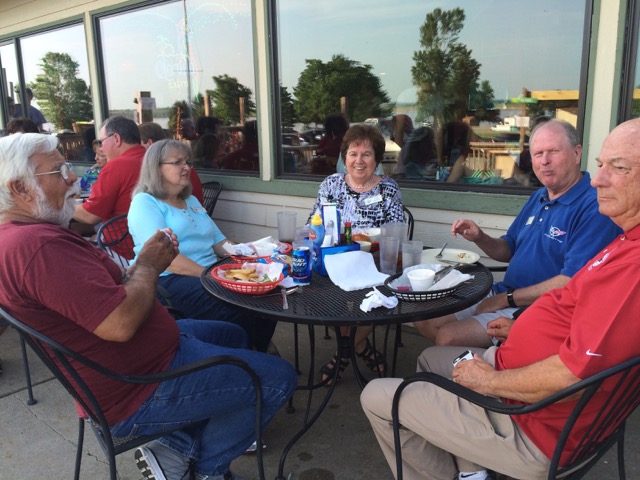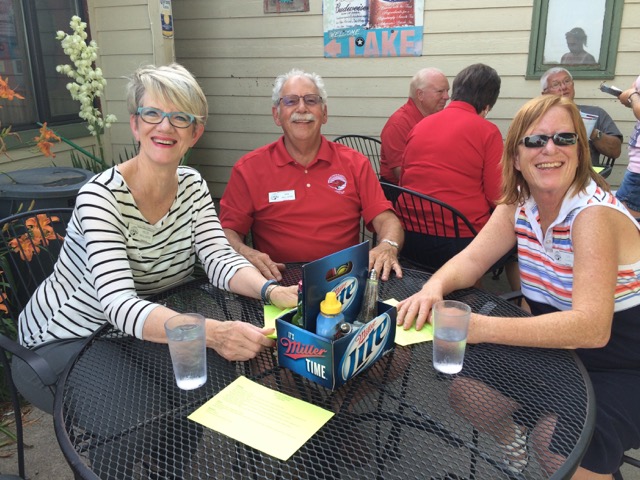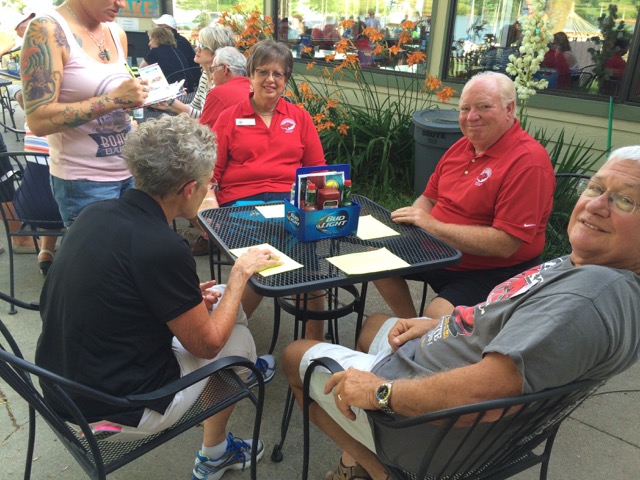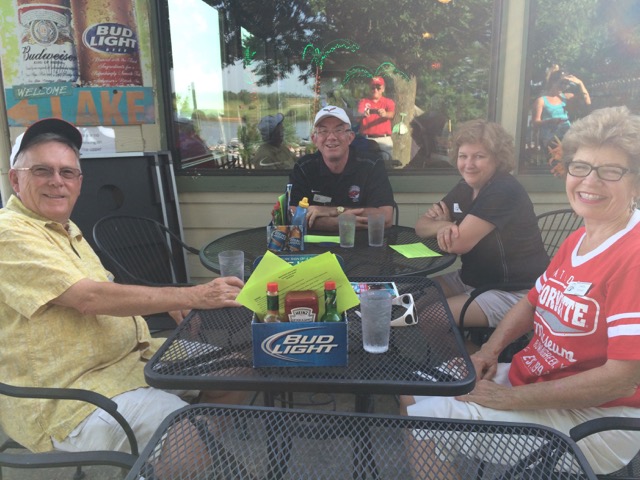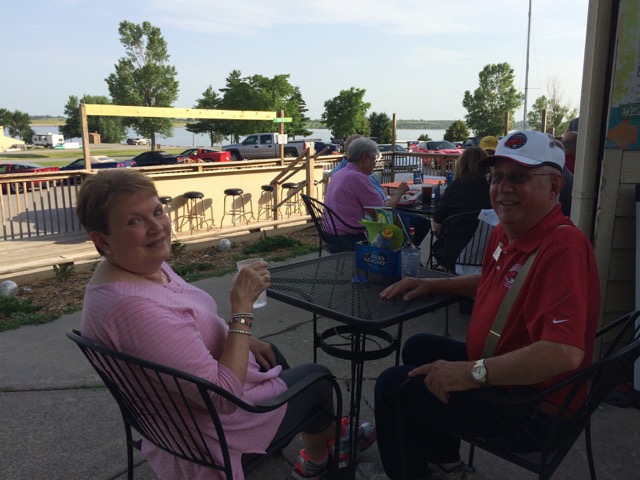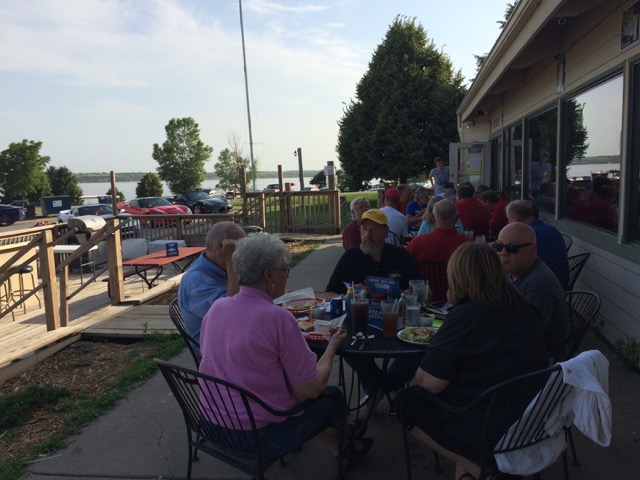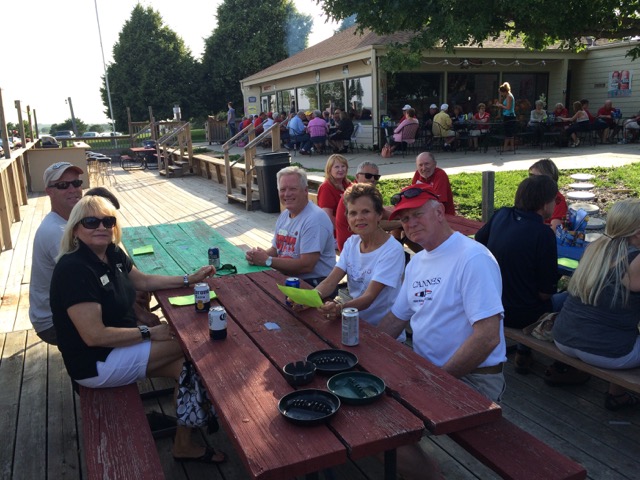 July Social 6/24/15
51 members came out to enjoy the view and wonderful weather at the Boat House on Branched Oak Lake. Thanks to Kerry for setting it up we had great food and service.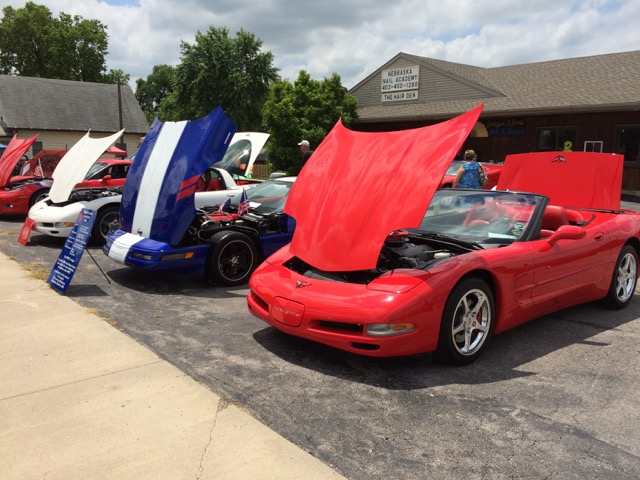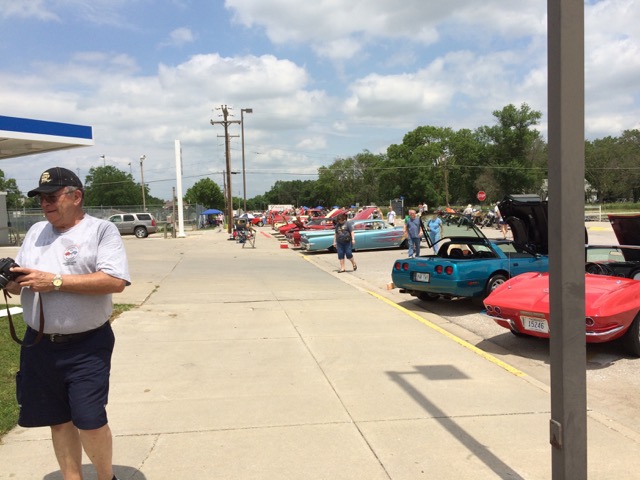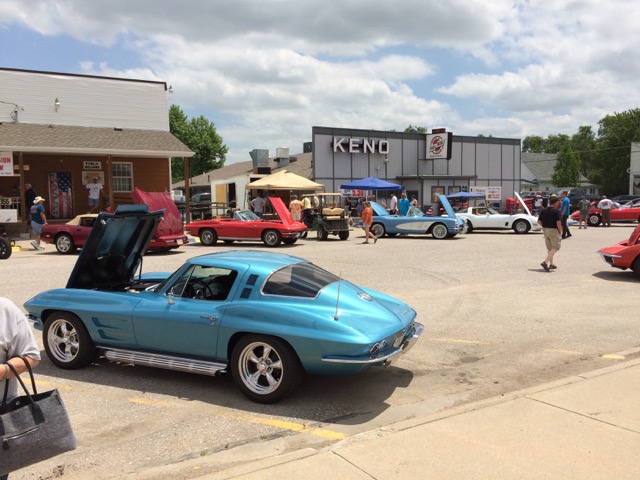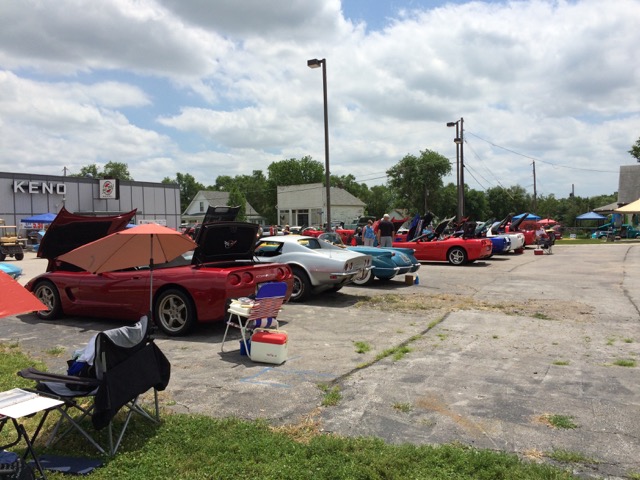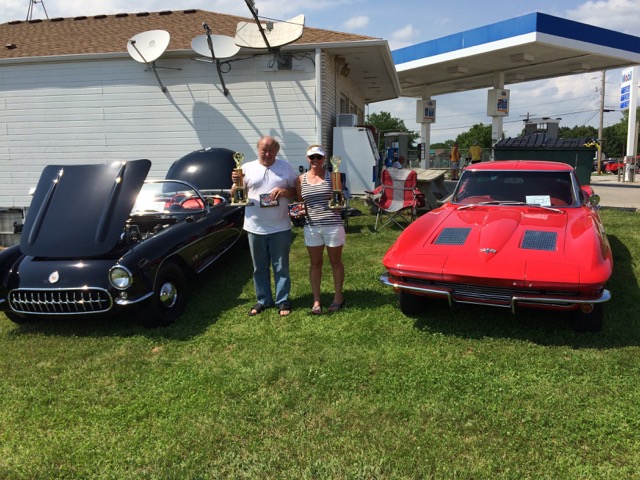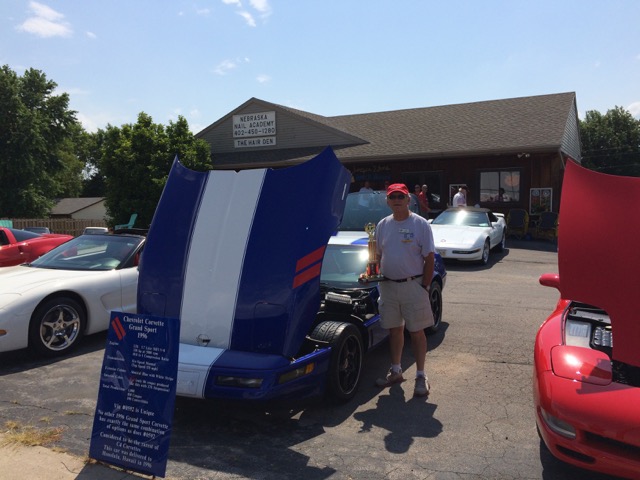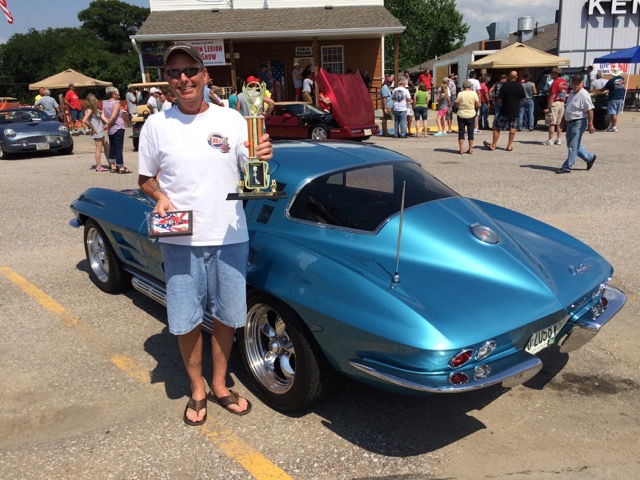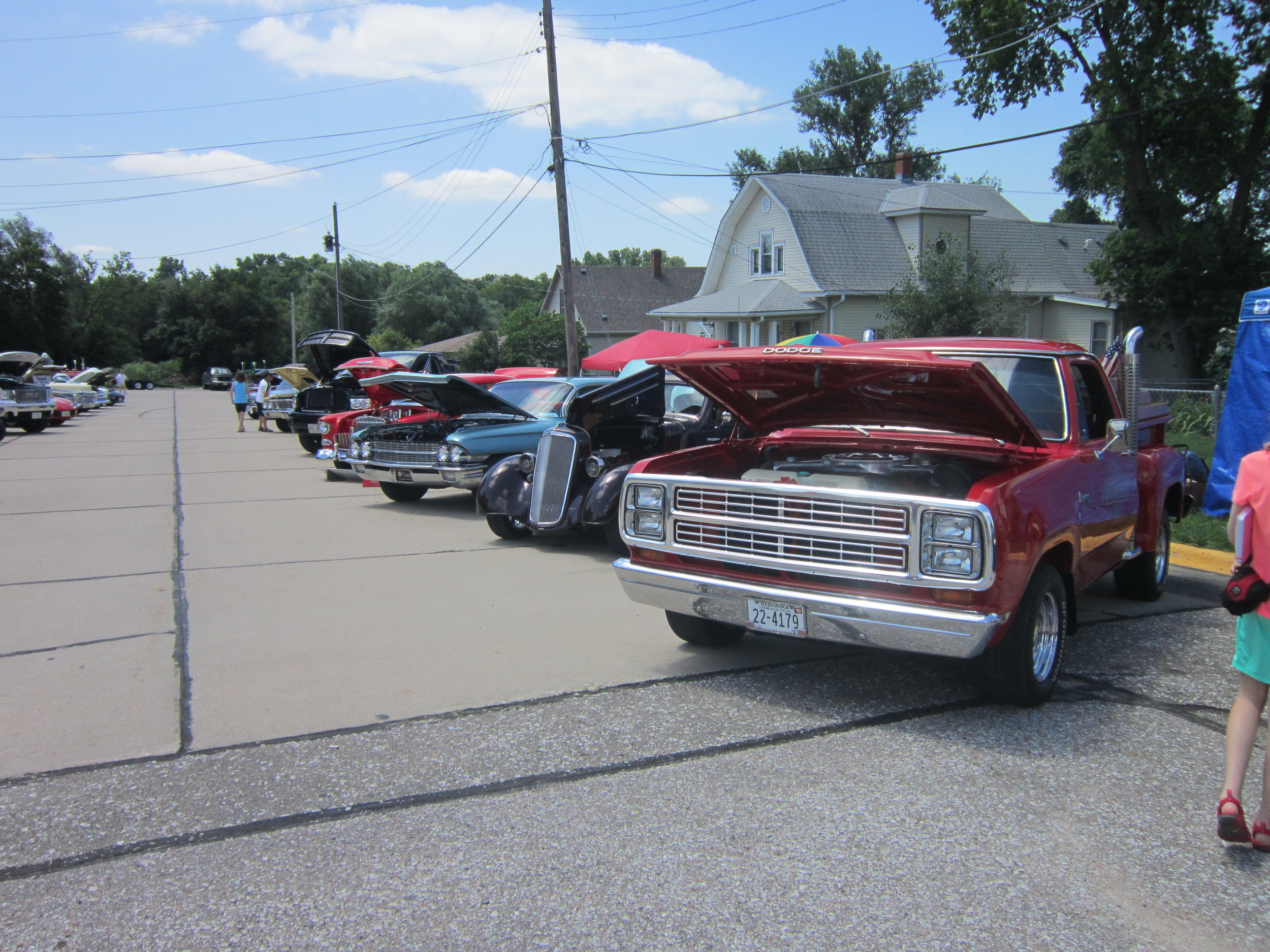 Denton Legion Car Show 6/20/15
170 cars, trucks, tractors, and motorcycles filled Denton Saturday including 40+ corvettes and 23 were NCA cars. It was a nice warm day for a car show but the Legion and Denton Daily double had good food and air conditioning and if you need a little more cool down Dairy Joe's was there with delicious ice cream. Members Doug Ruben 1957 Roadster, Nicole Schmidt 1963 Coupe, Brian Pierson / Judy Havoc 1964 Coupe, and Bill Zuspan 1996 Grand Sport all took home hardware too.
Geezer Grand Getaway 6/11-6/15/15
24 cars took the trek from Lincoln to Rogers, AR this year. The group toured museums, an historic house, and with the help of the Northwest Arkansas Corvette Club some twisty roads.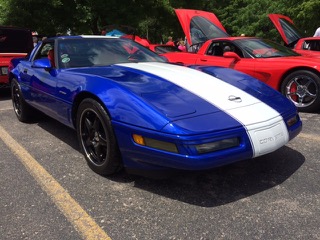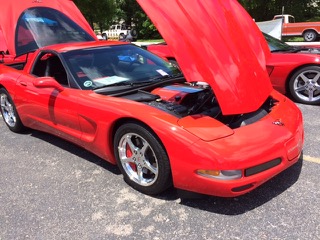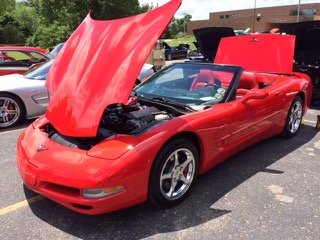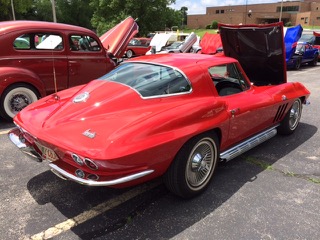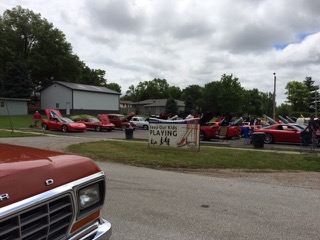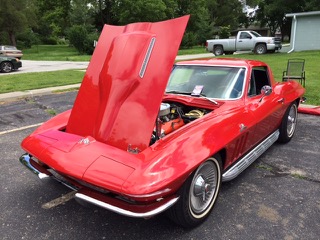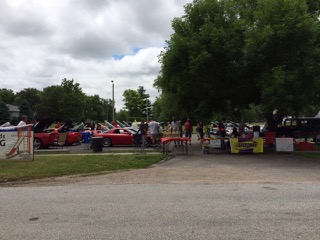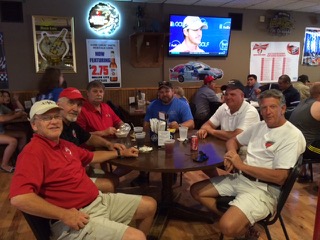 1st Annual Palmyra Car Show 6/13/15
Held at the Palmyra Jr/Sr High the 1st Annual Palmyra Car Show was a fundraiser for playground equipment in the city. Husker Eric Crouch was on hand to represent Crouch Recreation, his playground design company. The show featured about 40 cars, 8 of which were NCA Corvettes, Ron B won Runner-Up in the Sports Car Class. It was a great day to get together with friends and have lunch at Palmyra Pub.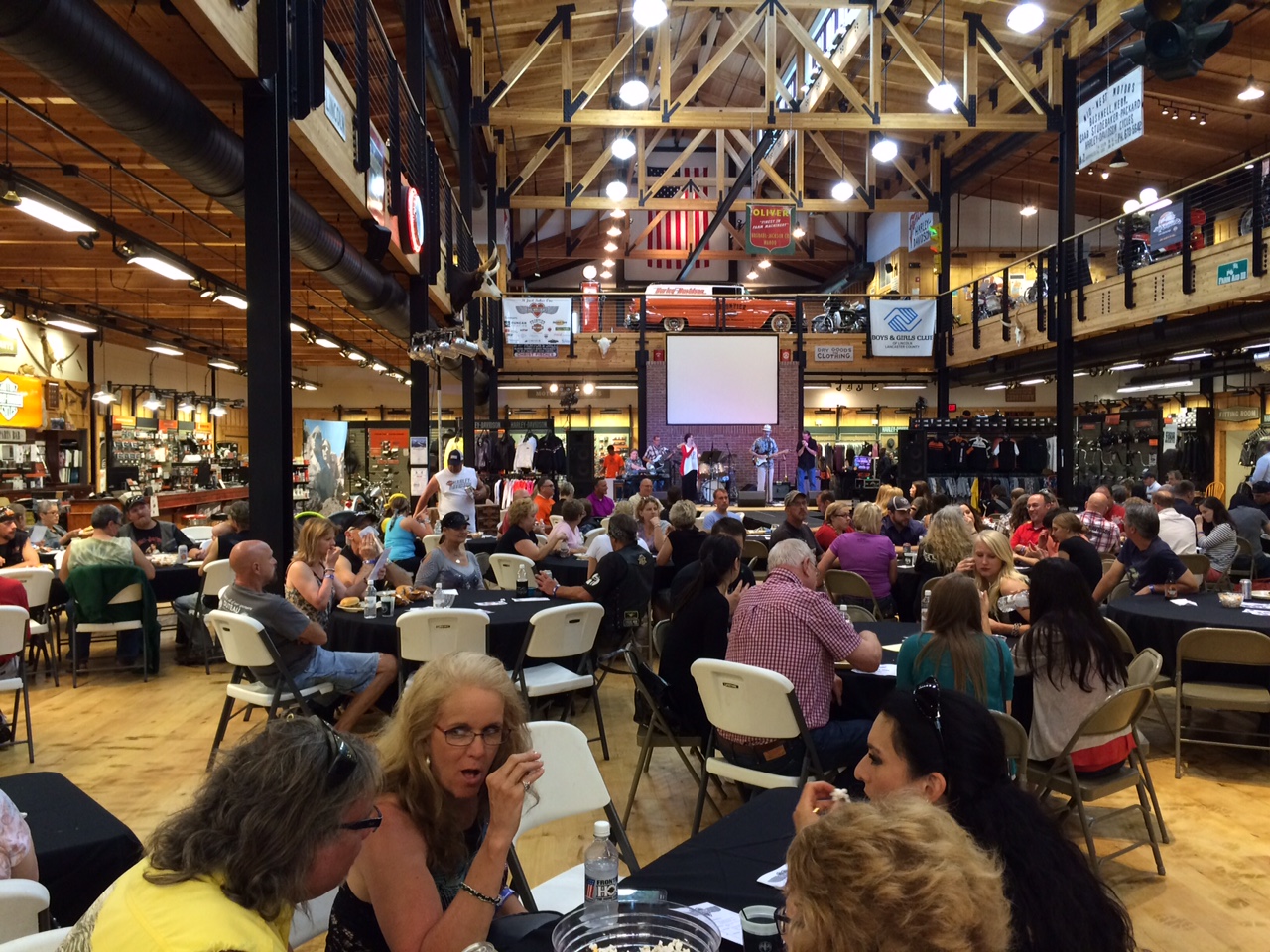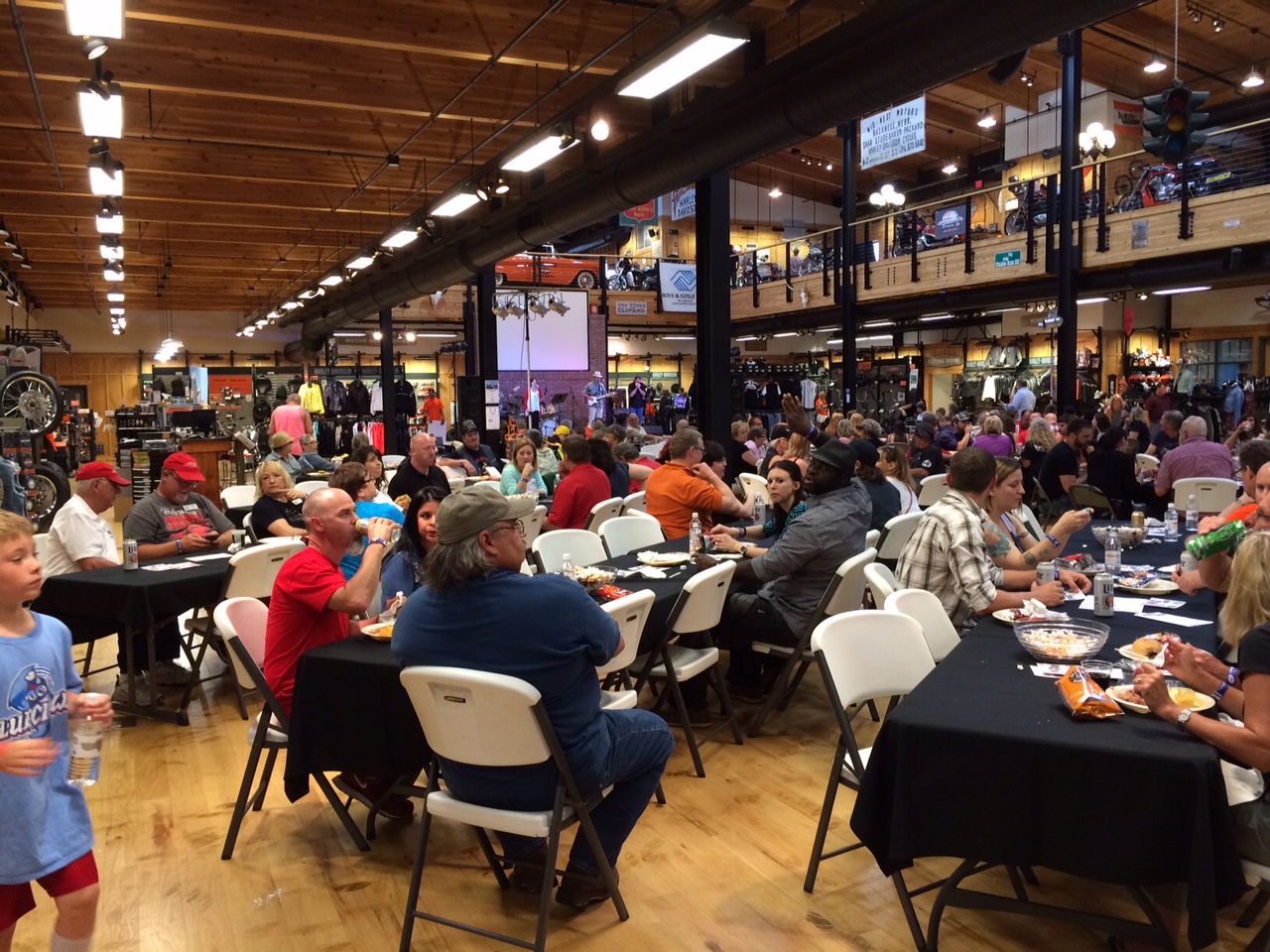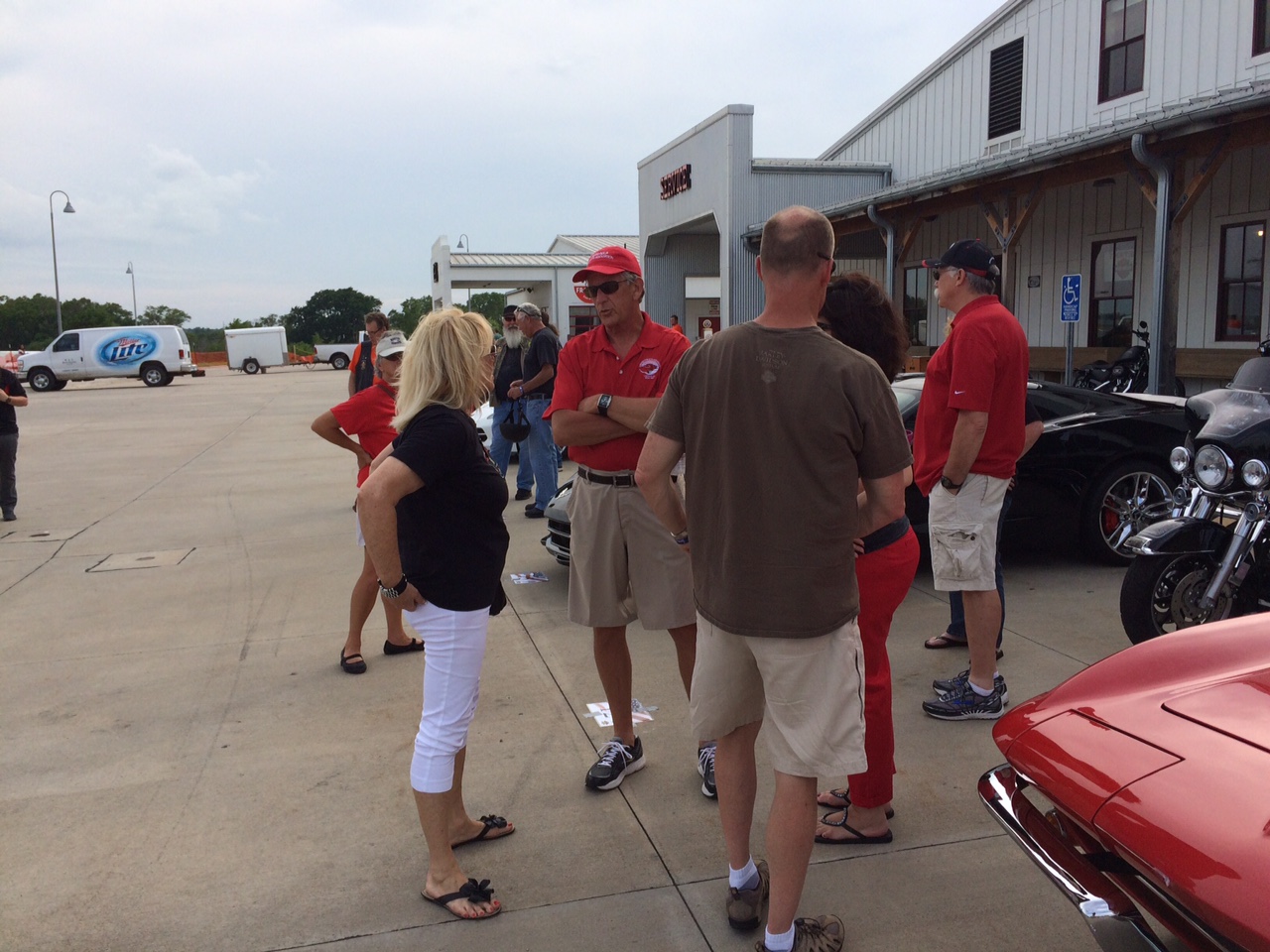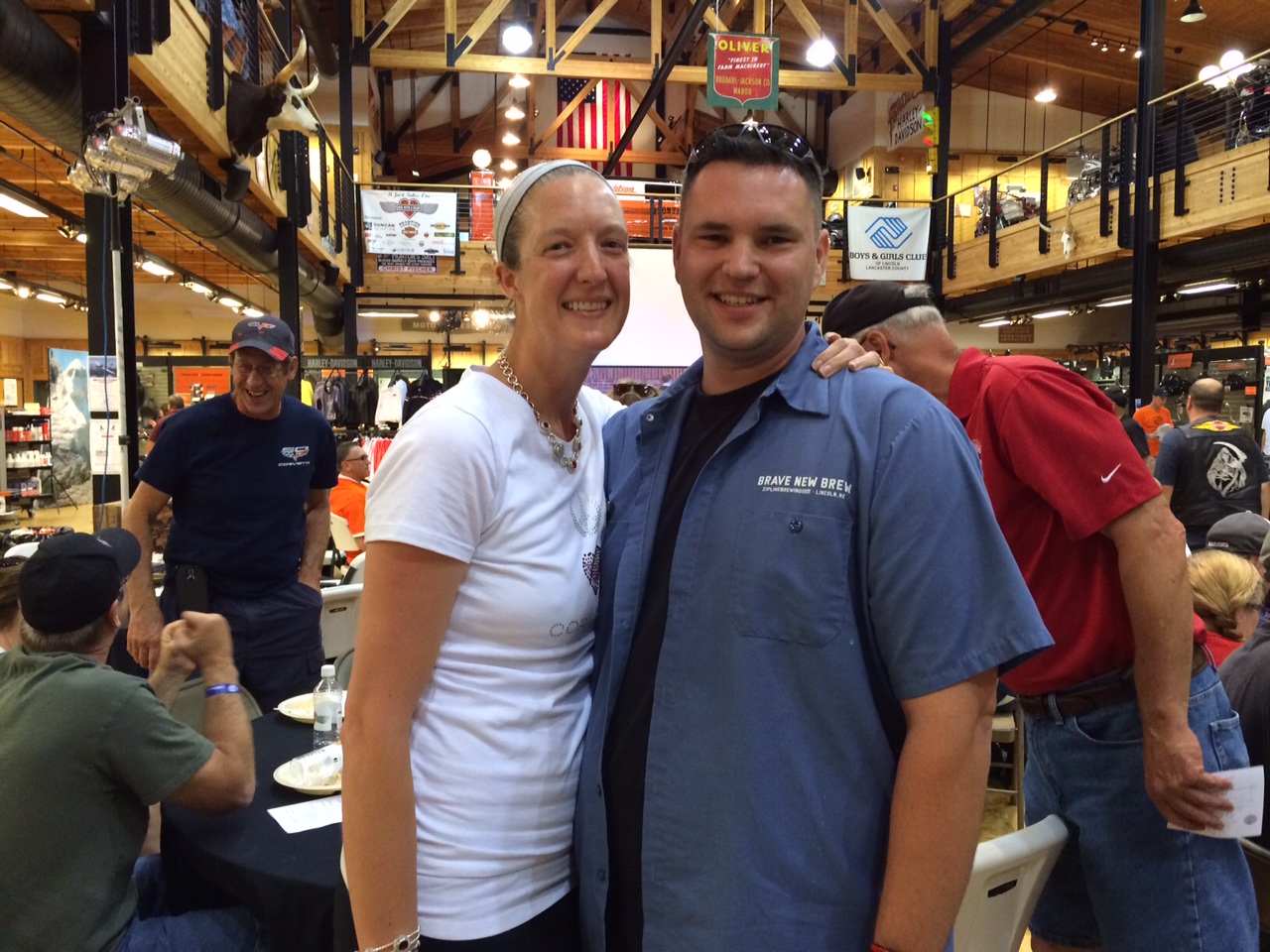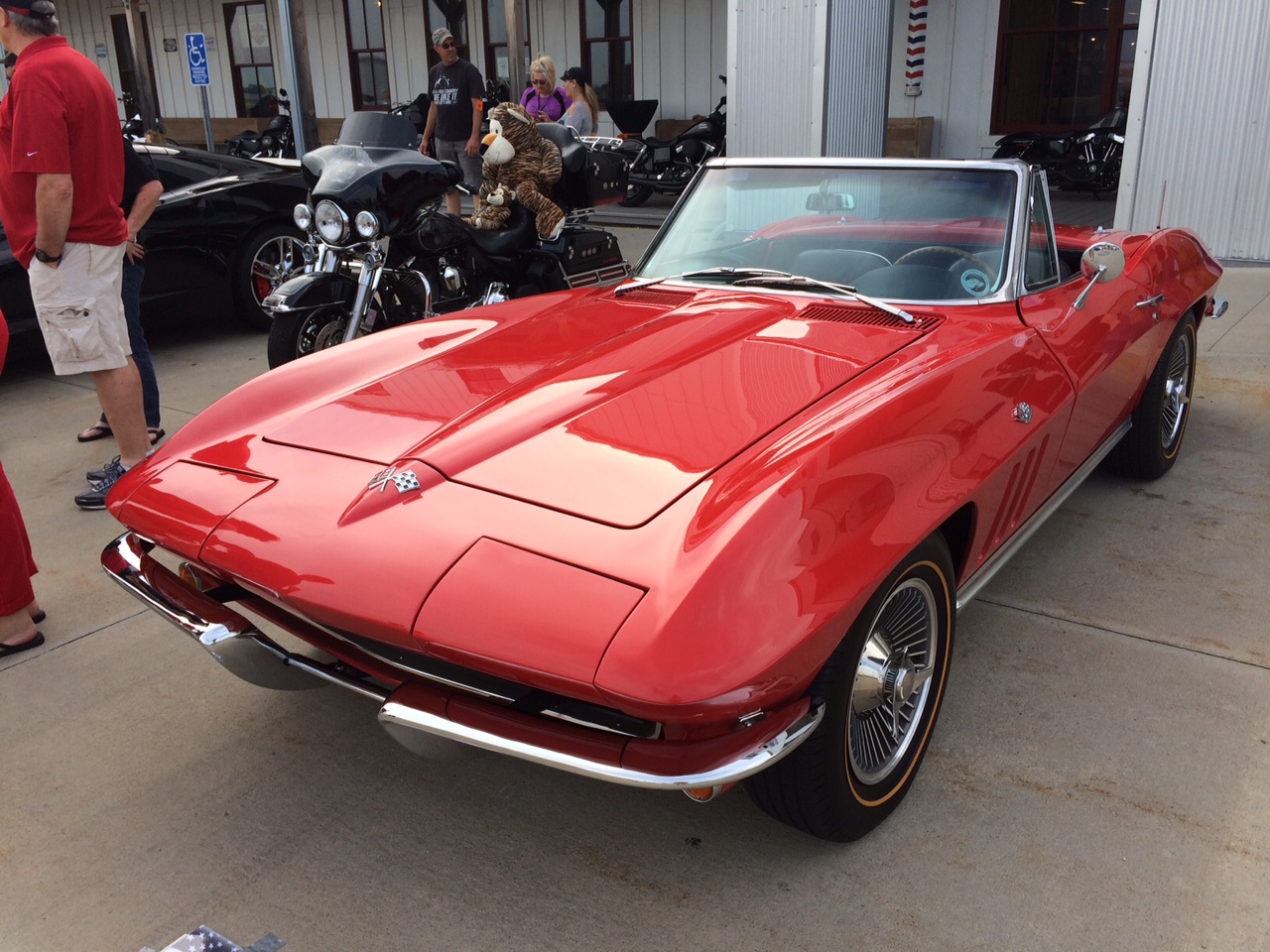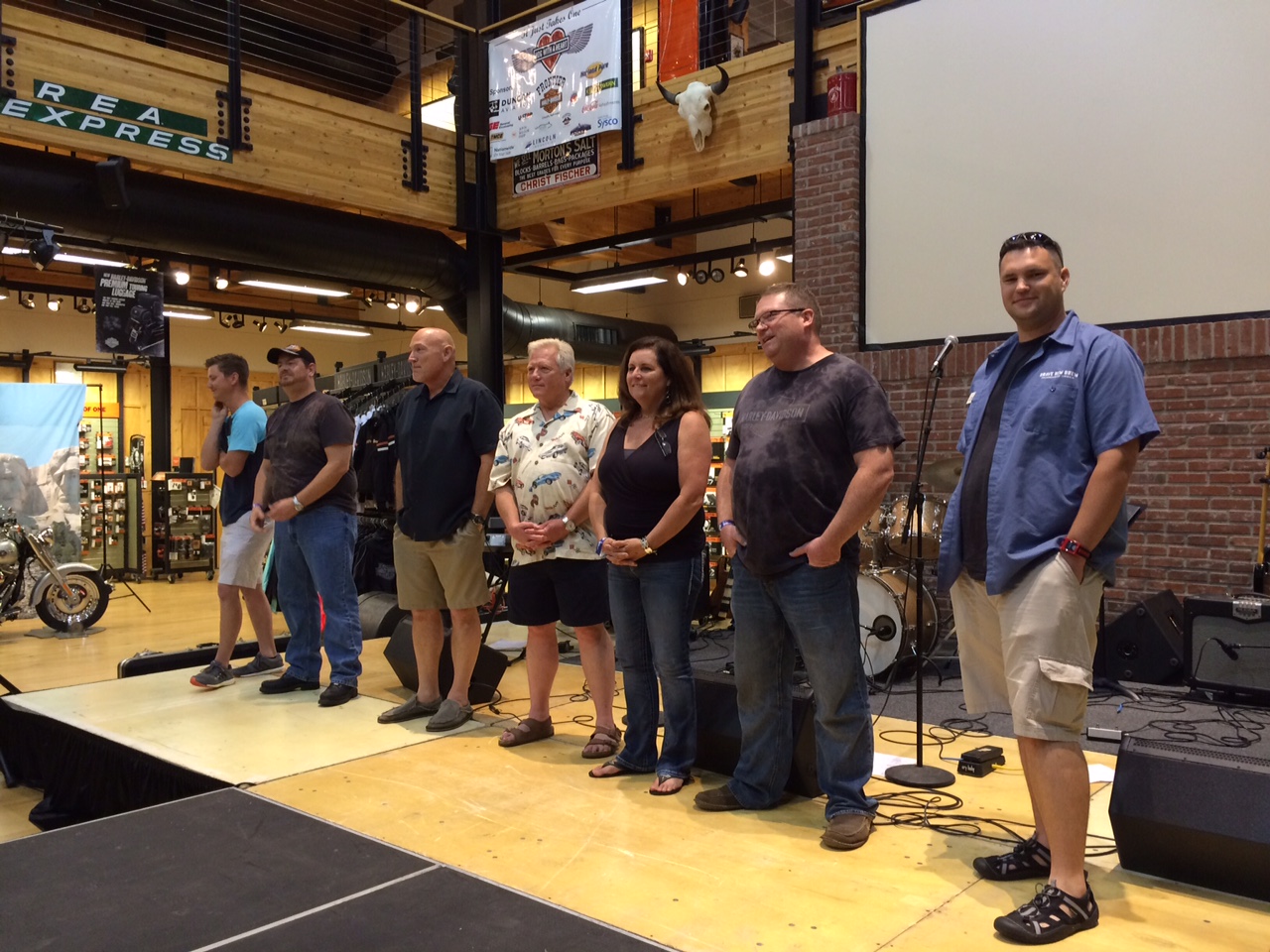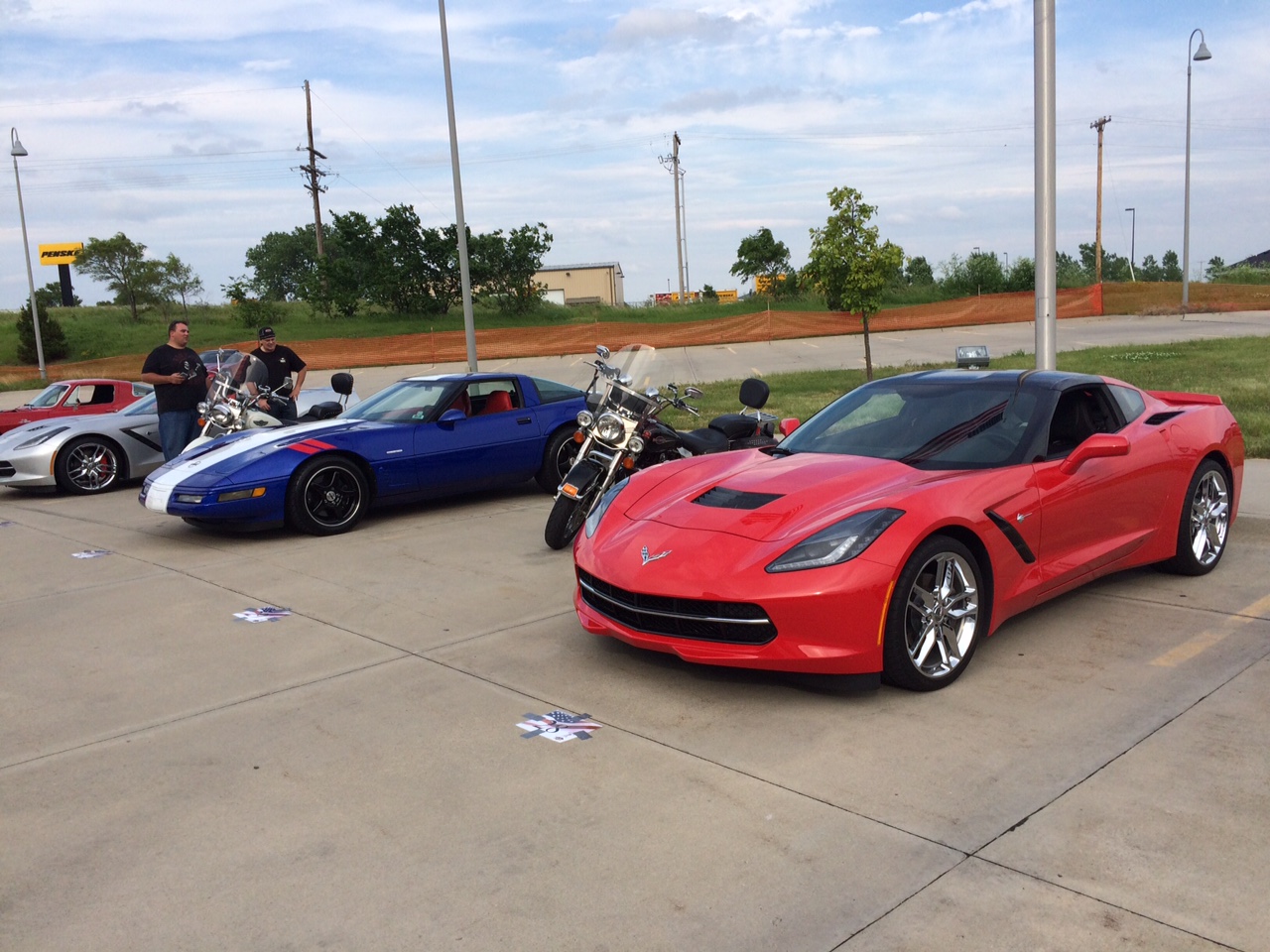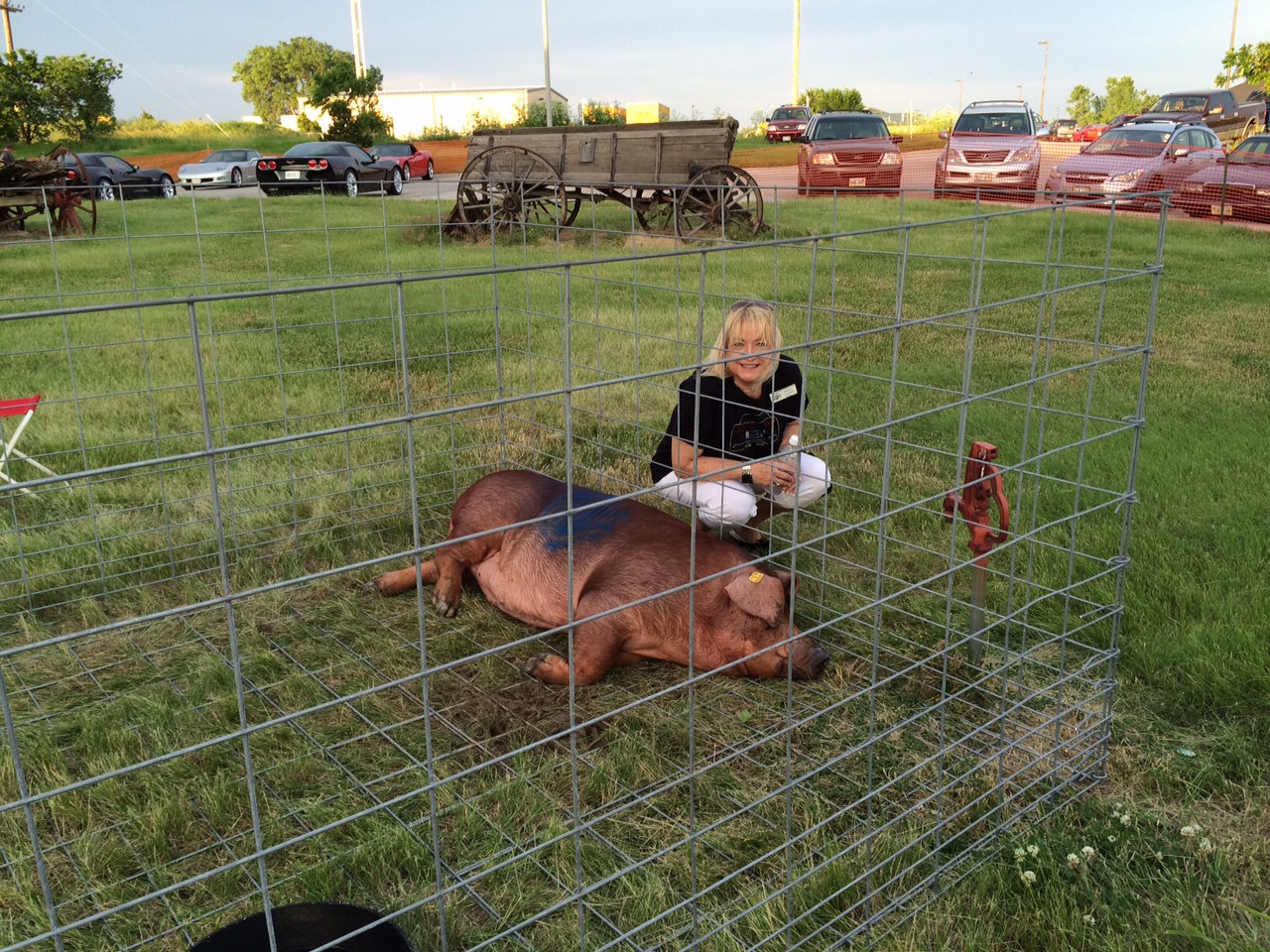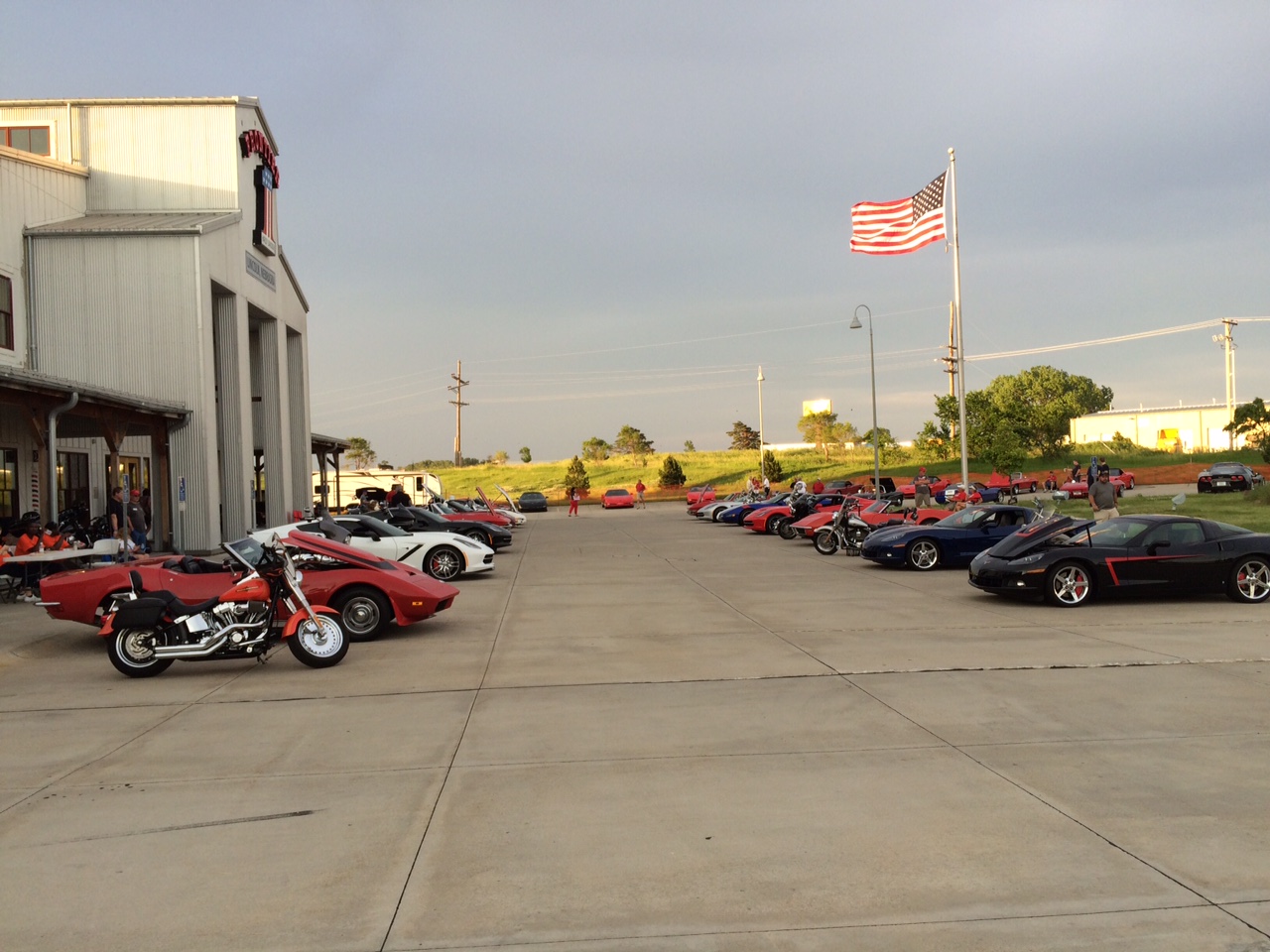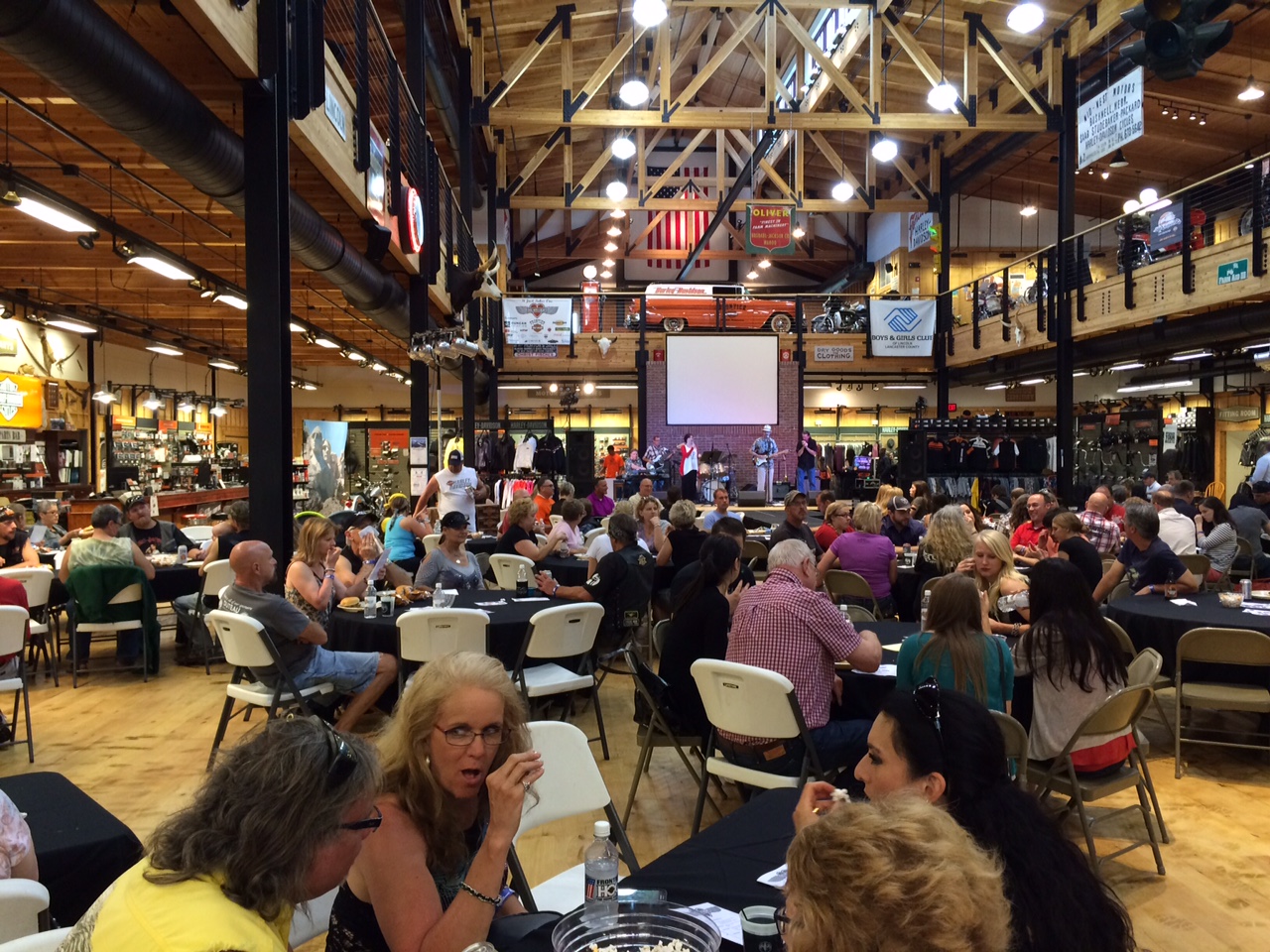 Boys and Girls Club Car Show 6/6/15
30 NCA cars showed at Frontier Harley-Davidson Saturday night along with many Harley's to support Hog's with a Heart Boys and Girls Club of Lancaster County. Dale Z won 1st place People's Choice, Linda W and Ron B tied for 2nd place, all received gift cards for high octane gas. The night included a BBQ meal, Harley-Davidson fashion show, music from The Usual Suspects, and drawings for a brand new Harley and a trip to Sturgis. Brady D. won the Harley.
Forever Angels Carnival 5/31/15
20 NCA cars took part in the carnival hosted by the Elks for the benefit of the Forever Angels foundation at Gold's Gym and Bill Z. won a brand new bike.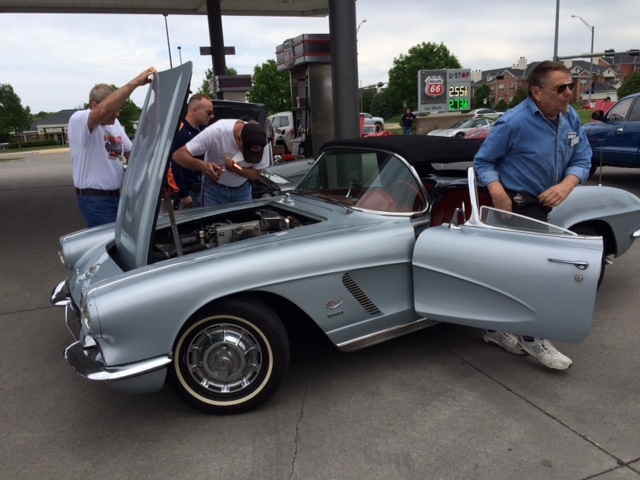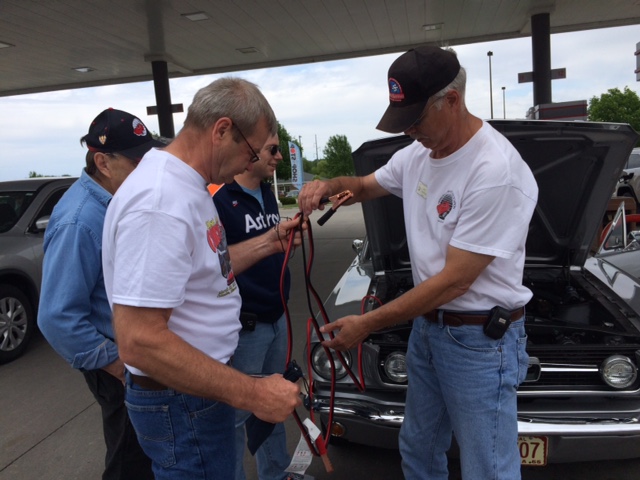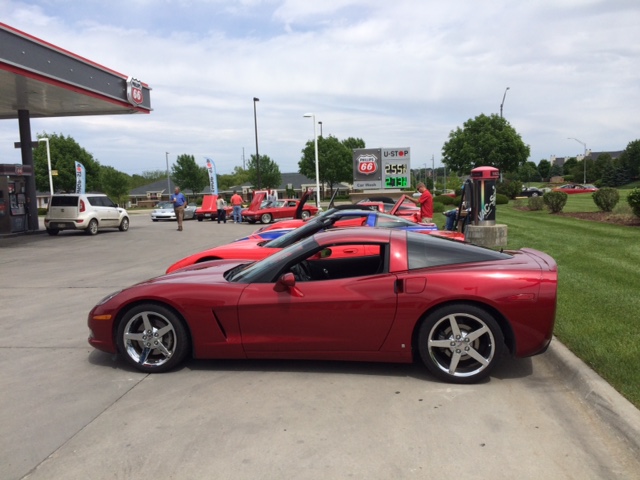 U-Stop Mini Show and Wright Way Fuel Show 5/22/15
At least 15 cars showed at U-Stop Friday afternoon, we talked and had some food and drink from U-Stop, it was a great way to start the weekend. Right after U-stop we gathered at Wright Way Fuel for some more fun. We built up to 25 cars at Wright Way where they had 96Kix playing music and treated us to more food and beverages, there was a short sprinkle but it was a wonderful night. A few members got really lucky by winning fuel gift cards and lottery tickets.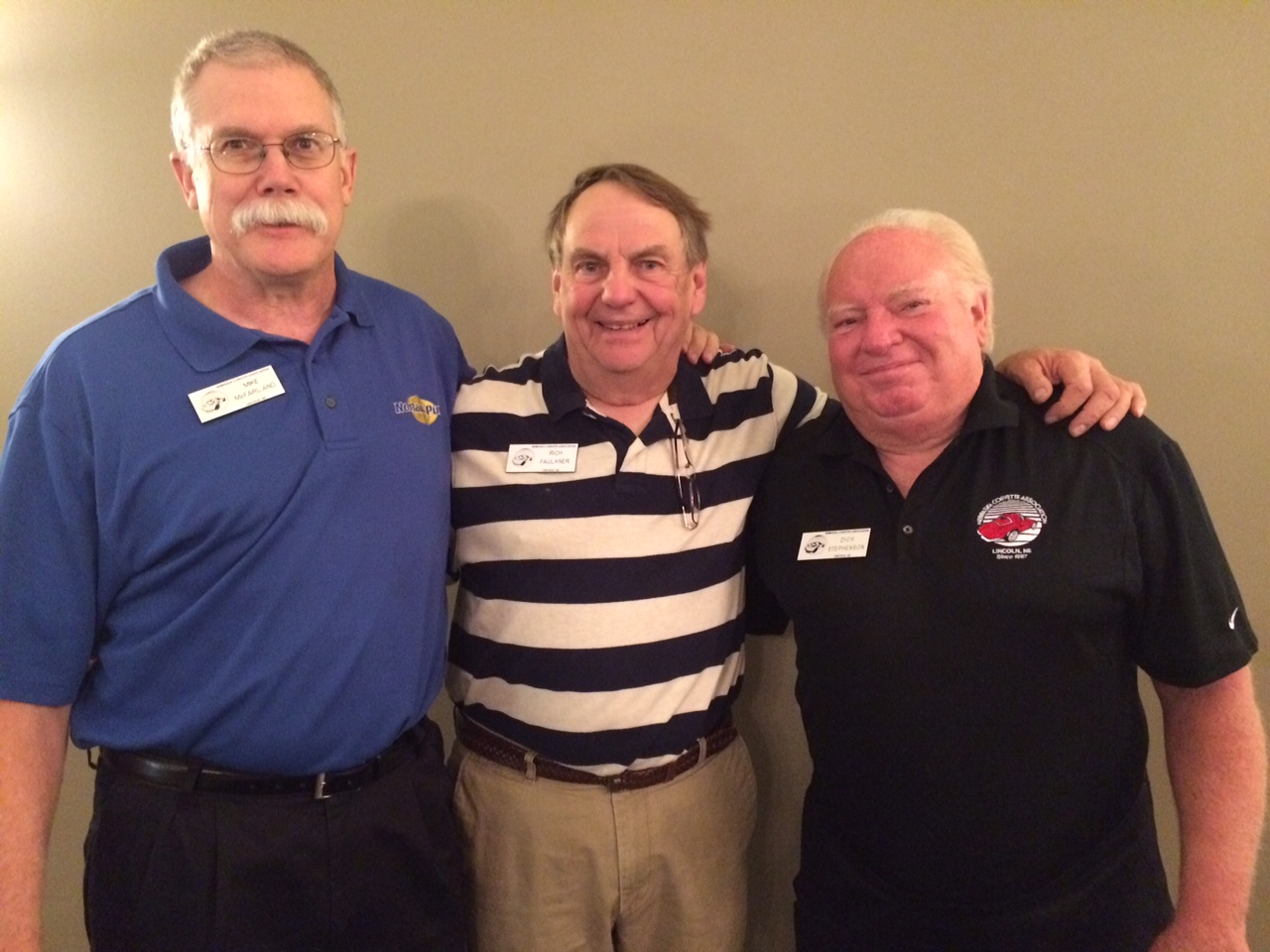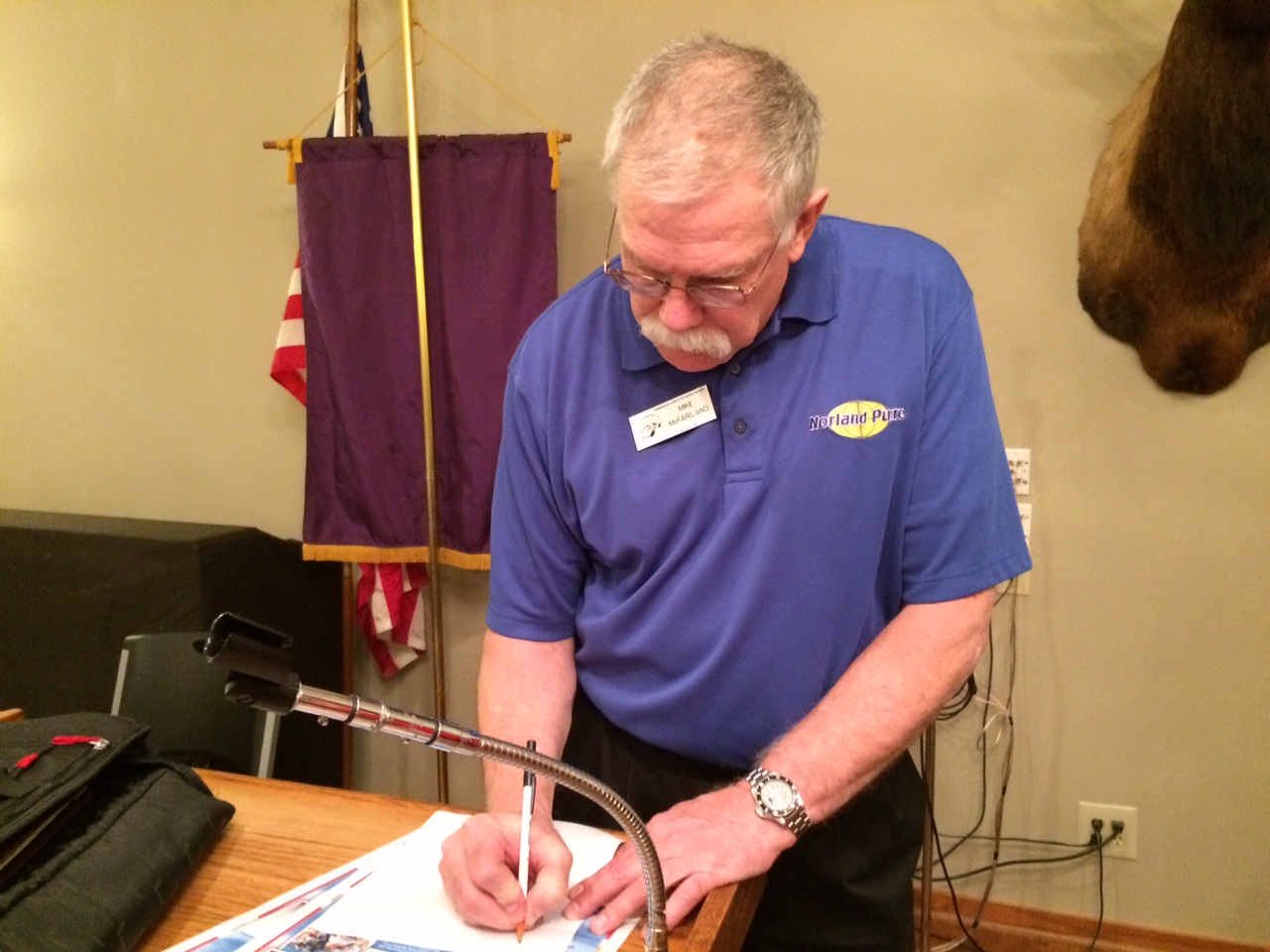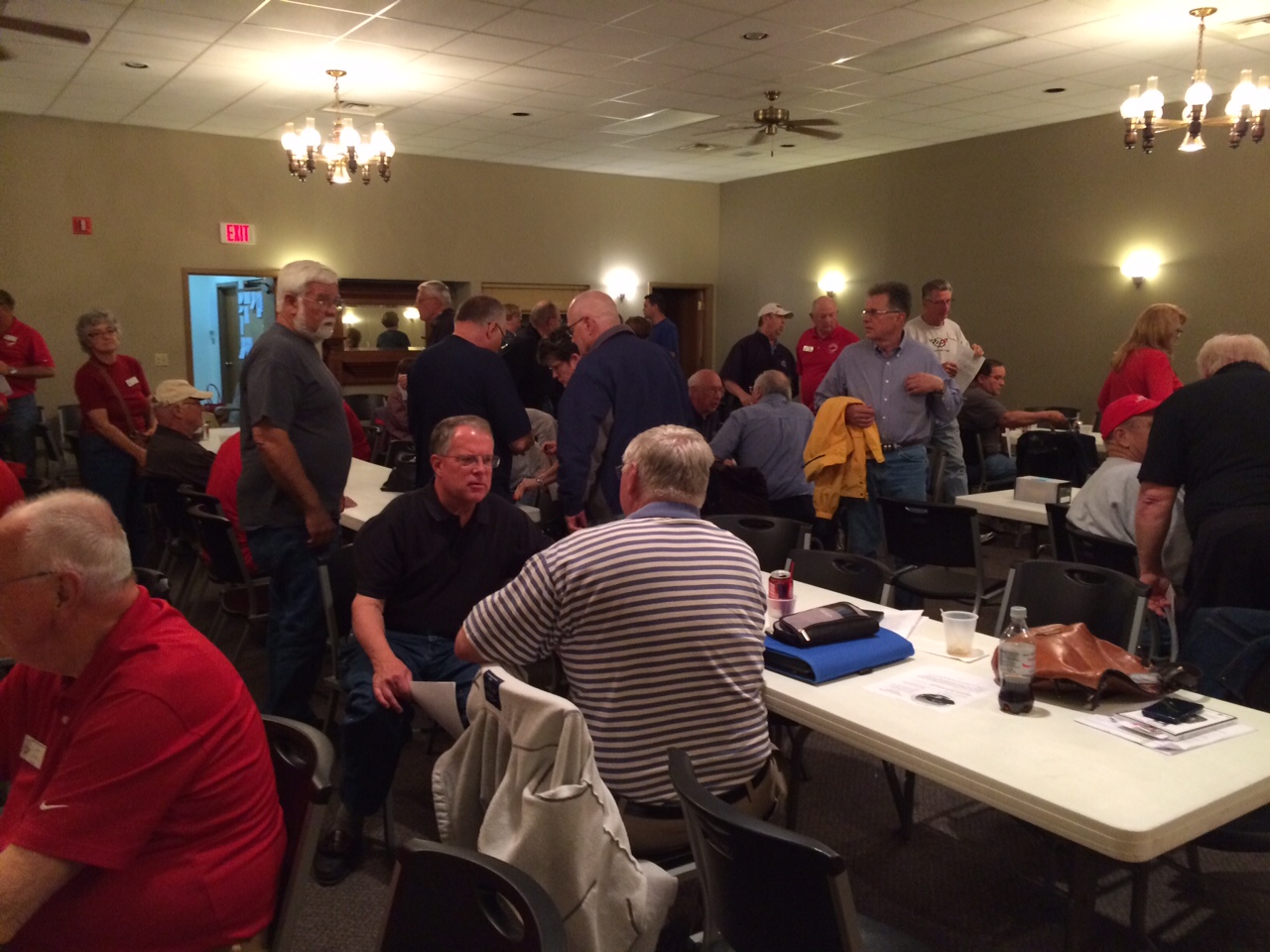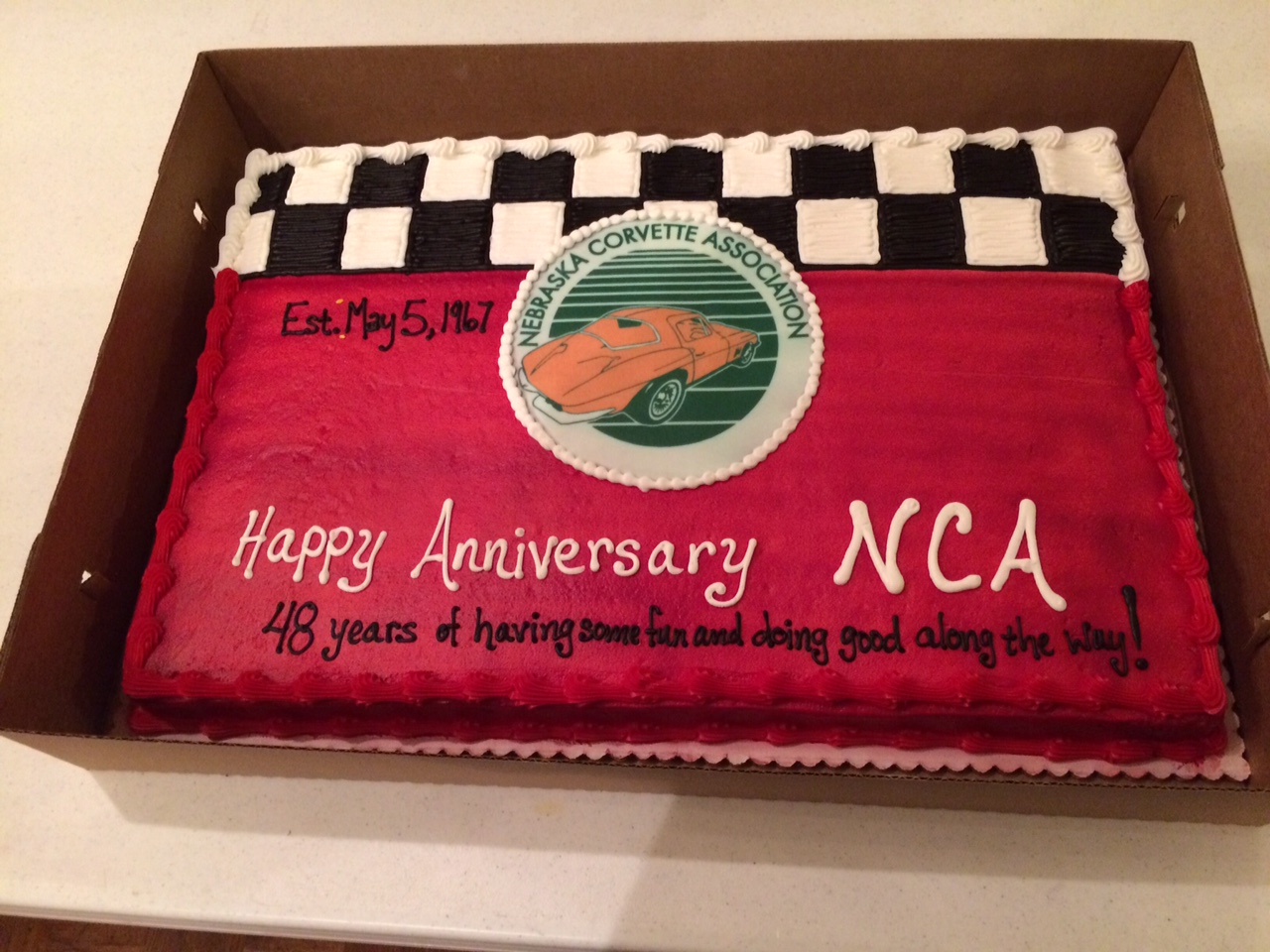 NCA is 48 Years Old! At the may meeting we celebrated 48 years of a common love of corvettes with 2 of our founding members and cake. The cars have changed a little, maybe the people too but as group we still like to get together, do a little good, and drive our cars a little too fast. Thanks to our founding members for starting a legendary car club.
Spring Trash Pickup 5/3/15 Several members showed to help clean up US-77 north of Lincoln continuing a 25 year NCA tradition. Special thanks to Gerry M. for keeping us organized.
NCA Social 4/22/15 at The Fox. 37 corvettes and at least 76 members met to eat at The Fox in Lincoln. The club pretty much took the place over and the staff did a very good job of taking care of us with good food and quick service which can be difficult with such a large group. Fun was had by all and it was nice enough outside to jaw-jack around the cars afterwards.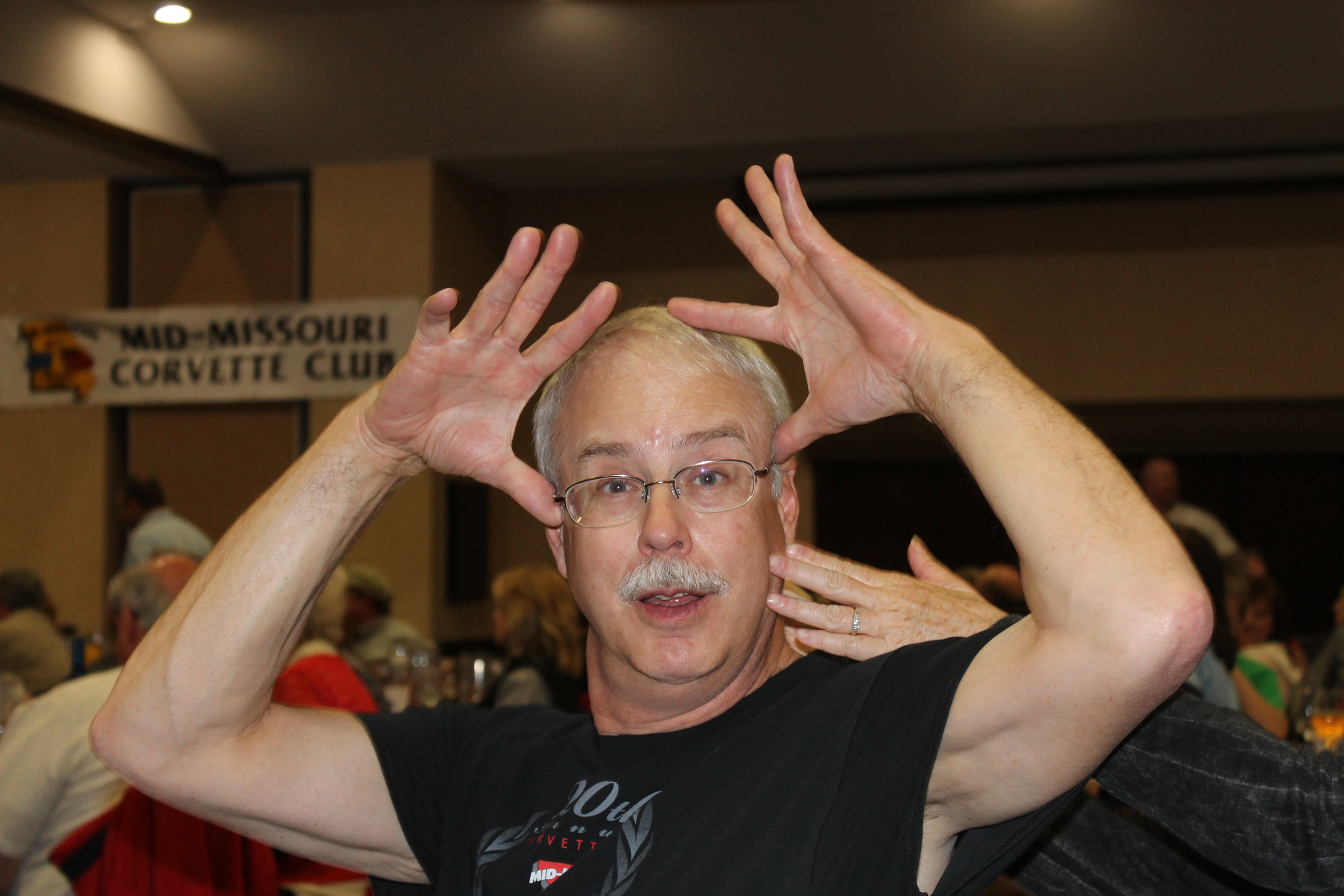 Mid Missouri Corvette Cup 3/27-3/29/15
4 couples left Lincoln at the break of dawn Friday on their way to fun and adventure. The first stop was a rest area a couple hours down the road. Then lunch at the 87 Diner (a nice place to stop if your travelling on I-70-great pie.) Finally arriving at Warm Springs Ranch for a tour of the Budweiser Clydesdale breeding operation, 300 acres and 150 horses with a couple great tour guides, a personal introduction to Duke, and a couples beers at the end. After the Clydesdale tour we made our way to Stony Creek Inn in Columbia, MO for a first round of car cleaning and some fun in the pool. Saturday brought some flurries and more car cleaning, judging was done early and we all went on a wonderful poker run with some great twisties. Saturday night featured a banquet, auction, and awards with Dale and Linda winning 1st C6 Convertible, Kathy and Keith 1st C6 Coupe, and Cindy and Brady Longest Distance.
60 members of the Nebraska Corvette Association were in attendance at the Round the Bend steakhouse on Wednesday night. The food and service was excellent and everyone had a great time. Even with the cool weather, a pretty good turnout of Corvettes showed up. Thanks to Terry M. for lining this up for the Club. They will again be one of our Show Sponsors for the 2015 All Corvette Show. Thanks to all who attended.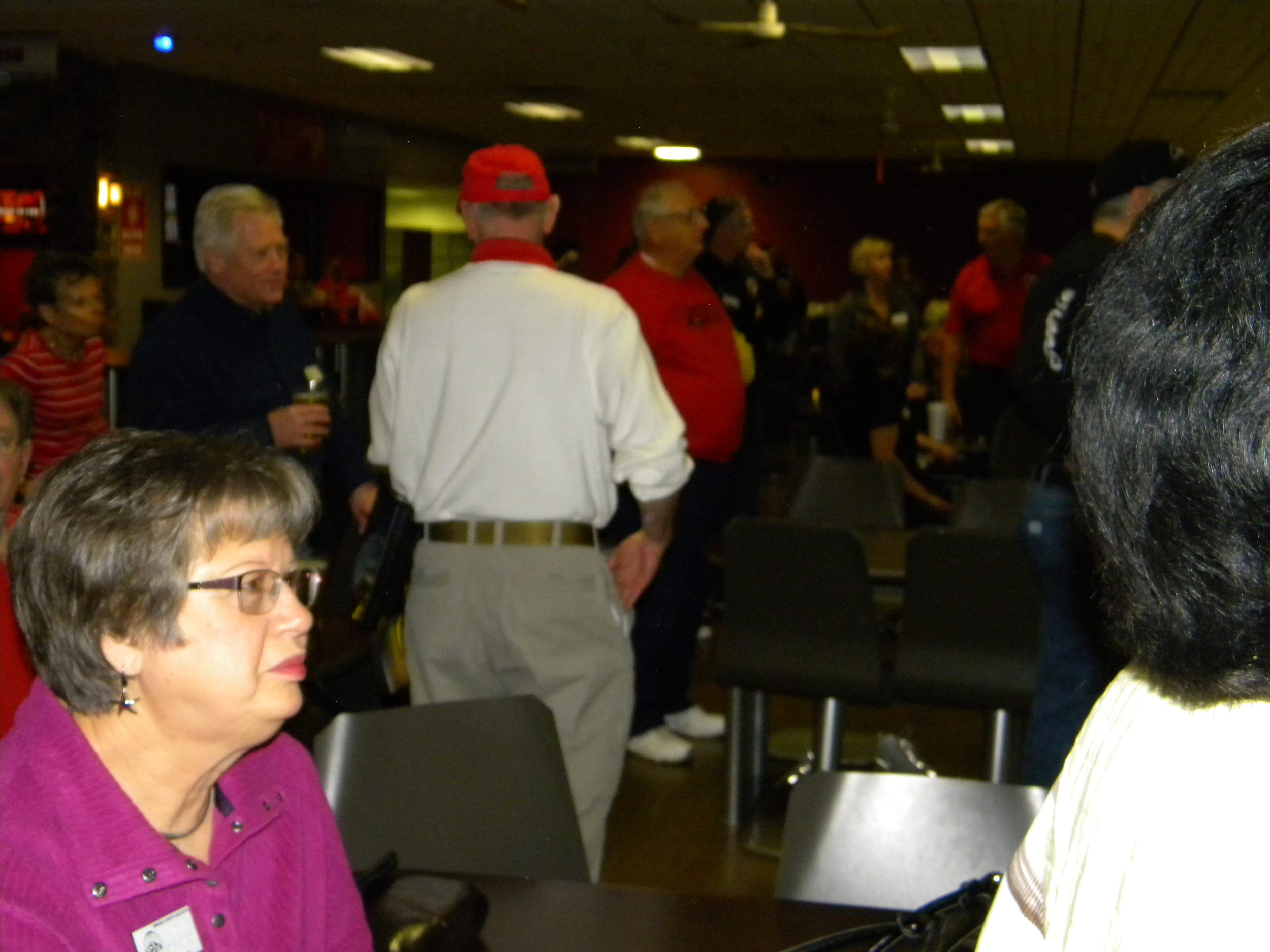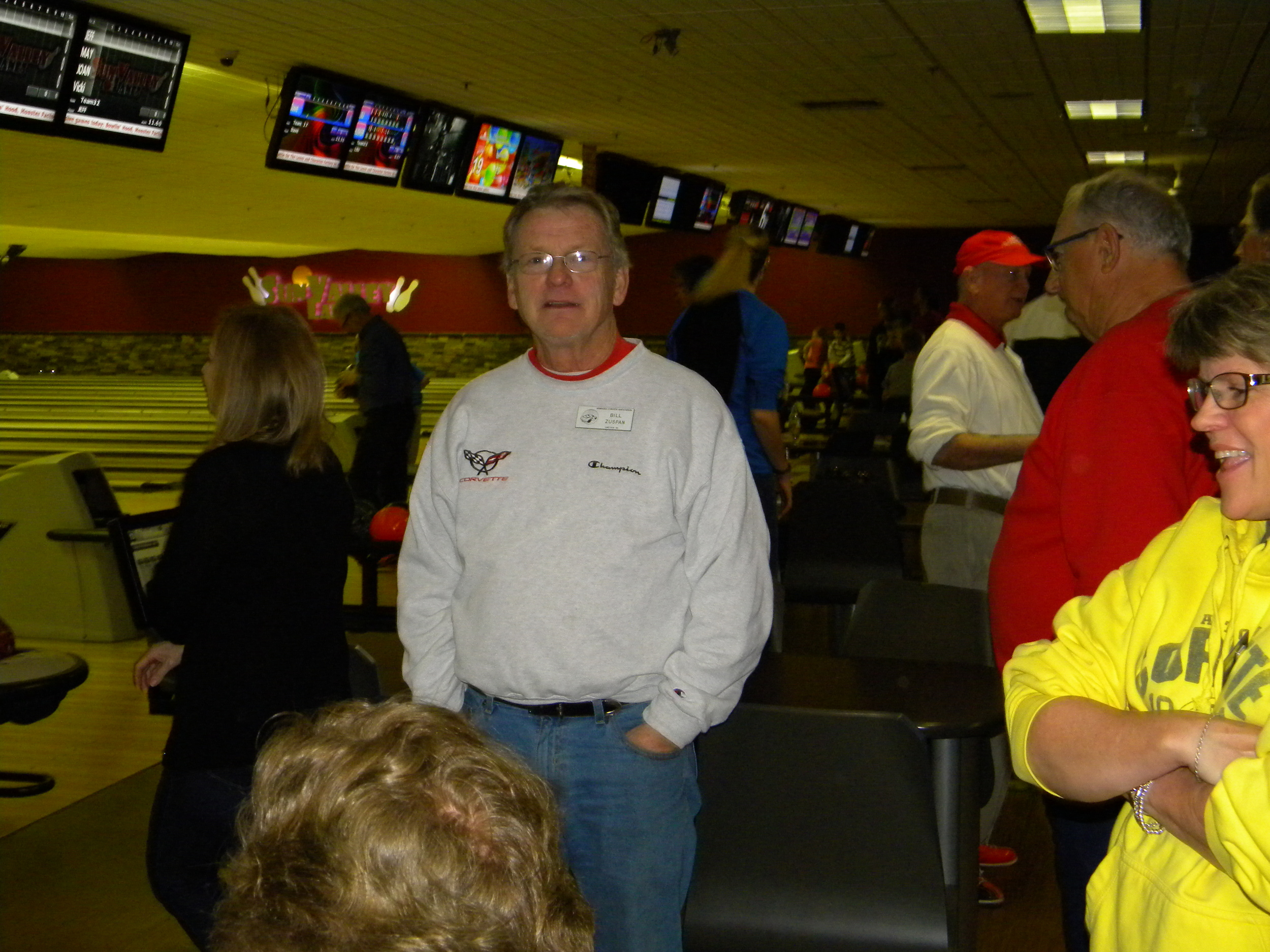 NCA Bowling Tournament 2/28/14 26 bowlers and at least 10 hecklers had a good time with friends and pizza at Sun Valley Lanes. Bruce organized the event and Bill helped get prizes for the illustrious winners.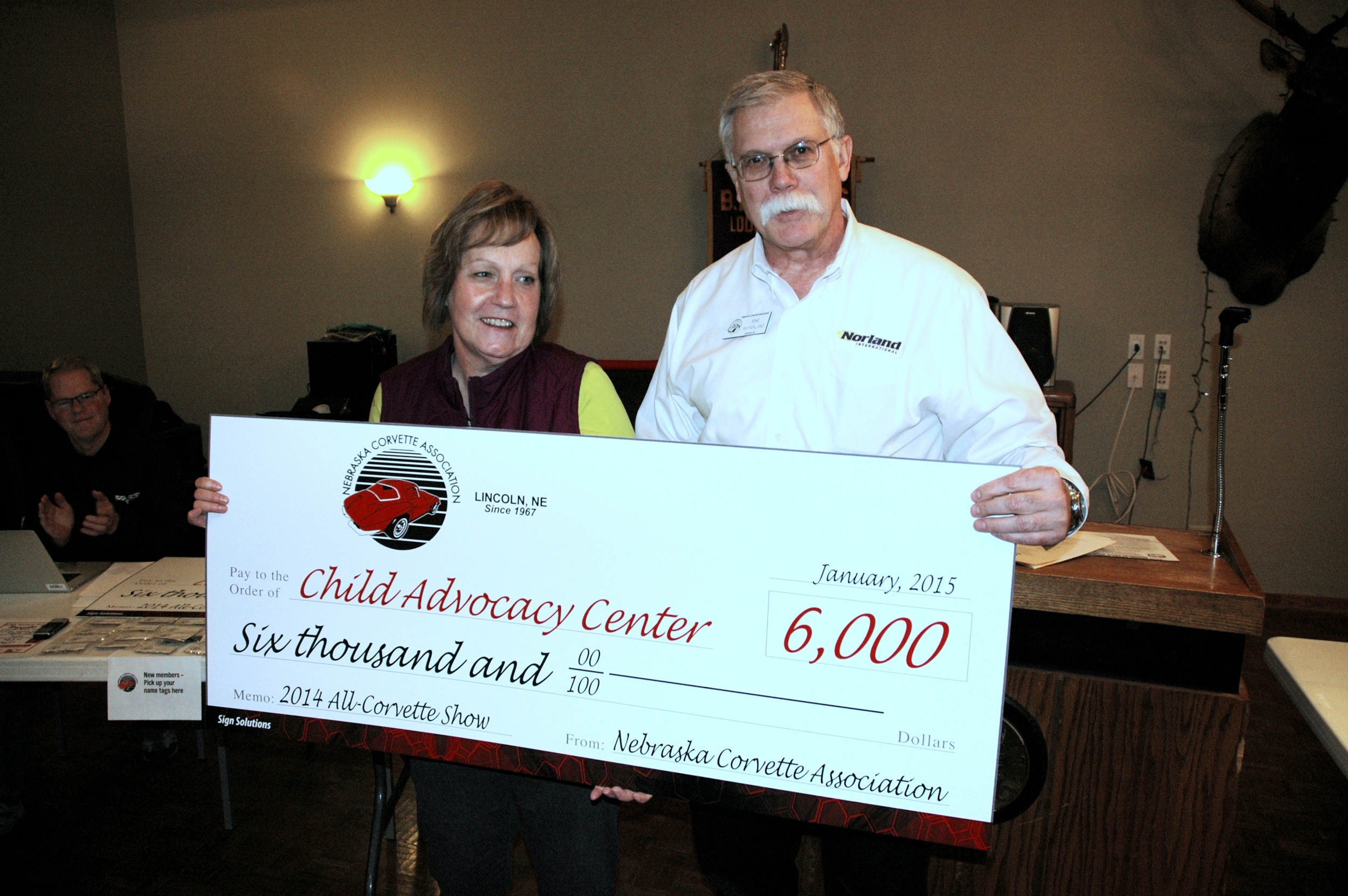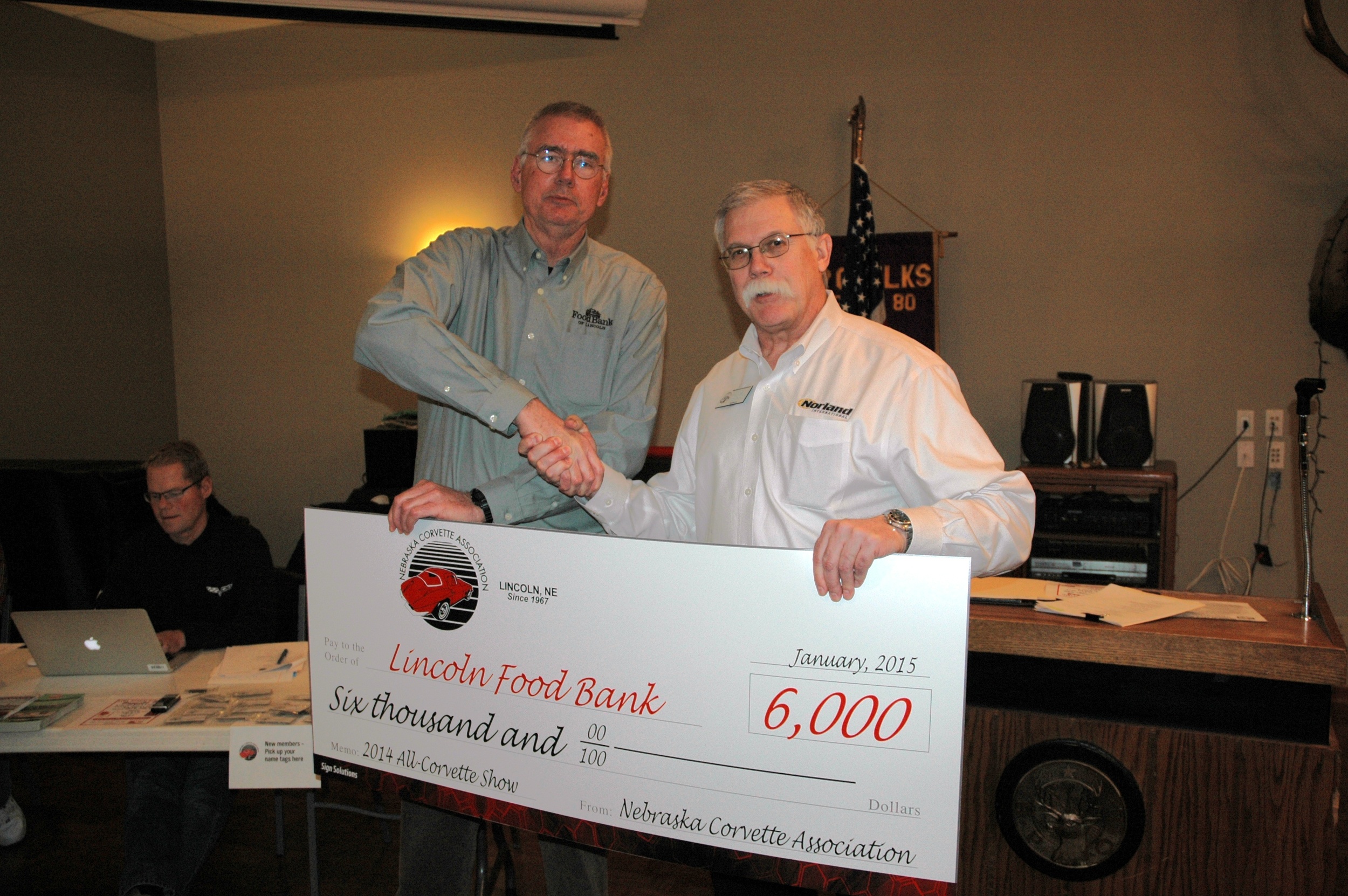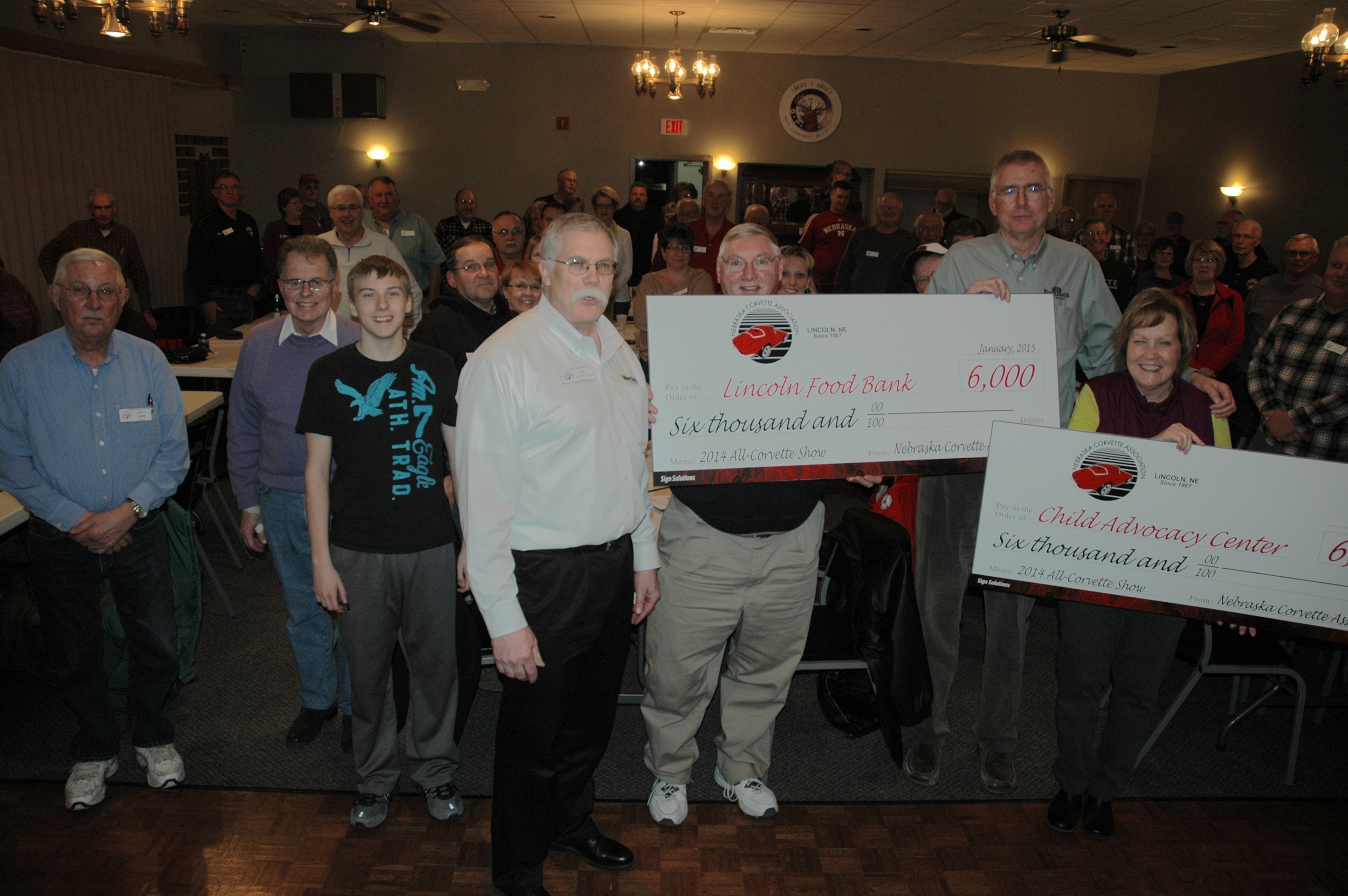 At the January meeting the club presented the Child Advocacy Center and the Food Bank of Lincoln with $6000 each, raised from the 2014 All Corvette Show. Lynn Ayers the Executive Director of Child Advocacy Center accepted the donation from the club and thanked us for the hard work that made it possible, this last year the Center helped 1200 kids get through some of the worst times in their life and opened satellite offices in York and Nebraska City. Scott Young, the Executive Director of the Food Bank of Lincoln was on to tell us about the Food Bank and that they can turn our donation in to almost $30,000 worth of food while they feed around 8,000 people a week.
NCA Christmas Party 12/13/14
The Christmas party was held at Hillcrest Country Club with great friends, food, and song. The Nebraska Christian Women's Choir sang a selection of Christmas songs with help from the next generation of singers. The club thanked Bud for his Geezer Getaways, the 2014 officers, and all the members for making all our events great.
Mecum Auction Kansas City 12/4-12/6/14
45 members and friends went down to the Mecum Auction thanks to Tom C. friends were made and old friendships rekindled along with a 500 vehicle carshow going on. The auction was very exciting although no one came home with a new car. We did visit Hendrick's Chevrolet and got to spy the brand new ZO6.